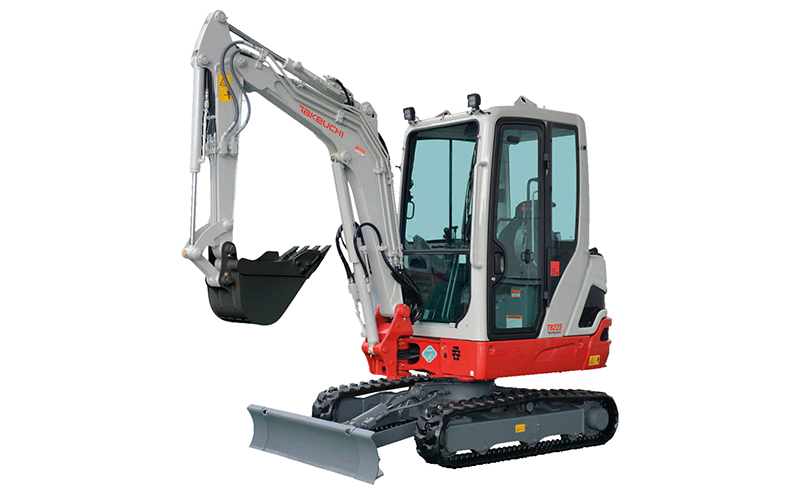 THE new Takeuchi TB225 towable mini excavator will take centre-stage on the manufacturer's stand at ScotPlant 2018.
The compact model provides a brand-new addition in the towable weight class. In both cab and canopy, the TB225 is said to comfortably work within towing restrictions. Weighing in at just under 2400kg cab or 2265kg canopy, there's plenty of room for attachments and materials on the trailer.
The new mini comes with expandable tracks, taking the machine from 1100mm up to 1500mm; which Takeuchi said provides "maximum accessibility" in narrow areas combined with "massive digging stability" when digging deep.
"Maximum productivity is guaranteed, the TB225 comes with 16.5kW of power, 19.3kN of digging force and breakout of 12.8kN; far more powerful than other mini excavators in this weight class," a statement from the firm said.
"TB225 features joystick proportional control. The thumb operated slider on the joystick gives maximum precise variable hydraulic control, ideal for auxiliary attachments including augers and grabs. This feature is common on larger excavators and now Takeuchi have added this popular feature to the towable range."
Takeuchi added that the machine has been designed for "maximum all-round operating visibility" including right down into the footwell, which is important for utilities work. LED work lights as standard positioned on the cab and boom provide visibility in darker working environments, while for added safety, the TB225 is ready for lifting with the audible lifting check valves fitted as standard.