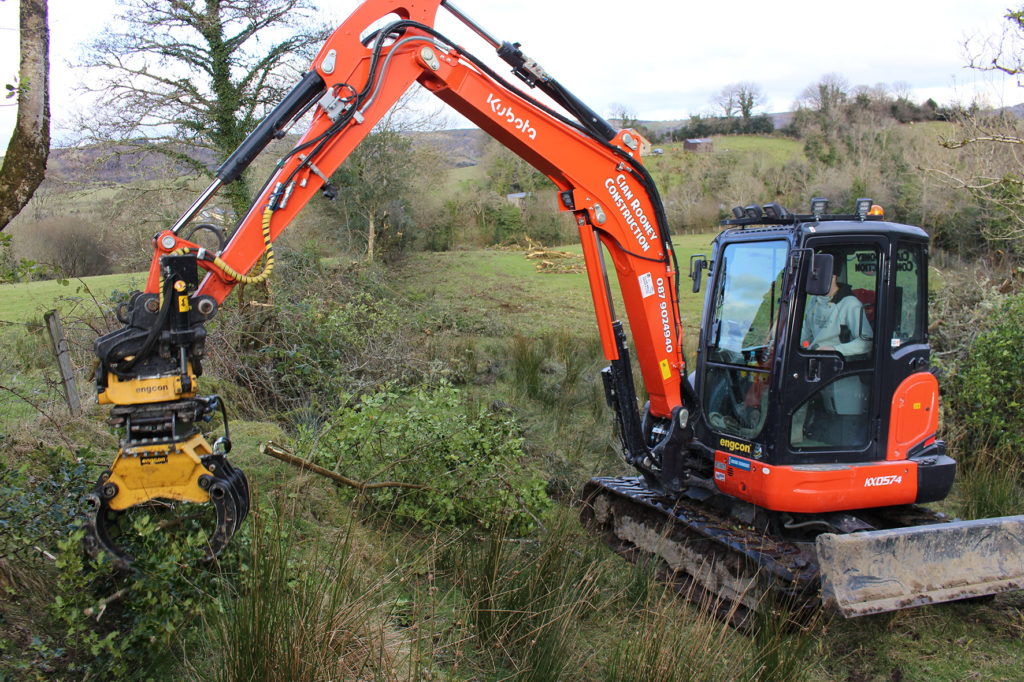 STIRLINGSHIRE-based JCC Engcon Group has reportedly helped an Irish owner/operator "transform" his business thanks to the addition of an Engcon tiltrotator.
Cian Rooney claims to have saved time and manual labour since replacing his old skid steer loader and Kubota mini digger with a Kubota KX057-4 compact excavator equipped with an Engcon E206 tiltrotator, S40 quick hitch and integrated gripper.
Cian is based near Sligo on Ireland's west coast. His system is one of the first in Ireland to be fitted with fully proportional control. John Craig, Engcon's service partner at JCC Engcon Group, guided Cian through the process of choosing the right system for his needs.
Cian said, "I can't praise John enough for his expert help. He really knows his stuff when it comes to Engcon."
Cian's Engcon kit includes a grading bucket, sorting grab and pallet forks, which are used on a variety of projects from groundworks and landscaping to fencing and agricultural contracts.
"I work mainly on my own and Engcon has helped transform my business," Cian added. "This one machine does the work of my two old ones. I now work more efficiently, safer and faster – and that's good for my profits and for my customers because I can do a great job for them in less time. Even simply moving deliveries that have been left in the wrong place is made easy with the pallet forks."
Cian used social media to research tiltrotator systems before committing to the investment.
His set-up also includes track steering, fitted by John Craig through the system's hydraulics. This allows him to steer the machine from the joysticks rather than using the foot pedals. "This is a huge benefit when you've got muddy boots which can make it difficult to get a grip on the pedals," Cian added. "Track steering gives me more precise control over machine movements and improves safety on site."