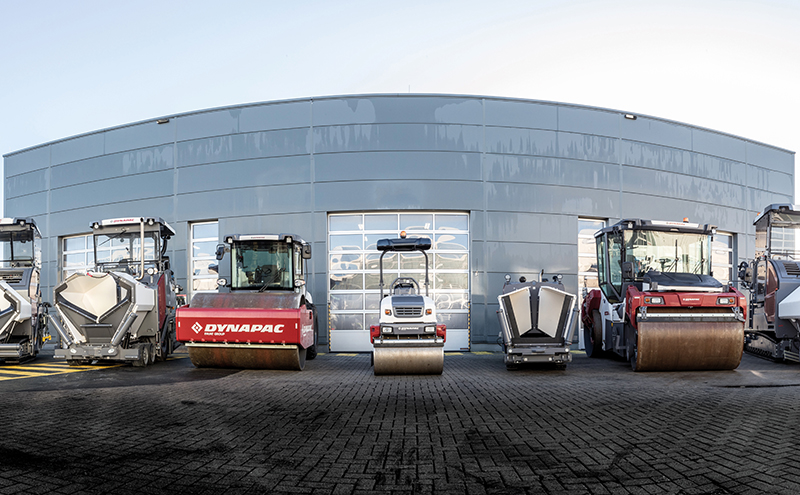 DYNAPAC will be exhibiting at ScotPlant for the first time under their new owners, the Fayat Group.
The business confirmed it will be showing off its complete range of paving and compaction equipment, and will take the opportunity to laucnh its latest small roller, the CC1200 VI to the UK market.
The models come complete with the new Dynapac branding. Late last year, Dynapac presented its new visual product identity, consisting of three main colors: red, white and grey.
"Red has always been a significant color for Dynapac, and when investigating the brand values, the red colour was among the top recognition factors," expalined Herman Matthyssen, vice president marketing. "The new colours also underline the uniqueness of the Dynapac brand, now part of the Fayat Group.
"We are very proud of our new visual identity, it signals we are an independent brand with our own sales-channels, own technology and own product portfolio."
Dynapac rolled out its new roller range of CC1100/CC1200 in October, as part of the firm's 6th generation of small asphalt rollers.
The machines are designed to operate in tough conditions and were built with the operator in mind. This, Dynapac said, has resulted in a "robust, comfortable and modern machine for best compaction result".
The firm added that by moving the water tank to the rear part of the machine, they have managed to develop a machine with a "unique design" with a cross-mounted engine in combination with "excellent visibility" over the drums.
"The robust engine hood is designed for optimal view over the front drum," the company revealed. "The optional sliding seat of 210 mm in combination with the engine hood design gives the operator the best sliding possibilities and visibility on the market. The optional ROPS-mounted working lights in LED will additionally give very good visibility during night work."