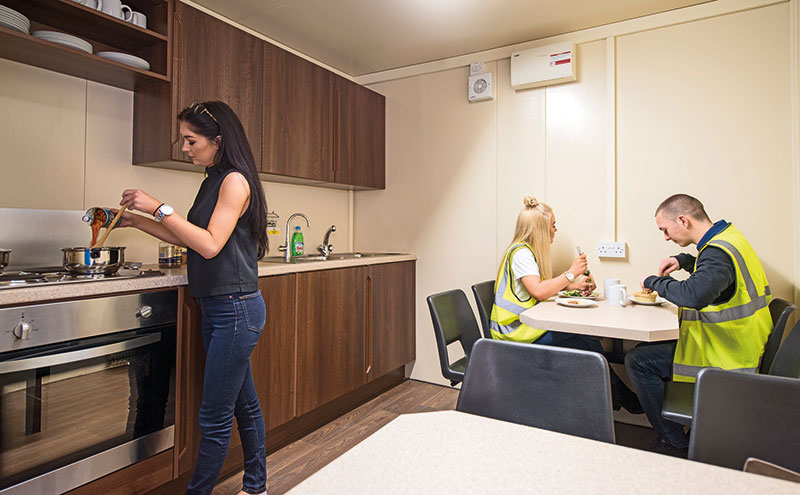 SITES in the construction sector are turning green in order to combat the challenges climate change presents to our society. Alongside the environmental concerns of global warming, there are many solid reasons for construction companies to do this. In particular, on-site accommodation represents a unique opportunity for temporarily housing staff that work on a construction project.
In this article, Ben Rothwell, business development manager at Bunkabin, examines why construction companies are making the change to go green, why they're considering temporary accommodation and the benefits of doing so,
1) SAVING THE PLANET
It's the most obvious one, but going green on-site will help cut down on your carbon footprint. Global warming, one of the biggest challenges humanity faces, is caused primarily by carbon dioxide – a greenhouse gas that prevents solar radiation from escaping the Earth's atmosphere. By making construction sites green, construction companies can reduce their contribution to the climate change issue.
2) OPPORTUNITIES TO BRING IN TEMPORARY ACCOMMODATION
Deciding to go green on-site could involve bringing in temporary accommodation. Traditionally, on-site accommodation is associated with dank, drab and desperate conditions. But over the last 20 years, perceptions have changed, with some on-site accomodation resembling top en-suite hotel rooms.
Our cabins, unlike many others, use some of the latest technology and techniques to make living on-site as green as possible. For instance, Bunkabin cabins are made from well-insulated materials that retain heat better than some houses. They are also exceptionally energy efficient. But besides the low power consumption of temporary accommodation, it also will reduce the amount of greenhouse gases your staff produce.
Instead of travelling to and from work via car or public transport, staff will simply be able to walk from work into their warm, welcoming accomodation to relax and sleep for the night.
3) IT MAY HELP YOUR STAFF STAY HAPPIER
Besides the environmental benefits, on-site accommodation also has the added bonus of helping to keep your staff happy. Nobody likes to commute, especially if it's from a low-budget hotel with limited parking. These journeys are often longer than expected and can be stressful, which impacts on productivity and your workers' wellbeing. In the UK, the average commute is 54 minutes, with the number of commutes over two hours increasing according to research by the ONS. Long commutes have been linked to anxiety, depression and poor mental health according to a survey of 34,000 people by the University of Cambridge and VitalityHealth.
One in three sick notes issued by doctors in the UK are for mental health issues. With workplace-induced stress and anxiety at record levels, employers are being urged to do more to help with their workers' mental health. A particularly vulnerable group are working class men, with research from Public Health England showing that male, low-skilled workers are 3.7 times more likely to commit suicide; compared with the national average.
4) IT SAVES YOU MONEY IN THE LONG RUN
Data from the Mental Health Foundation suggests that mental health issues can cost the UK economy between £70 to £100 billion a year. The same study also shows that 12.7% of sickness days in the UK can be attributed to mental health. With this information in mind, it is clear to see that mental health has a significant drain on an organisation's finances.
By going green with on-site accomodation, not only does it eliminate your employees commutes, which can lead to anxiety and depression, but it also encourages your staff to build meaningful relationships with those they are living on site with. As such, mental health conditions will decrease, resulting in fewer absences and money lost.
5) FINANCIAL INCENTIVES OF GOING GREEN
Cutting your carbon emissions on-site has a financial reward for most businesses. The UK Government offer a range of levies, tax reliefs and schemes for organisations that intend to cut their carbon emissions. Of particular interest to construction organisations are capital allowances, which are cash incentives for organisations to purchase equipment with a low CO2 footprint. By taking advantage of these financial incentives, going green literally pays.
WRAPPING IT ALL UP
On-site facilities represent an opportunity for your organisation to cut your carbon emissions.
But more than that, they are an opportunity for your organisation to provide employees with a workplace that helps to protect their mental health, boosting workplace happiness and productivity and of course, protecting the planet.