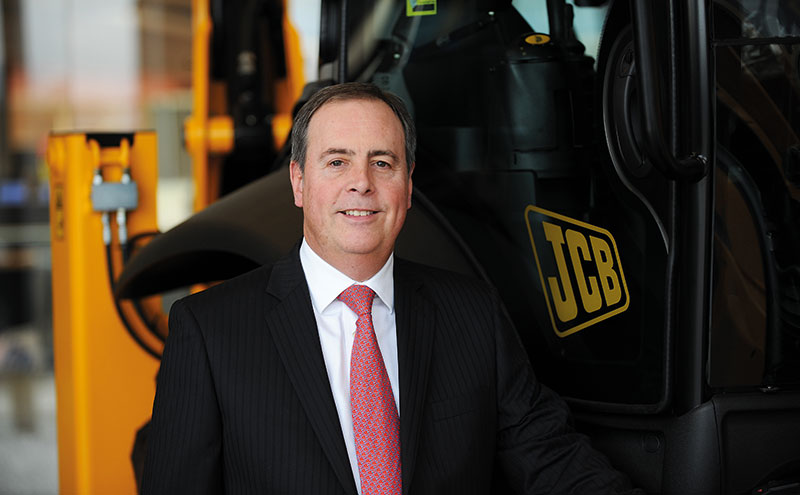 IT goes without saying that a firm's ability to invest in plant equipment and associated products can play a crucial role in the creation and growth of a successful business.
With the construction sector notorious for its unpredictability, choosing the right asset finance company to deal with can be key – especially for those times when something as erratic as the weather can have a major impact on a company's short-term cash flow position.
JCB Finance was founded in 1970 as a means of helping JCB customers purchase JCB machines.
Paul Jennings, managing director of the business, recently told Project Plant that what gives JCB Finance the edge over many competitors is the fact the company remains committed to the sector in economic good times and the bad.
"A lot of asset finance players have come into the market since 2014," he explained. "They're eager to grow their business and are pitching at rates comparable with ours, which are always competitive.
"What was fairly evident when the recession started in 2008 is that there were a lot of finance companies who were fair-weather friends. They gave customers an umbrella when it was nice and sunny but wanted it back when it started to rain.
"We've got nowhere to go in construction. We can't abandon that market and go into funding dentists, pet shops or whatever. We have to stick with it.
"We're not fair-weather friends; we're in it for the long term. The JCB attitude to things is long-termism. Our core business is construction and therefore we can't abandon it, and would have no wish to abandon it, if things started to get a little bit feisty in the marketplace.
"The recent news about Carillion shows how quickly the unexpected can happen.
"We see funders come, we see funders go, but we also see behaviours that are not supportive of people when difficulties start to arise, which is why we publish our toolkit in advance of when we think there might be trouble.
"We have options such as the HP Plus agreement, where people can pause payments and not feel like it's a bad thing to do so. We try to mould our offerings to best suit the nature of the construction market. We're thoroughly prepared to support people through peaks and troughs."
JCB Chairman Lord Bamford was a founding director of JCB Finance – which was originally called JCB Credit. Mr Jennings said prior to the establishing of the firm, there was an inconsistency in the way customers could gain access to finance.
"We were brought about to make it easier, simpler and more consistent for JCB customers to get finance," he explained. "There was sporadic knowledge about construction and about JCB at the time. If you were perhaps in Ashford, Kent talking to your bank manager you might get a different answer to somebody in Aberdeen. One might know about construction; one might not. One might have heard about the security that JCB machines offered and one might not have realised. So it was just to get that consistent view.
"We started off relatively small and have grown to be over 100 people.
"We make sure JCB customers have access to state-of-the-art finance options anywhere in the UK and try to act as a sales aid to JCB dealers, as you'd expect. We expect our people to be hardworking, honest and enthusiastic. I think we do live up to those standards.
"Looking at where we are positioned in the market, JCB Finance is listed as number 20 in last April's Asset Finance Top 50 List – and that's in our own right. Considering we restrict ourselves to financing only JCB products and those products that JCB customers might want to finance – as long as they're not competitors to the range of JCB machines – that's not a bad result.
"And we're the number one sales aid firm linked to a UK manufacturer."
Mr Jennings said the team comprises a mixture of experienced professionals and "new blood". There is a heavy emphasis on academic progress, with many employees undertaking finance and leasing diploma courses and boasting an array of qualifications.
During the last recession, Mr Jennings said JCB Finance continued lending to the construction sector in a "very enthusiastic way".
"Many other suppliers had to go away from the market," he added. "We had a rather large chequebook and were able to keep it going. We doubled the size of our business in about five years.
"We limit ourselves to HP and leasing to keep our offer fairly simple. The goods we can finance range far and wide away from JCB but the mainstay of our business – about 60% – is on JCB products. 40% is on those other assets customers of JCB would like us to finance.
"The way that we deal with customers is several fold. We try to serve customers how they want to be served. We work very closely with Scot JCB in Scotland who we equip with the tools to do transactions as well as our own people in the field. They use an app called JCB SalesMaster to be able to quote customers and with due regard to Financial Conduct Authority (FCA) regulations.
"We arrange for the Scot JCB Team to go through an online test on a regular basis to make sure they can accredit themselves with certificates. I think we're the only yellow metal franchise that tests its sales staff this way. Tests are every 12 months and we track who has answered which questions. It's multiple choice; a comprehensive test that enables Scot JCB to be able to evidence to the regulator that they are appropriately training their staff and also means they're looking to give customers the best outcomes they can, especially when combined with using the app."
JCB SalesMaster provides offline quotes and configurations on a range of JCB machines. Mr Jennings described it as "giving process to something that might have been a mystery in the past".
JCB Finance has a large team of field-based staff situated around the country, including a number dedicated to Scotland. Mr Jennings describes them as "specialists" with knowledge of both asset finance and the construction industry generally, which can be of huge benefit when talking to customers.
To boost their practical knowledge of the kit they're financing, JCB Finance sales staff recently attended a hands-on machine-training course in the driving snow at JCB's quarry and demonstration facility. Mr Jennings said, "We expect them to be at least able to handle a machine and understand what it does. I can't say they'll get certificates for the way they handled it but they have practical knowledge. There were also classrooms sessions to make sure that we are fully in tune with the way that customers use these machines, the capabilities of the machines and what the attributes are of a JCB machine that makes them such good security and why we're very keen to finance them."
As well as face-to-face transactions, customers can also phone an 0800 facility or send an e-mail. JCB Finance has a Direct Sales Team of 12 handling lower value finance transactions, providing a quick option for the likes of smaller customers concluding a single deal or for larger customers doing regular deals who don't necessarily wish to see a sales representative on every occasion.
An increasing amount of business is carried out on JCB Finance's website or social media outlets, with Mr Jennings revealing 26% of business in one month last year originated via social media interaction.
The company's current offerings include products such as JCB HP Plus.
Mr Jennings explained, "JCB HP Plus is a fairly simple transaction: you make your payments and you get ownership at the end. We have some bells and whistles. With HP Plus, there is no penalty for early settlement. Generally, finance companies will charge a penalty because they don't want you to settle early; we don't charge that penalty.
"HP Plus customers can also choose to take a two-month pause in any 12-month period. All they need to do is give us 15 days' notice. If they look out the window and there's three feet of snow, making it difficult to put down foundations, rather than phone us and say 'Sorry, I can't make my payment', we're delighted to say, 'Don't make your payment, just let us know and we'll adjust the payment profile'. It's not that someone has gone into arrears; it's because they've got a right to do that."
Mr Jennings repeated JCB Finance's previous advice regarding Annual Investment Allowance (AIA), believing that many smaller businesses are still unsure how this works.
"This is something the Government puts into place," he said. "At the moment it's running at £200,000. You are permitted £200,000 AIA and can offset your qualifying capital purchases up to the value of that against your potential tax bill, which is a nice little incentive to modernise your business without incurring a terrific amount of expense. We did a survey last time it changed from £500,000 to £200,000 and most people didn't understand what AIA was. We think it should be better known than it is.
"Generally most of the customers don't really realise how it works. The actual knowledge is very limited but it's available every year. People should look at the timing of purchases given the proximity to their year-end and what the AIA is at the time."
Despite the current political uncertainty engulfing the country, Mr Jennings revealed he hasn't yet noticed a significant impact on the market.
"At Brexit-time when the vote went through, we produced a little toolkit," he explained. "Each time we perceive there might be a dip in the economy we produce a toolkit for our customers. As it happens, Brexit has not really dampened demand for our services. I thought it could have a hit on momentum (but) I've not seen a terrific change in momentum. The uncertainty that's around doesn't appear to be causing too much consternation."