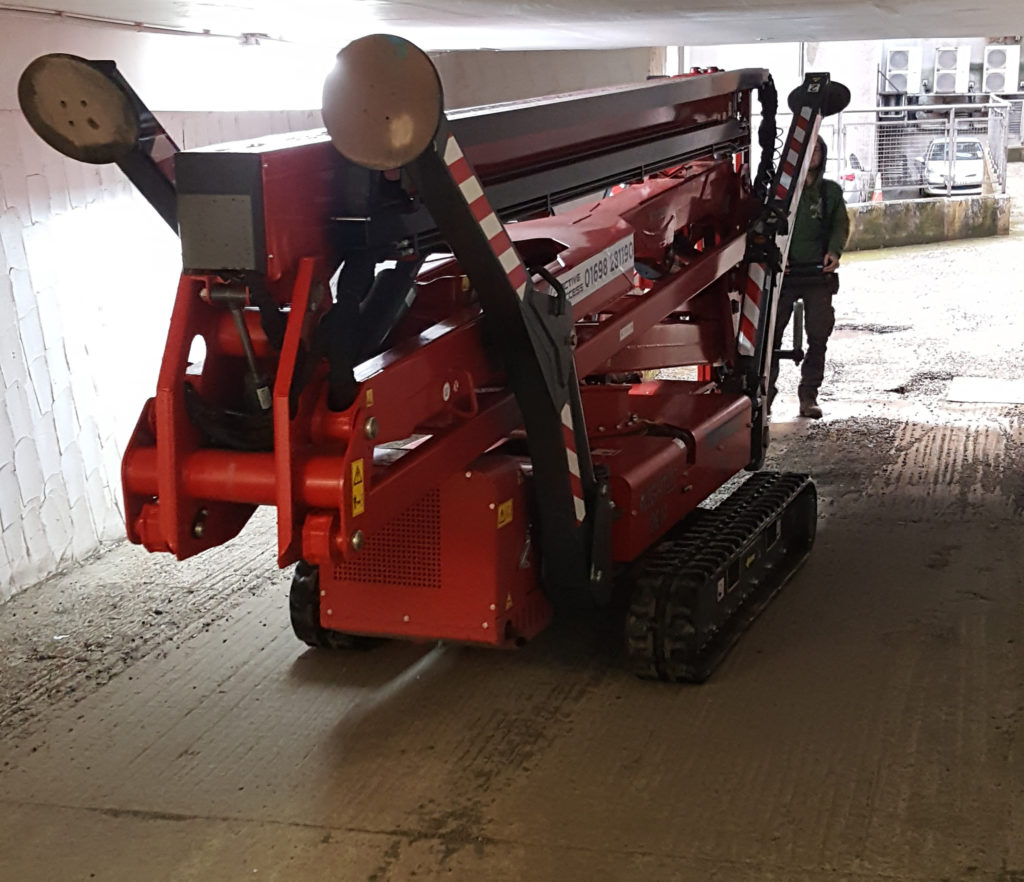 A Hinowa tracked boom provided the solution to a tight space challenge in Glasgow city centre recently.
A property maintenance firm required access to the rear of a building in order to inspect and repair window lintels on the third and fourth storeys. However, to reach the job site, the access platform had to pass through a doorway and an underground car park.
Bellshill-based rental specialist Active Access supplied a Hinowa Lightlift 26.14. Mounted on a crawler chassis, the LightLift 26.14 is described as having very low ground pressure and non-marking tracks, making it suitable for working indoors on sensitive flooring and outdoors on soft ground.
The machine measures just 990mm wide, stands less than 2 metres tall, and has a transport length of less than 6 metres thanks to a detachable basket.
Active Access sales manager Paul Dynes explained, "I carried out the site survey and it was quite challenging. The roller shutter door was just over two metres in height and the car park was equally tight in places.
"We recommended the Hinowa Lightlift 26.14 and it passed through with absolutely no problems. There were a couple of tight turns, but the basket can be easily detached within seconds, with no tools required, which made all the difference."
The maintenance company was able to set up the boom lift at the rear of the property, repair the lintels and fit Acrow props.
Paul added, "The customer absolutely loved the machine and has already hired it from us again. It has been a fantastic addition to our rapidly-growing rental fleet."
The LightLift 26.14 Performance IIIS is a crawler-mounted articulated boom offering a 25.7m maximum working height (23.7m max. platform height) and up to 13.6m of horizontal reach. The machine can lift 230kg – enough for two people with tools – without restriction throughout its entire working envelope. The dual pantograph boom design enables working flush with walls and the drive train has a three-speed system which ensures it reaches the work area quickly.
Active Access has a range of Hinowa booms, all purchased from Access Platform Sales (APS).