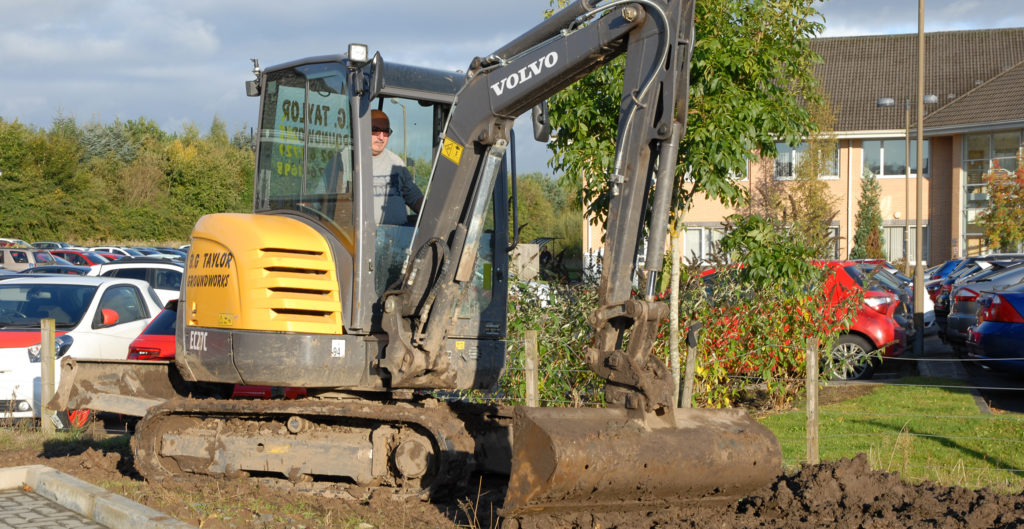 A Glenrothes-based groundworks specialist has confirmed he's sticking with Volvo compact excavators, having switched to the manufacturer a year ago.
Brian Taylor, proprietor of B G Taylor Groundworks, made the decision to purchase an EC27C and an ECR50D to replace a two-and-a-half and a five-tonne excavator in his fleet. He already owned a Volvo ECR88 Plus.
"I'd made contact with Rockbreakers (SMT GB utility dealer) initially to look for a manual quick hitch for my 88 but we soon started talking about the EC27C and ECR50D models as possible replacements for my other machines," Brian explained.
"I'm really glad I switched to Volvo. They are solid, well-built machines and their performance is second to none in my opinion. Over the last year, all we've had to do is carry out the regular maintenance and haven't had to lay a spanner on them. The parts back-up from Rockbreakers is excellent and they are always on hand to give advice and help when we need it, so we're sticking with our Volvos."
The EC27C is powered by a Volvo 1.6-litre Stage-III engine, coupled to a load-sensing hydraulic system. SMT GB said simultaneous control of slew and offset movements provides "faster, more precise performance" due to the right joystick control lever that features an electronically proportional roller. This allows the operator to adjust hydraulic flow as needed. An automatic two-speed travel system engages when operating in high speed mode, automatically shifting gear from high to low according to travel load.
The ECR50D is Volvo's first true five-tonne excavator and features a Volvo D2.6A four-cylinder engine. SMT GB said the eco-plus preset engine rpm modes and an auto-idle function let the operator make the most of the machine's power and economy.
Both models feature Volvo's ergonomically-designed cab, described as "one of the most spacious" in its category.