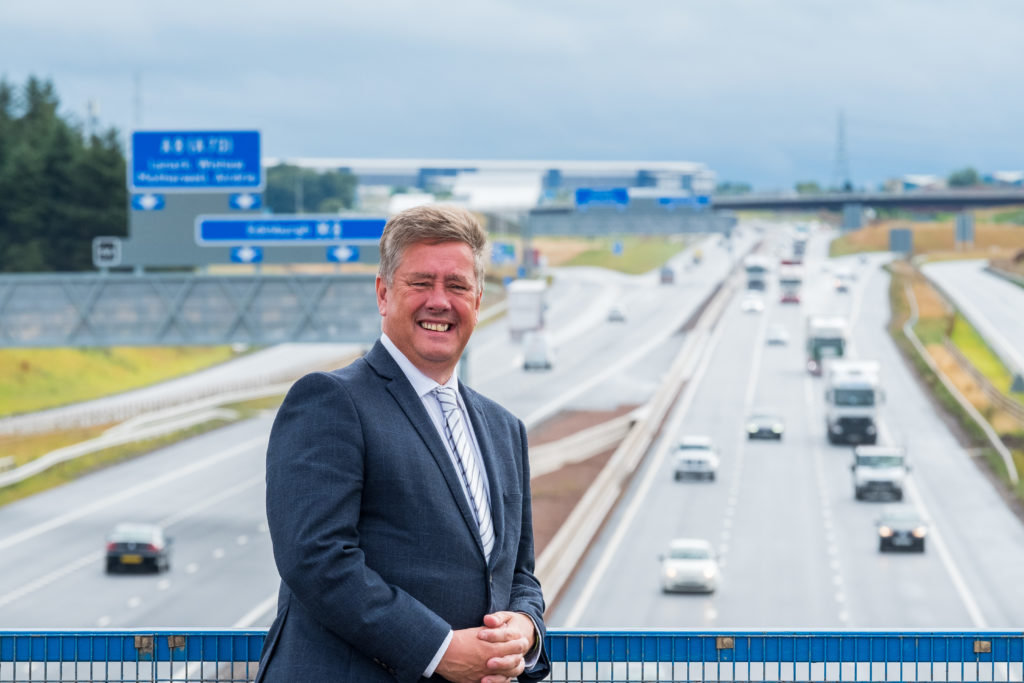 Energy and transport projects scooped top gongs at the recent Saltire Civil Engineering Awards 2017.
The awards, run by the Institution of Civil Engineers in association with the Saltire Society, seek to recognise excellence and innovation in civil engineering and celebrate its contribution to quality of life.
The new overhead transmission line between Beauly and Denny won the Greatest Contribution to Scotland Award, while the M8 M73 M74 motorway improvements project scooped the Infrastructure award.
The £500 million M8 M73 M74 motorway improvements project completed the 'missing link' between Glasgow and Edinburgh by providing an interrupted motorway between the cities for the first time. Benefits of the project include reduces congestion and emissions, improved journey times and increased safety.
Keith Brown, Cabinet Secretary for Economy, Jobs and Fair Work, commented, "This award is very well deserved as the M8 M73 M74 Motorway Improvements Project was a massive undertaking which presented a range of technical and logistical challenges within a demanding timeframe.
"The project team's response was first class and delivered a rejuvenated road network which is already delivering for Scotland's economy by cutting congestion and reducing journey times for more than 100,000 vehicles a day."
The 220km Beauly-Denny transmission line helps transport electricity from wind farms and other renewable electricity schemes in the north of the country across the UK. The line has "effectively doubled" the renewable energy capacity of the network, enabling Scotland to meet nearly half its target of 50% renewable energy supply and UK and EU targets of 20% of all energy requirements from renewable sources by 2020.
The award judges recognised the project's importance in "securing Scotland's sustainable energy future and contributing to decarbonising electricity generation in Scotland".
Other winners on the night included the Cuningar Woodland Park and Footbridge project, which received the Community Award; Edinburgh Gateway won the Building Award; the Environmental Award went to Selkirk Flood Protection Scheme and the Designed in Scotland Award was presented to AECOM in Glasgow for its work on the Stockholm Bypass.
Jamie Hepburn, MSP, Minister for Employability and Training, who presented the main awards at a ceremony at the National Museum of Scotland in Edinburgh, commented, "These awards provide an opportunity to recognise the skills and contribution Civil Engineering makes to the economy and wider society thanks to improved connectivity and a more resilient infrastructure.
"I was delighted that Transport Scotland's M8/M73/M74 Motorway Improvements project won. This and the other transport projects shortlisted can make a significant contribution to our vision for a prosperous, fair and well-connected Scotland.
"As Scotland works toward achieving a low carbon, sustainable economy I was also pleased to see the Beauly-Denny Overhead Transmission Line win its category enabling Scotland to double its renewable energy network capacity.
"The range and diversity of projects across a range of locations at home and abroad clearly shows that Scotland's civil engineers have the skill and talent to meet the needs of Scotland and beyond."
Convenor of the judging panel, Ainslie McLaughlin, said, "The complexity and challenges faced in delivering the Beauly-Denny and M8 M73 M74 projects make them very worthy winners. Constructing a powerline in remote, inhospitable and environmentally challenging terrain, whilst maintaining safety and quality standards, shows a great expertise and dedication."
Magnus Linklater, president of the Saltire Society, added, "We are delighted that the Saltire Civil Engineering Awards are celebrating their 37th anniversary this year. Civil engineering is vital to modern society and a successful economy. It shows Scotland at its best. We at the Saltire Society believe it is important to recognise the achievements of the industry and the wide variety of projects that make such an impact on our daily lives."