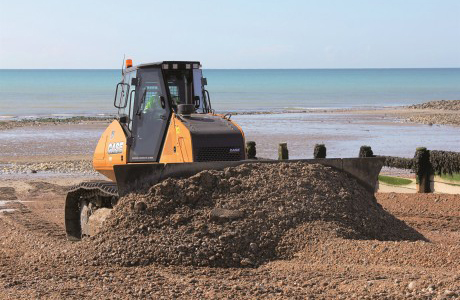 FOR the second successive ScotPlant, Case Construction Equipment will have the largest stand in the show's history.
Case has teamed up with its Scottish dealer, Hodge Plant, to display more than 24 different models designed for a wide variety of construction sector, including quarrying and recycling.
Highlights will include new machines from the recently launched D series and the first UK qualifying round of the CASE Rodeo Challenge event.
The heavy range line-up will include the D Series crawler excavators, a wheeled excavator, wheel loaders, and the largest Case dozer.
There will also be an "extensive range" of machines from the compact line, including midi excavators, backhoe loaders, mini excavators and skid steer loaders.
The Case team will be on hand to provide information and answer questions on the latest innovations in the Case SiteWatch telematics, maintenance programs and finance options.
Visitors looking to take in something a bit different can watch operators attempt to tackle the first qualifying round of the annual Case Rodeo Challenge.
The event showcases skill and speed, with the incentive of a place in this year's final, which will be held in Paris, up for grabs.
Operators will have to place balls into a netball net using a 695 backhoe loader.
Case confirmed there will be three models from the firm's latest D Series crawler excavator range, including a CX130D, CX210D and CX370D.
Case said, "These new machines stand out for their productivity, their fast cycles and efficiency, and their Tier 4 Final (Stage IV) maintenance-free technology and no DPF required they offer low running costs combined with outstanding performance.
"There will also be two machines from the C Series, a CX130C LR and CX145C SR. Using Tier 4 Interim engines, they offer efficiency and fuel saving benefits through the use of the CASE Intelligent Hydraulic System (CIHS), which incorporates five electronically managed energy saving systems.
"Case's renowned F Series will be on show and will include the Tier 4 Final 821F and 921F, plus a 1121F.  There will also be a 621FXT and 721FX which are ideally suited to harsh environments such as the waste and recycling sectors. Fuel efficient and powerful, these machines have Tier 4 interim-compliant engines that achieve emissions requirements with the use of Selective Catalytic Reduction technology (SCR), which eliminates the need for a Diesel Particulate Filter. Completing the heavy range line-up will be a WX148 wheeled excavator and the 2050M dozer. With its exclusive three-pump hydraulic system, the WX148 delivers increased performance and control. The 2050M dozer is the largest model in a range which also has SCR technology to meet Tier 4 interim emissions legislation."
The compact section of the Case stand will include a 695ST and 580ST backhoe loaders as well as a CX75C SR and CX80C MSR, excavators which Case say "offer industry-leading emissions performance plus a choice of three boom systems, four auxiliary hydraulic control systems, three track options and two dipper-stick lengths".