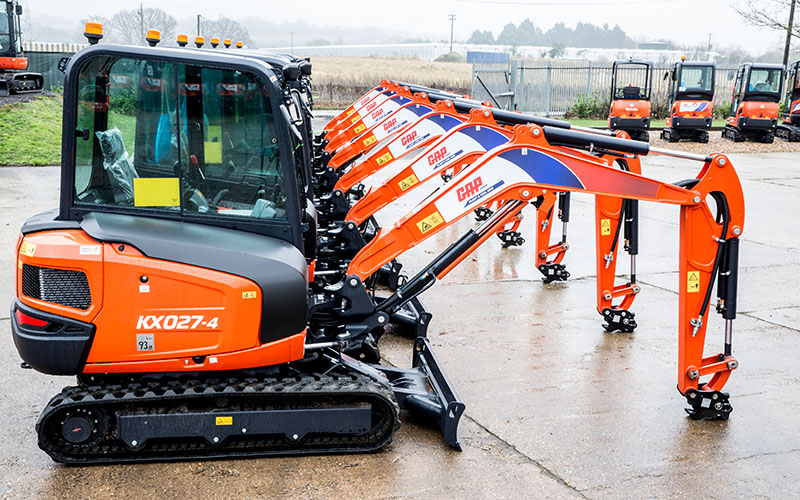 GLASGOW-based GAP Hire Solutions has invested in over 100 Kubota KX027-4 mini excavators over the past 12 months to satisfy "record levels" of demand for quality three-tonne machines.
The 2.6-tonne model, described as being "ideally suited" to customers who tow them around, is available in both standard and high-spec versions, with the latter utilising AUX oil flow with proportional flow control and Auto shift.
Kubota is GAP's sole supplier of excavators up to 8-tonne. Ken Stewart, head of procurement at GAP Hire Solutions said, "With the increased amount of regeneration in urban areas across the UK, the demand in the market for a quality three tonne excavator is at record levels. Kubota's KX027-4 certainly delivers for our customers. Like all Kubota machines, the product is reliable, delivers high performance, comfortable to operate and holds value.
"Customer feedback on the KX027-4 model has been really positive, so investing in 100 machines throughout the year has made perfect business sense, with the new eight tonne KX080-4 also proving popular.
"We now have in excess of 4,000 Kubota machines stationed in our depots across the UK, which highlights not only the value in which we hold the machines themselves, but also Kubota's presence as a brand and our business relationship."
Dave Roberts, managing director of Kubota added, "It's been great to see the success of the excavator we launched to market within the last 12 months, particularly with a key customer such as GAP. The fact that GAP Hire Solutions is now one of Kubota's largest and long term construction customers worldwide says everything about the strength of its business and our partnership."