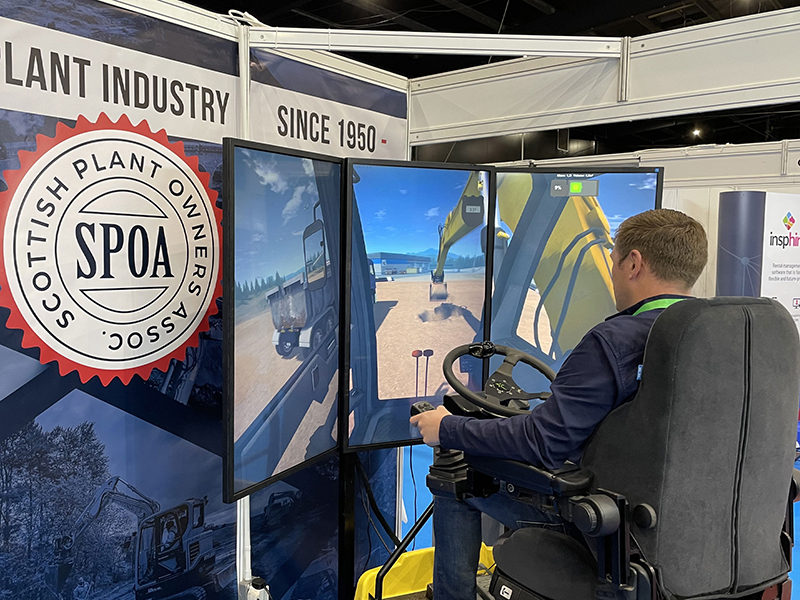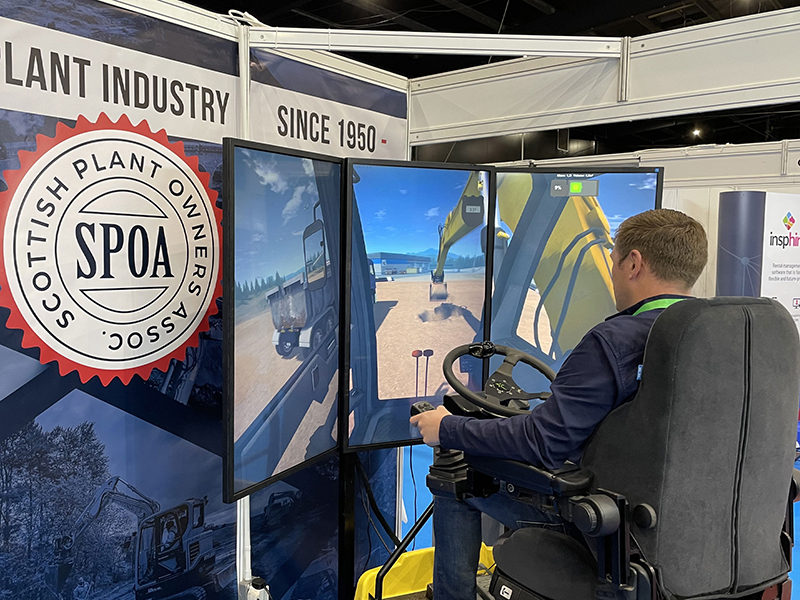 THE Scottish Plant Owners Association (SPOA) has bought a Tenstar simulator as part of the organisation's drive to upskill the industry and attract fresh talent.
The simulator has been supplied with a motion base for a real-life seat feel and a VR headset for use with the crane package and daily checks. It can also be set up with a steering wheel to provide training on machines including wheeled and tracked excavators, graders, ADTs, dozers, telehandlers, mobile cranes and wheeled loaders. The simulator also has the flexibility to customise software to suit individual training needs.
The SPOA revealed it purchased the simulator as a result of a report commissioned last year. The move is designed to support members and industry by providing 'practical and affordable' training to upskill existing operators. Simulators provide a controlled environment for early training.
Simon Hogg from Tenstar said, "The training simulators enable safe and controlled access to many types of large plant and machinery categories. This allows individuals to experience what it takes to operate such machinery and often reveals hidden skills that can be further developed into potential future careers.
"The Tenstar simulators also have a use with more experienced operators helping them to explore and learn about the use of attachments such as tilt and rotate buckets and 3D GPS machine control systems. We look forward to working with the SPOA and its members on such an exciting initiative."
The SPOA has teamed up with Setting Out For Construction (SOFC) to offer training courses from November 2023 to April 2024. The first training opportunity with the Tenstar simulator is due to take place on November 3rd at the office of the SPOA in Stirling. The half-day course, priced at £240, is eligible for CITB grant funding of £140. It is also possible for members to organise training with the Tenstar simulator at their own premises if they are willing to cover travel and transportation costs.
The SPOA has invested in a trailer to make it easier for SPOA members to take the simulator to local schools and career events to promote plant careers. The simulator will allow individuals to experience the industry's intricacies in a risk-free environment and could even be used as an aptitude test for young people interested in following an apprenticeship as a plant operator. The SPOA will also take the simulator to industry shows and events.
James Currie, executive committee member at the SPOA, said, "I really hope that members embrace this opportunity to upskill existing plant operators or to use the simulator as a way of engaging with young people who could have a bright future in plant. We constantly hear from members about the need to attract young people into our industry and this is a very tangible way of doing so.
"The Tenstar simulator is top of the range and really gives the operator an extremely realistic experience of what it is like to be a plant operator. Together with fellow committee member Callum Mackintosh, we will be available to support members if they wish to take the simulator to an event, providing training to those using the simulator."
SPOA members can take advantage of the Tenstar simulator as follows:
A small fee is required to hire the simulator for contractual and insurance purposes. The simulator will be hired out under the industry recognised SPOA terms and conditions of hire. A copy of the members hired in plant insurance will also be required along with confirmation that the simulator is covered within that policy.