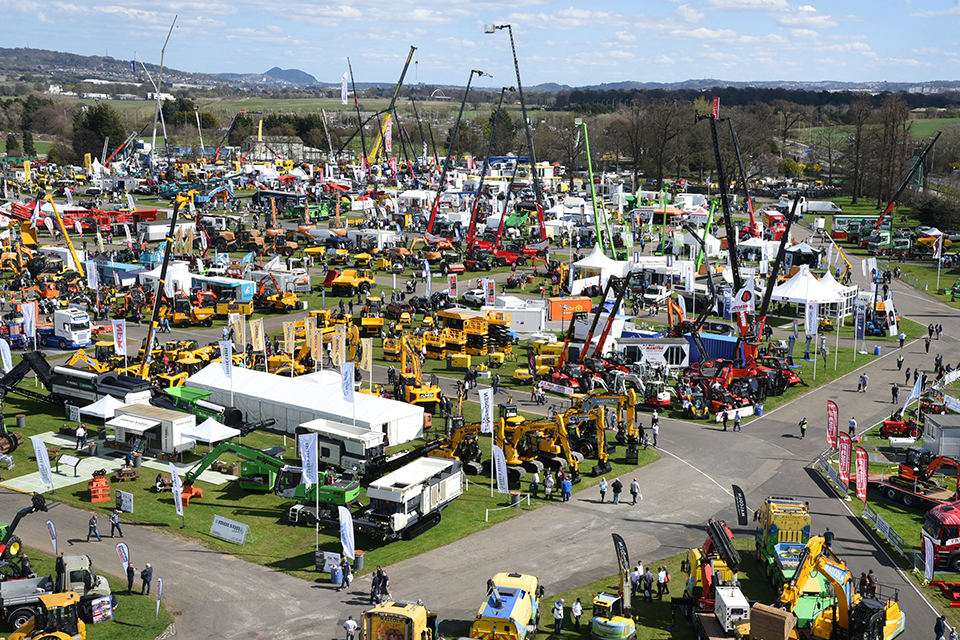 THE sun has set on ScotPlant 2018 after a spectacular couple of days at the Royal Highland Centre, near Edinburgh.
Visitors and exhibitors basked in glorious sunshine as a whole host of construction machines were introduced to the Scottish market. The wraps came off equipment including the Kobelco SK210HLC-10 Hybrid excavator, Hyundai HX130 LCR crawler, Kubota KX030-4 mini, JCB's brand new 220X excavator, the Rototilt R2 tiltrotator and the Takeuchi TB225 towable mini.
Sean Heron, managing director of attachment specialist Worsley Plant, described ScotPlant as "probably the best show on the circuit".
"These shows are massively important," he said. "There are a lot of shows out there but I'd single out ScotPlant as probably the best show on the circuit. You can have good chats with customers in a controlled way. Some of the other shows are too hectic. There's enough quality here to make us roll out the red carpet, give it the VIP treatment but still have time to converse. The whole set-up and procedure here is chillaxed. There's a great temperament and a great manner up here. People are very respectful and want to work with you. It's a fantastic location and long may it continue."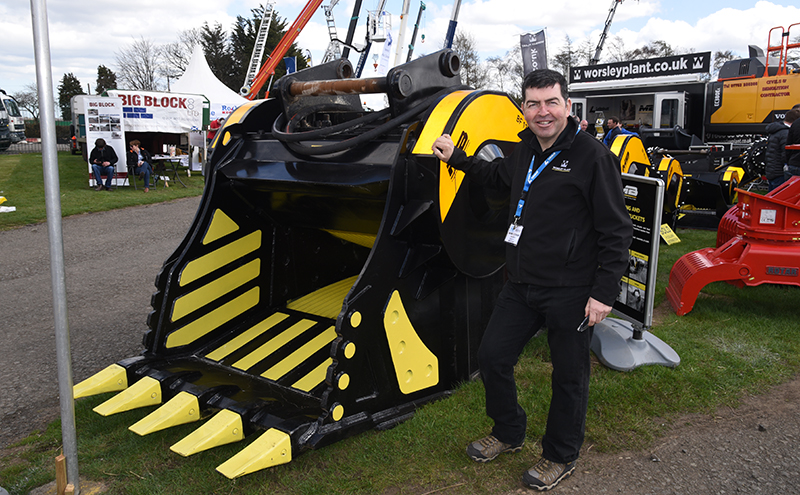 Sean welcomed the number of firms breaking into the sector. "We're always trying to be a step ahead. We're a pioneer for crushing buckets and always have been. More people are coming into the market but we've been here from day one. Competition is always healthy. I'd rather be a big fish in a big pond that a big fish in a wee pond. We're all on the same journey. Scotland's a big market and we want to push the best products out here."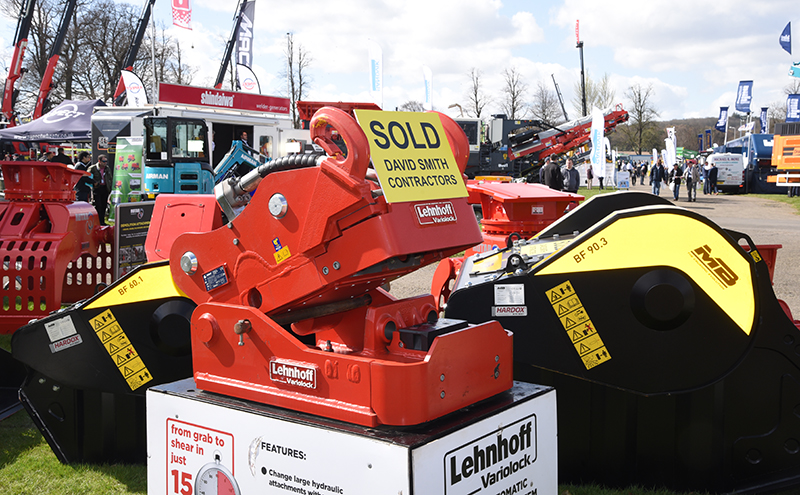 The Young Plant stand was the place to see the new Hyundai, Kobelco and Kubota diggers. The firm is marking 40 years in business at ScotPlant. MD Brian Young said there had been "tremendous interest" in the Kobelco Hybrid. "Everybody wants to know a bit more about the concept of the electric slew and lithium battery system. There are fantastic fuel savings to be had without any compromise on performance.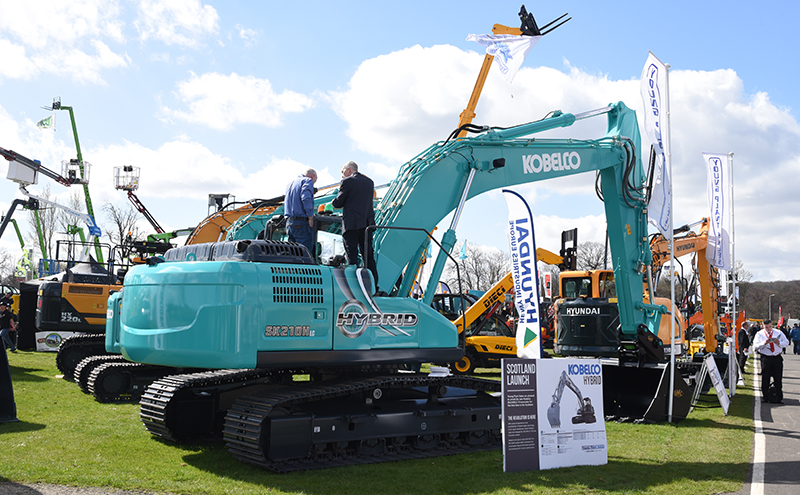 "The Hyundai is also something new for us. It's a very compact 13-tonne excavator and able to get into tighter spaces.
"It's very important for us to bring new machines to a show like this. We're not on the high street; we don't have a shop window to promote our goods. A lot of our customers still don't use the Internet too much for choosing which machines they want to buy. They still want to feel the machines, learn about the benefits and actually meet the people who are going to back them up. People buy from people. That was true 40 years ago and is still true today.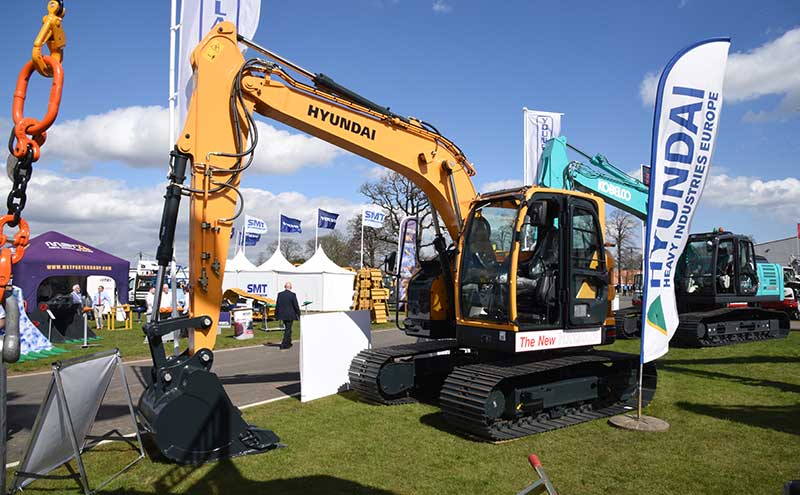 "You can see from the size of our stand and the amount of machines we have on it how important we consider this show to be. It's vital."
One of this year's ScotPlant debutants was Molson Green. James Dodkins, Molson Group marketing manager, said the business is targeting further growth in Scotland and is on a mission to raise awareness of the brand north of the border. "This isn't just about selling kit on the stand," he explained. "We sell particularly high value products and they're very much application-specific. What the customer requires the end product to be defines what machine they'll buy. For us this is more about getting the brand established in Scotland. We're going to be here to stay.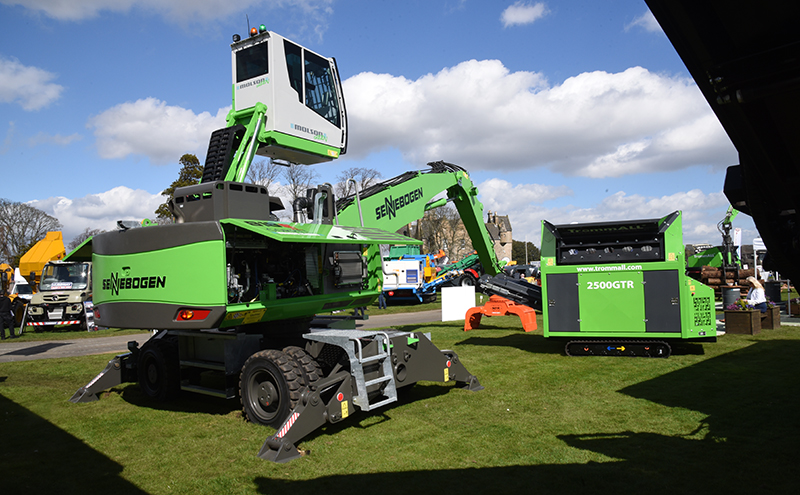 "The emphasis on recycling is getting bigger. Therefore, the need for machines that can process waste efficiently and effectively is only going to get bigger. We see Scotland as a market which is still moving forward at a fast rate of knots. They're adopting new technologies; we've already done some quite big deals up here with major players in the recycling industry."
Light and power specialist Morris Site Machinery has launched six new products in the past six months, including the compact SL80 Pallet light, which has provided the market with a static eight-metre mast lighting tower. Sales manager Richard Denholm said, "The product has been designed for events and long-stay construction sites where they don't want it to be mobile. It has 265 hours run-time.
"The Scottish market for us has been, and always will be, good. We have an operation in Stirling. The Scottish people like quality. They don't want things that are cheap and nasty; they want things that are fit-for-purpose and durable. Our machines are not the cheapest on the market but they are among the best."
George McLeod, sales manager at Caledonian Cranes and Access, exhibited for the first time at ScotPlant 2016. "If it hadn't been successful, we wouldn't have come back," he said. "We got business out of it." He added that the good weather was a major bonus. "Everybody's in a happier mood for starters. They're willing to stop and talk to you instead of jumping from stand to stand to take cover!"