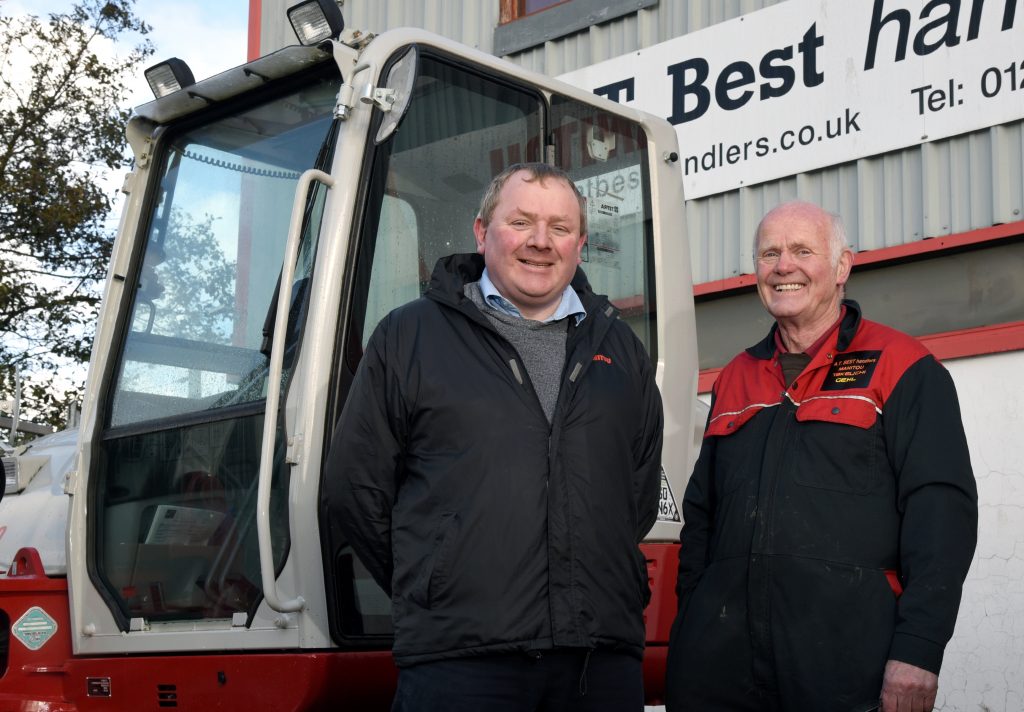 AIRDRIE-based plant equipment supplier, A. T. Best Handlers, is the specialist dealer for Manitou in the west of Scotland.
The business is run by father and son, Stuart and Richard Rose. Stuart has a long-standing relationship with Manitou going back over 40 years. He explained, "I've been involved with Manitou since 1972 when they first came into the UK, as a dealer through on the east side of Scotland."
A. T. Best Handlers was founded in 1997 with a base in Coatbridge before moving to a larger site in Chapelhall.
Stuart continued, "Manitou asked us to come and start a business to promote and support their full range of products in the west of Scotland, which we did. The first three years were very hard and after that, things seemed to come right and it's been on the up ever since."
Richard commented, "The making of us was when we moved into Chapelhall in 2001; we had a roadside position and we could be seen. Over the eight or nine years that we were in Chapelhall is when things really started to take off."
The company made the move to its current premises in 2009 – a 4-acre site at Brownburn Industrial Estate in Airdrie including 20,000 sq ft of workshop and store space.
"This was bought right at the start of the recession," Stuart explained. "We didn't know whether we had done the right thing or not because in 2008 we were committed to this and business just dropped at the start of the recession, as it did for everybody. It was actually a year later before we could move in."
One of the reasons the firm was able to weather the storm of the financial crisis was the wide range of industries Manitou provides for, Stuart said.
"Although we weren't selling so much to the construction industry, the agricultural business wasn't so bad, so we still had that and a lot of other outdoor industries that kept us going."
It was during this time that the company branched out and started dealing in Takeuchi equipment across central Scotland. Stuart continued, "We'd always just been Manitou and nothing else before that and we took on Takeuchi in 2010, which has grown nicely."
Speaking on the range of equipment A.T. Best deals in, Richard said, "Manitou telehandlers have always been our main franchise but under Manitou comes a whole range of products such as agricultural handlers, construction telescopic handlers, rough terrain forklifts, access equipment, industrial forklifts and a full range of warehouse equipment. This was then complemented with a full range of mini and midi excavators from Takeuchi. This year has seen a vast expansion in our industrial forklift business with the addition of sales and support staff. With the quality of the Manitou product and growing range, the future looks very bright. This has opened new markets for us and is increasing our customer base."
Richard added, "We are investing in the future all the time, most recently adding a new state-of-the-art computer system which is a complete management system and linked to all eight service vehicles via handheld tablets, helping to provide a more efficient service across our customer base. We also invest a lot in manufacturer training to ensure our technicians are fully up to date with current and future products."
Speaking on the firm's relationship with Manitou, Stuart commented, "We have an excellent relationship with Manitou. In fact, it's more like a family atmosphere." Richard agreed, saying their relationship "couldn't be better". "We've got a great relationship with Takeuchi as well," he added. "The Takeuchi product is second to none; it's a prime product out there in the market."
Richard puts the company's success down to "service and customer relations". "We have great relationships with customers. We get a lot of repeat business; it's not just one-off sales," he said. "We've had customers who had been dealing with other people and became stuck at some point in time. We've helped them out and, through that, ended up their number one supplier."
Stuart added, "At one time we'd have been the second or third port of call for some customers and now I think we're mostly first port of call."
Richard said, "Pre-Takeuchi, we just had Manitou and a lot of people asked why we didn't take on lots of franchises. But we can't specialise in everything so we take ourselves as Manitou and Takeuchi specialists."
Stuart added, "That's been a deliberate move, just to specialise in two manufacturers – one manufacturer to start with – because if you spread yourself too wide, you can maybe sell a lot of machines but you can't do a decent job for them all. All our engineers know exactly what they're dealing with."