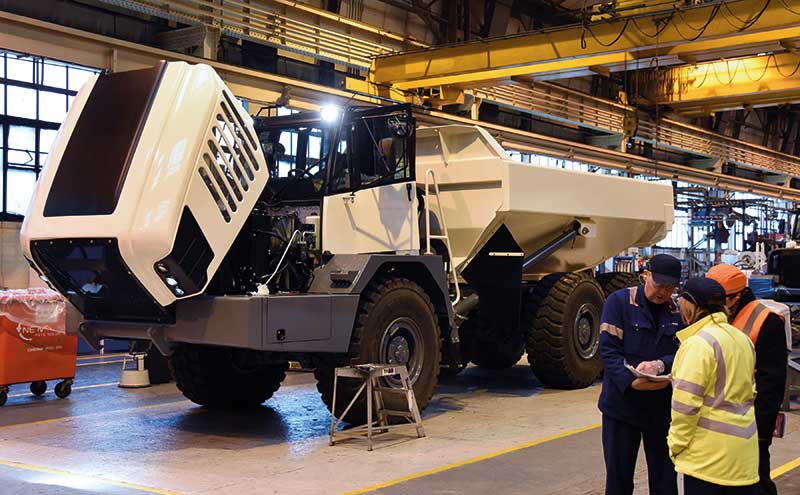 MOTHERWELL'S "best-kept secret" is how Terex Trucks director and general manager Paul Douglas jokingly refers to the dump truck manufacturer's premises, despite the business employing almost 400 people and creating articulated and rigid trucks for use all over the world.
When Paul joined the business seven years ago, even his own parents still referred to the facility as the "General Motors plant" despite the business becoming independent from General Motors more than 30 years ago.
In total, seven models – three articulated haulers (with hauling capabilities from 25 to 38-tonnes) and four rigid haulers (41 to 91-tonnes) – are manufactured in Motherwell. The trucks are utilised in a number of sectors from mining to general construction work, and have been called into action in environments as challenging and diverse as deserts, the Arctic, the top of mountains in Vietnam, nickel mines in New Caledonia and underground in Irish salt mines.
Terex Trucks was acquired by Volvo Construction Equipment three years ago and whilst the name has remained unchanged the business has undergone significant changes in recent years and, according to Paul, is on a "journey of constant investment".
Big money has been spent on people, products and facilities.
Paul explained that one of the biggest advantages of having Volvo as an owner is their strong medium to long-term vision.
"When Volvo first took over, they had plans for this place, which had many elements to them, and they've followed through on all of them," he said. "Part of the long-term (strategy) was people investment, product investment and facilities investment. The plan wasn't to do all that at once; it was over a period of time. They've done everything they said they would do.
"The market unfortunately didn't go the way we thought it would go. When Volvo bought us, the expectation was that mining had flattened out and we would see some gentle increase. It fell another 67% from the day they acquired us, so the mining markets haven't been kind to any of us in that sector, but they've stuck by it and continued to deploy the plans that were set out.
"People investment has been the most important area. When we were carved out of Terex Corporation, we were light on certain commercial areas."
Investment was made in departments that had previously relied on central support such as marketing, administration and sales.
"Volvo has also been fully supportive of our apprentice programme, so we've been able to keep that going," Paul added. "We've taken six apprentices on each year since I joined the business. I think there aren't enough young people going into manufacturing and engineering as a general rule. Before we even talk about bringing apprentices in to the business, we've tried to engage more with young people – primary schools, high schools and colleges – basically advertising who we are and what we do here. When kids come and see what we do and we talk about the types of careers we have here and products in the industry, they get excited. A lot of them have never thought about it before. All I'm trying to do is plant a seed.
"The other side of that is we had a very high average age in the business. It was quite acute in some key areas like welding and CNC machine skills. We've been on a programme to try and reduce the average age and bring younger talent in. One of the ways of doing that is to have a healthy pipeline of apprentices coming through and retaining them.
"Of the 30 apprentices that have come through in my time, we've only lost two. One joined a rock band, which we can forgive him for, and one got headhunted after winning Apprentice of the Year.
"We've brought in adult apprentices as well. When I came here in 2010, the average age across the business was 59. The average age today is 47."
There has also been huge product investment, with Paul highlighting a "very healthy and very aggressive" push to bring new haulers to the market.
"That demanded big resource requirements in engineering, manufacturing and purchasing," he explained. "We wanted to improve quality and reliability and freshen the articulated hauler range. We've done that. We launched the Gen10 range of articulated trucks."
Factory investments have included new machinery and a new assembly haul for the rigid trucks, which Paul described as being like a "brand new factory". "There's been a massive amount of investment there, right down to new floors, crane rails, walls and lighting," he said. "We've also invested in our finals testing inspection areas. Some of the investment is new; some is repair and maintenance. There's a production test track just behind this building, which has been completely resurfaced over the past two years. We couldn't afford to do that before; there were parts of the track we couldn't use. Those are the types of things we've been able to do since Volvo ownership.
"The rebranding has started, office spaces will be getting upgraded and it's just a journey of constant investment."
John Bennett, Terex Trucks' regional business manager (Asia Pac & UKIR) believes innovating and bringing new products and developments to the market is essential to the continued success of the business.
"It's of paramount importance to be continually upgrading and I was really glad when we came out with our Gen10 range," he explained. "It counters some arguments. I was with a customer last week who had a demonstration from us, which went very well, but he also looked at one of our competitors and said (their product) was the same thing as it was ten years ago. Customers expect to see developments."
John admits though there is an "awful lot to be said" for keeping the models relatively simple. He cited one example where a customer switched to Terex Trucks due to their previous supplier's machines apparently becoming too complicated to operate and difficult and expensive to fix in the event of any issues. This can be of particular importance if the truck is operating in a remote area.
John said the truck market is currently "extremely" competitive, with the market going "haywire" since the global financial crisis in 2008. He added that it's a buyer's market at the moment and, while cash is often king, he believes the support structure behind a truck is the most important aspect of any purchase and that Terex Trucks stands out on performance.
"What we're embarking on for 2018 in a bigger way is the demonstration programme," John added. "The only way to differentiate your truck and prove it is for a customer to use it – and use it on an application. I can sit in an office and wax lyrical about the drivetrain…but the best thing to do is get in it, get it dirty and get it directly compared to other trucks. Really, what I'm looking for when doing demonstrations is poor conditions because our trucks start to differentiate themselves more and more as the conditions get poorer. I was at one a couple of weeks ago where I was knee-deep in mud. It was no good for my car but good for the truck differentiation. I sat in the truck with the driver on that particular day and competition trucks that were running alongside our truck were struggling at certain parts. That's how to sell a truck!"
John believes the fact the trucks are all manufactured in Motherwell gives the firm a distinct advantage. He used the phrase 'Clyde-built', signifying that Scottish manufacturing and engineering has historically stood for quality.
"That still means something locally," he said. "It's also a huge advantage in other areas of the world because you're seen as a European brand. It does stand for quality and good design.
"We try to get as many customers as possible to come here. Usually the feedback from factory visits is really strong and positive. A lot of people say they had no idea we did all this and can't believe this is here. I like to invite site managers, drivers and decision makers at the same time. The people who actually use the machines love to see what's behind it so it's a strong tool for us."
Despite having the power of the Volvo Group behind them, Paul Douglas believes Terex Trucks has successfully managed to retain the personal touch and keep close connections with customers. He said one reason for their success is that they specialise only in trucks.
"We're not going to be a 20,000 excavator business," Paul added. "We're going to manufacture hundreds of units per annum, not tens of thousands. So we're quite a niche business. We're high capital value but relatively low volume. The structure as it is today suits us.
"It's absolutely brilliant getting up and coming to work in the morning. There's always a long list of things to do – and we are not perfect in any area by any stretch. There are always improvements to be made and when you've got a strong business behind you backing you, it couldn't be any better. We're in a great space at the moment. The only thing that would be nicer is if the mining markets were stronger – but it's coming back. 2017 has been the best year for the past four or five years. Is it going to be back to 2007 levels? Probably not. 2011 was the last peak in mining in terms of equipment spend, projects, mine openings and production. I think it will go back to 2011 levels. It will take some time but probably in the next two years it will grow back to those levels. It has always been historically a very cyclical business and since the big recession in 2008, those cycles have been very hard to predict. We've definitely seen an increase in the past 6-9 months."
Paul said the last recession had a "massive" impact on Terex Trucks and has led to long-lasting changes within the industry generally.
"Our industry – and I'm talking about general heavy equipment – is often the first industry to suffer. Projects get stopped because there's no money to build airports and roads. That gets pulled so resources aren't required. They don't need to quarry or mine stuff; steelmaking slows down. The recession did have a massive impact on us. There were huge headcount reductions, slow down or stopping of major development projects and a general significant reduction of the business levels.
"It's (the recession) changed many things. The most significant change was that, pre- 2007, a lot of the big mining companies would capex their equipment. They would buy the equipment, take it onto their balance sheet and use their own cash reserves. Fast forward to today, almost none of them buy their equipment. They want to lease it and power by the hour. That's the model now. Deals today are less about the product and more about how you can finance it and what that does to their cash flow and how successful they can be without investing in stuff going on their balance sheet."
Paul said other changes include a stronger focus on efficiencies, a desire to get more production for less fuel and costs, and companies holding on to equipment for longer periods of time.
Like most UK-based business, Terex Trucks is waiting to see what the potential impact of Brexit will be. Paul said there could be manufacturing benefits. Whatever happens, one of the advantages of being based in Scotland is having access to a skilled workforce.
"The golden rule is to build close to the market but when the market's small and your customer base is scattered, it really doesn't matter where you build. One of the things that's good here is we've got strong talent with lots of skills and competency. It's what we pride ourselves on. We're in a good location. It would be very hard to start up a big truck company anywhere else. Britain's a great place as far as engineering, manufacturing, technology and finance is concerned so it's a pretty good place to be. We're generally well regarded worldwide."
TDL Equipment is the only UK dealer Terex Trucks uses, though there are around 100 dealers worldwide including 30 in America alone.
"You need local knowledge and local capability," Paul said. "We can't do that from here in Motherwell. We've got good people working for us but you need to have a very good channel partner to take your products and support customers locally and understand local business, financing and culture. You have to treat your dealers as partners. Working strongly together, we can give the customer the best experience thereafter. I've seen across my career dealers being treated badly. That's not right. In our case, most of our dealers are independent so they've got their own money in this and have a vested interest in succeeding. Dealers are absolutely vital to our success.
"With TDL, everything is under one roof. TDL are a good example of most of our dealers; they are independent, privately owned and multi-franchise. They have many product and service offerings in their arsenal."
Looking to the future, Paul is optimistic both for the industry generally and Terex Trucks specifically. "We've got a great owner and a roadmap of where we want to be within the Volvo Group. The investment is there; the commitment is there; so you couldn't really ask for more. I think you'll see continued growth and improvement in this place, increased volumes, increased outputs, and increased headcount. We're going to see more success on rigid haulers than we've enjoyed previously because we'll be accessing the Volvo networks and resources."