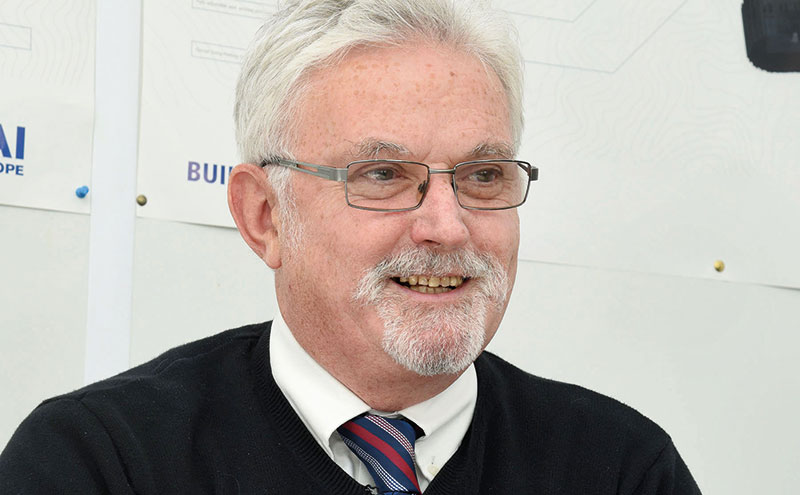 BRIAN Young has revealed it's been very much business as usual at Young Plant Sales despite selling to the Molson Group.
Brian, who has agreed to stay on as managing director at the Doune-based firm for at least the next three years, told Project Plant the synergy between the two businesses made it a "sensible" move for all concerned.
As well as giving Young Plant more financial security, the link-up has allowed the business to add to its machinery portfolio with the addition of Kobelco excavators and Dieci telehandlers.
"I started a conversation with Molson several years ago when they approached me at Plantworx. Initially we were talking about supporting their activities on Molson Green recycling equipment in Scotland. They had no service cover in Scotland or a depot of their own up here, so they were looking for a partner to help support the product.
"Having similar interests, with both of us being multi-franchise and selling the same equipment in different parts of the country, we knew each other anyway from dealer meetings, having similar suppliers and attending similar shows. We said we were interested in supporting the product. We reached agreement on that and kept the conversation going."
Those further conversations eventually led to the prospect of Molson buying Young Plant Sales. Brian explained that he'd already started thinking about succession planning but kept the deal hush-hush, not least because he didn't want rumours spreading or risk having his loyal staff unsettled.
"I was looking to the long-term future of the business anyway," he added. "I knew our sales director Bob Lyttle's retirement was coming up. I'd already started having conversations with the staff to see if they would be interested in some form of buy-in. At that point, neither of my children had shown a great interest in joining the business. I've been in the industry for the best part of 40 years now so it had to be a planned exit. I'm sure I'll still be planning it for years to come!
"If I'd decided the deal was not right for us, and particularly for the staff here, even at the eleventh hour then I would have pulled the plug.
"The Molson Group has no interest in micro-managing things. They're quite happy to leave us to manage the business. I think the staff all had concerns. I think the initial worry was that I'd leave and I did my best to make them realise that wasn't my style and that wasn't going to happen. I had planned in a smooth transition where all jobs would be retained for the long-term. That was very much part of the overall package we agreed. Looking after the staff was probably one of the most important factors of all the discussions we had from day one.
"We have people like Olive and Helen in the front office who, combined, have served over 60 years. They are very much part of the family and you look after your family.
"I originally signed in for a minimum of two years and I've agreed to extend that for a further two years with an open book at the end."
Brian said becoming part of the Molson Group has enabled a raft of positive changes to be made.
"Inward investment has been a huge plus," he said. "We now have more financial security than we had before. We were always very good at looking after our own financial wellbeing in the past but we carry a huge amount of stock and that comes at a great cost. We were paying an awful lot of banking interest as time was going on for holding larger stocks of bigger and heavier equipment as well as maintaining growing stocks. Things happen within the market; customers delay purchases, orders are cancelled or postponed for long periods. You might be sitting on the best part of £1 million worth of stock for one particular customer whose contract has just been postponed for another nine months – and that did happen.
"The business has grown by 10-15% every year for the past five years without really increasing staff numbers so the pressure was growing on all the staff members and the financial side at times was getting more challenging. So to have someone come in with a much better banking arrangement than we had was a very positive benefit for everybody concerned with the business."
Brian added that there are now "different challenges" for him to contend with but that he finds decision-making to be "easier and faster" than it was previously.
Given that Young Plant Sales was founded by Brian's father, Tom, almost four decades ago, and all the hard work Brian and his staff have put in over the years, it's no surprise that he still feels the same level of responsibility as he did before the sale. It's clear that, to him, this will never be just a job.
"I might be wrong but I believe I'm making better decisions faster than I might have done in the past," he admitted. "I'm no less stressed and no less involved than I've ever been – and I can't see that changing for as long as I stay here to be honest. Any form of customer or supplier issue, however minor, I still take as a personal thing on board that I need to deal with quickly and resolve to the satisfaction of everybody involved. That will never change."
Brian is currently overseeing changes to the sales side of the business. As well as Bob Lyttle's retirement, Celia Norton has joined as sales and business development manager. Celia has previously worked for a number of manufacturers and speaks several languages. She worked in Germany for 17 years.
Brian added, "She's dealing with manufacturers all the time for our benefit and the customers' benefit. She's had a lot of very formal training so she's bringing in some new ideas to the business, which are all very welcome. We're looking very much positively to the future."
Young Plant has snapped up the premises next door, which has resulted in three new smaller workshops becoming available to the business. This has allowed the firm to split the workshop team into light and heavy equipment, solved a bottleneck problem caused by a lack of space and created a lot more storage facilities.
And despite having previously shown no inclination to join the business, Brian's son Joe has now reversed his decision and has come on board as a full-time member of staff.
Brian said, "He's just graduated in chemistry from Heriot-Watt so that's almost as relevant as when I graduated in zoology many years ago! At the minute he's in the workshop. He's spent the last five summers working in there. He's very keen to learn about how the machines work. He's helping refurbish them and also helping prepare new machines. He intends to get involved in the sales side. We have a good sales team at the moment, which has been expanding, so there isn't an immediate position for him to fill and he doesn't want to jump straight in as a novice anyway. He wants to get a feel for the machines, get an understanding for them and the plan is to give him responsibility for preparing and selling used equipment initially and graduate on from there.
"When he went to uni, he had intended to be a forensic chemist, but he was getting more disillusioned with chemistry as time went on because there was a huge amount of physics involved in it – and he'd never been keen on physics at all. He spent the last six months doing quantum dynamics – just the name of it frightens me – and so he decided he wanted to work on machines.'
Joe is the third generation of the Young family to be involved in the business. Although there was never any pressure on him to go into the plant industry, Brian believes having a family feel to the firm is something that continues to help them stand out.
"The opportunity for Joe and my daughter Natalie to join the business was always going to be there but it wasn't a road I was going to force them down," Brian said. "If they had ambitions to follow their own dreams, then I was certainly going to encourage them to do that and not insist they joined the family business. They've come to all the shows and exhibitions over the years and spent time in the office, as I did myself when I was young. I went to all the shows as a kid and spent my Saturday mornings in the yard at JCB.
"Suppliers, staff and customers all realise that we have the stability of the family structure. We also tend to have more of an open door structure than perhaps more formalised business would have. While it can be very disruptive to what you plan to achieve in a day, more or less everybody knows I'm at the end of the telephone or they can walk in the door and discuss any difficulties or situations as they arise."
Next year is set to be a busy year for the business as it celebrates its 40th anniversary. Brian is already looking ahead to ScotPlant, which he said will be the "pinnacle" of the festivities.
"We intend to use ScotPlant as a launching pad for a year-long celebration of the fact we've been in business for 40 years, supporting the construction industry," Brian said. "Celia has formed a committee within the business with members from each department, so that the staff can actively participate in all the planning for the 40th anniversary celebration because we want to make it a celebration for the staff as much as the directors, suppliers and customers.
"Molson will also have a large stand at ScotPlant to promote the Molson Green products, which we are maintaining for them in Scotland. "Molson is very much a family business too. The second generation of all the directors are all involved in the business. The coming together was good for all of us; it was a very sensible step. They are very ambitious and so are we."