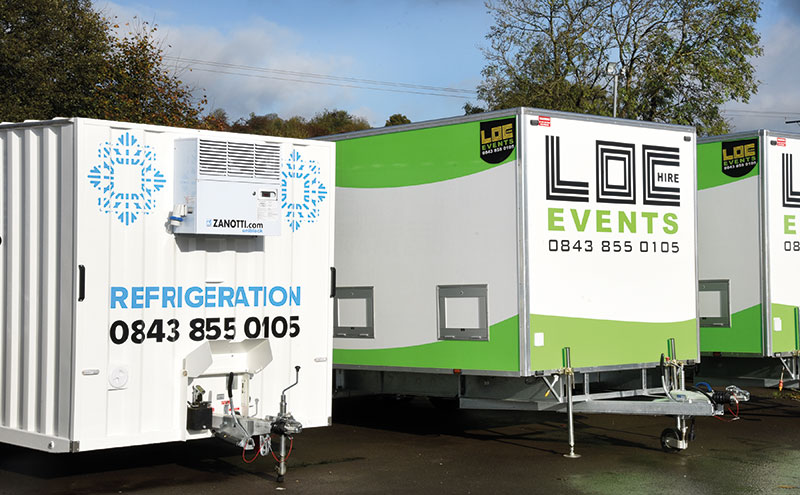 A recent £3.5 million investment in mobile welfare highlights how far Bonnybridge-based LOC Hire has come in a short space of time.
The firm, which was founded by Dan Wharton just three years ago, has quickly established itself as a major player in the sector, supplying equipment to a range of major projects across the country.
Earlier this year, the company relocated to a 2.2-acre site and launched an events division to complement its existing offering of mobile welfare units, tower lights and portable toilets. Satellite depots in Aberdeen and Newcastle are also up and running and staff numbers have more than doubled over the past two years.
Dan told Project Plant the business is on course to turn over £3 million this year and is well ahead of where he expected to be so early in the journey.
"Two years ago we'd just moved into a small yard down the street, which we now use as an overflow," he said. "We've been in these new premises since February this year. We're right in the heart of Scotland, with quick and easy access to all major areas so it's perfect for us and our customers.
"A couple of years ago we employed 9 or 10 people. We now have 25.
"In our first 18 month accounts, we turned over about £650,000. Last year we did £1.65 million. By the end of this year we'll probably do about £3 million.
"There was a business plan (at the outset) but we've performed way ahead of where the plan suggested we would be. Why has it worked? I think we've been successful because, firstly, we've got really good quality kit. It's all brand new. We buy kit that our customers tell us they need. When I first started, everybody had 12′ units and what I didn't want to do was just offer the same as everyone else because then it just becomes about price. We've now got seven different types of units right up to a 24-foot unit. We're always trying to be different."
Dan admits he's "very selective" when it comes to choosing what manufacturers to work with. His mobile welfare unit fleet is almost exclusively made up of Boss Cabins while his tower lights are from Heimdall.
"Right at the beginning, I did the whole exercise of going round all the different manufacturers," Dan explained. "I settled on Boss Cabins as our supplier for mobile welfare. Bar literally a couple of units I picked up as trade-ins, we've never diverted away from them. It works for us in a lot of different ways. Number one; we get the benefit of price when we talk to Boss because they know it's only them we buy from, so they get the benefit of volume. Number two; our customer understands the product. Number three; my fitters don't have to be experts in a whole range of products. I've got one parts department. Everything is about making life as simple and straightforward as possible. We have a really good relationship with that manufacturer."
The recent £3.5 million deal was with Boss Cabins – by far the largest order LOC Hire has ever placed.
"The deal is colossal for us," Dan admitted. "It shows where we are now in the marketplace after such a short time.
"Before this new kit arrives, we have a fleet of 160 mobile welfare units. We also have 200 tower lights. We've got 300-400 plastic toilets and our events division, which has been really successful for us. We started that in March this year. From a product point of view we have invested in the likes of luxury loos, refrigerated units, 4×4 all-terrain vehicles, large toilet blocks, ticketing offices, plastic toilets, tower lights and generators.
"We also invested a small fleet of welfare vans, which is a new product for us and is going very well.
"The £3.5 million we've invested in mobile welfare. Very specifically, we've invested in a new power system called Eco Ultimate, which is a genuine power on demand system. If you go into any welfare unit, they run a generator and it's just burning fuel all the time. What this system does is the generator will run to the point that it needs to run and prioritise what it's going to power. For example, if you're boiling the kettle and you then want to go and wash your hands at the sink, while washing your hands it turns the kettle off. When you finish washing your hands, it turns the kettle back on. You don't even notice it going off.
"We reckon we can basically get a unit to work for about 50 pence per day. In a traditional unit, you can spend £40 or £50 a week on fuel depending on the hours you're actually running it.
"We're convinced this is genuinely the ultimate power system and that's why we've invested so much money in it.
"Eco features are more and more in demand. On the basis that we want to be market leaders and we want to be different, after a lot of research we've picked the Eco Ultimate system because it has genuine eco features and genuine savings for the customer."
While the overwhelming majority of LOC Hire's business is in Scotland, the firm has supplied equipment to projects as far afield as London, Bristol, Birmingham and Wales this year.
Dan said the importance of innovating and constantly being in a position to offer new products to customers is "massive".
"It's probably the most important thing for us," he added. "It's one of those things where it's about standing out from the crowd. How do you avoid talking about price all the time?
"But different isn't just about the product; it's about the business; it's about our people and how they approach and talk to people. Feedback we've had from suppliers/customers is that we're just really fresh and different; we actually care. We genuinely try to bend over backwards. People will say that all the time but that's actually what we try to do."
Dan decided to invest heavily in staff after recognising early on that a potential pitfall would be if he tried to juggle too many things by himself. "We stopped spreading ourselves so thinly," he said. "We've recognised areas where we need to be really good. We need accounts to be up to date if we're going to fund fleet so we appointed an accountant and a credit controller.
"We employed a quality manager because we recognised PQQs were going to be a big part of what we do. The most important thing is that the staff we have is made up of people who genuinely care about the business. We've had a bit of staff turnover, generated by people who realised this was not for them. When you go in and say 'It's just a job', it doesn't work. That's not the atmosphere we have in the office; it's not the way we want to portray ourselves to our customers."
Dan said the hire market is "very" competitive at the moment. He admitted the equipment supplied by LOC Hire "isn't the cheapest" around, but believes most customers are willing to pay a bit extra for quality products and quality services. He also believes there are increased social and environmental pressures on firms to invest in high calibre kit.
"We always presume competitiveness means price – and of course that's a big thing," Dan said. "But we're competitive when it comes to the service that we offer.
"People are willing to pay that extra pound or two to get that quality service. That's where our focus is.
"We keep our rates as low as we possibly can but at the end of the day, we want to be able to afford to give people a really good experience."