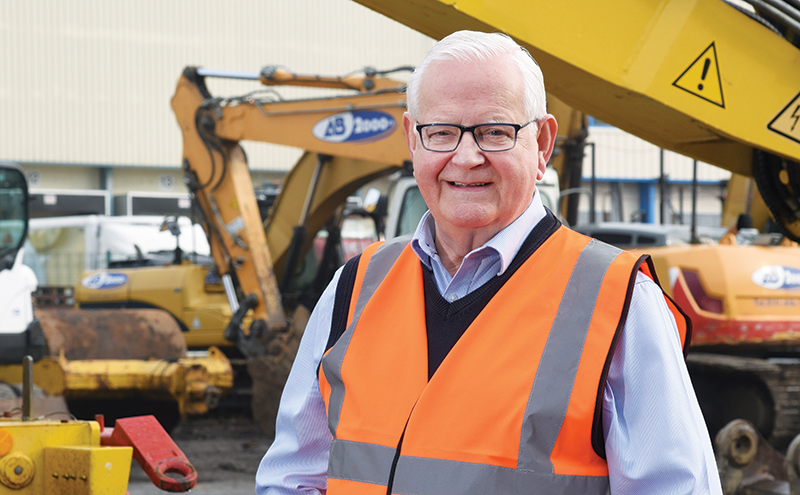 ADAM Bruce, managing director of AB2000, founded the plant hire company back in 1995. Despite vowing at the time to have a fleet of no more than 20 machines, the business has grown, diversified and today boasts some 400 items of plant and machinery and over 240 employees.
The firm operates from its head office in Cambuslang and provides operated and self-drive plant and equipment – from traditional plant to cranes and specialist rail kit – to projects around the country.
AB2000 operates five distinct trading divisions and three years ago was awarded the Scottish Business Insider's fastest growing SME award. This year saw the company enter the Business Insider's top 500 companies in the UK at number 393.
Adam tells Gary Moug about a lifetime in plant, the changes he's seen in the sector over the past five decades and how his business continues to stand out in an increasingly competitive marketplace.
Q) WHAT'S THE HISTORY OF AB2000?
A) It was founded in 1995 off the back of Adam Bruce Plant Hire, which was subject to a management buyout. The name '2000' came from the year we were supposed to be finishing up but we're still here!
We started out with a few machines and took over a lot of the contracts I had in the previous company. We expanded from there. I promised we'd only have a maximum of 20 machines but here we are with 400.
We use a range of different manufacturers as each gives a different quality. We specialise in quite a lot of things like long-reach excavators, lime spreaders, concrete pumps and cranes.
We strive to provide an overall package which our customers tell us is important to them. We have a large railway division here, which provides specialist services to the rail industry such as road/rail excavators, Rail MEWPs and specialist attachments like rail croppers. The firm is made up of different divisions and those divisions as well as our regional depots in Nairn and Aberdeen, all contribute to the overall success of the company
Q) HOW DID YOU FIRST BREAK INTO CONSTRUCTION?
A) In the mid-1960s I was an apprentice joiner and started working for a company called Speirs, Dick and Smith who were building contractors. They had some plant and one of my tasks, apart from doing a bit of building surveying, was to look after their plant holding. This tended to grow and I tended to grow with that and found that plant was more interesting to me than bricks and mortar.
I went to London for a year or two to work with a civil engineering company that had a lot of plant as well and then came back to Glasgow and started up on my own in 1969. I found it quite an easy decision as I wanted to do something on my own. I started driving a machine myself; I had never operated one on a site before. The industry back then was just as hard as it is today, though there wasn't as much competition obviously and equipment wasn't just quite as sophisticated.
My first machine was a Drott International B100 with no cab.
Q) PROUDEST MOMENTS?
A) My most rewarding achievement is to have such a fantastic team working here. They have made the company thrive. I am very grateful for all their hard work.
Also, getting into various different sectors and diversifying the whole business. Buying into cranes was a big achievement, taking over Motherwell Bridge's crane division. Also, starting concrete pumps from a standing start last September, which has turned out to be very rewarding. The railways side of our business is very successful and is expanding all the time.
Q) HOW IMPORTANT IS IT TO KEEP INVESTING IN YOUR FLEET?
A) Absolutely essential. We have a budget of £11 million every year for new plant and we change machines over in a five-year cycle.
Q) HOW DO YOU STAND OUT FROM COMPETITORS?
A) By selecting first class staff and having an excellent management team on board, we are able to offer excellent customer service. We offer a huge variety of plant which we find our customers like. Likewise, the availability of plant and of course the quality of operators.
A lot of plant hire companies don't supply operators anymore. I'm not saying they're wrong (to do that) but we are a general plant hire company and are proud to supply a complete service.
Q) HOW PASSIONATE ARE YOU ABOUT APPRENTICES AND DID YOU KEEP YOUR APPRENTICESHIP PROGRAMME GOING DURING THE RECESSION?
A) We take on a lot of apprentices – both in the field and in the office – which is very important for our business. Skills shortages are a great problem in the industry and we're training as much as we can. During the recession, we kept an apprentice programme going. It's much bigger now than it was then. In 2008, we had a real crisis on our hands. We lost money, we had to make huge, swinging cuts just to survive.
The bank tried to make us factor our accounts, which is a recipe for disaster as far as I'm concerned. We resisted that. I asked them how they valued a balance sheet because we're very proud that our balance sheet stands up to scrutiny and is guaranteed by how we sell the machines. They said probably between 10 and 20% would be the value of a break-up. I was astounded by that. This is what we were up against. Businesses were being destroyed because of a lack of understanding.
Q) WHAT DOES THE FUTURE HOLD FOR THE BUSINESS?
A) I think caution is on the agenda. There are a lot of big infrastructure projects winding down in Scotland. We want to try to maintain what we have. Being a private business, we're not really too worried about increasing the size of the business every year.
Maintaining what we have is the important factor. If we have to consolidate then that's what we do. We can afford to do that.
Q) HAS THE LAST RECESSION CHANGED PEOPLE'S ATTITUDES TO BUSINESS?
A) Very much so. It should have made people more cautious but I think some of that is slipping again. I think people are beginning to take risks again that are not justified.
Q) WHAT HAVE BEEN SOME OF THE BIGGEST CHALLENGES FACED?
A) Every day is a challenge. Competition is a challenge. Contractors bringing in outside sub-contractors from Ireland and various places is a challenge. Having said that, we've had some good dealings with some of our Irish contractors.
The industry is too competitive. You're buying dump trucks at £200,000 plus each and you're not getting any more for them in the last five years. Bad debt can also be a problem if not strictly controlled.
Q) BEST ADVICE YOU'VE EVER RECEIVED
A) Never give up. That's the same advice I give to others.
Q) HOW DO YOU RELAX WHEN YOU'RE NOT WORKING?
A) I like skiing. I also like to go out to golf clubs and relax in front of the television. And I have four lovely grandchildren, aged two, four, five and nine.
Q) ARE YOU OPTIMISTIC FOR THE FUTURE OF THE SECTOR IN SCOTLAND?
A) I'm always optimistic because there's always something turning up. The workload we know is coming up this year we're happy with, though we may have to go further afield for it.
Q) ANY FUNNY ANECDOTES FROM YOUR CAREER?
A) I remember once when I was working on a snowy Christmas day, in the late 60s. Before it was a public holiday we always worked it. I was driving my Drott (with no cab!) on site at the old fiberglass factory on Hawthorn Street. It was snowing and I had Ice in the inside of my glasses instead of steam. I also had icicles on my nose it was so cold!
In those days things were tough and there was no such thing as health and safety or the working time regulations!