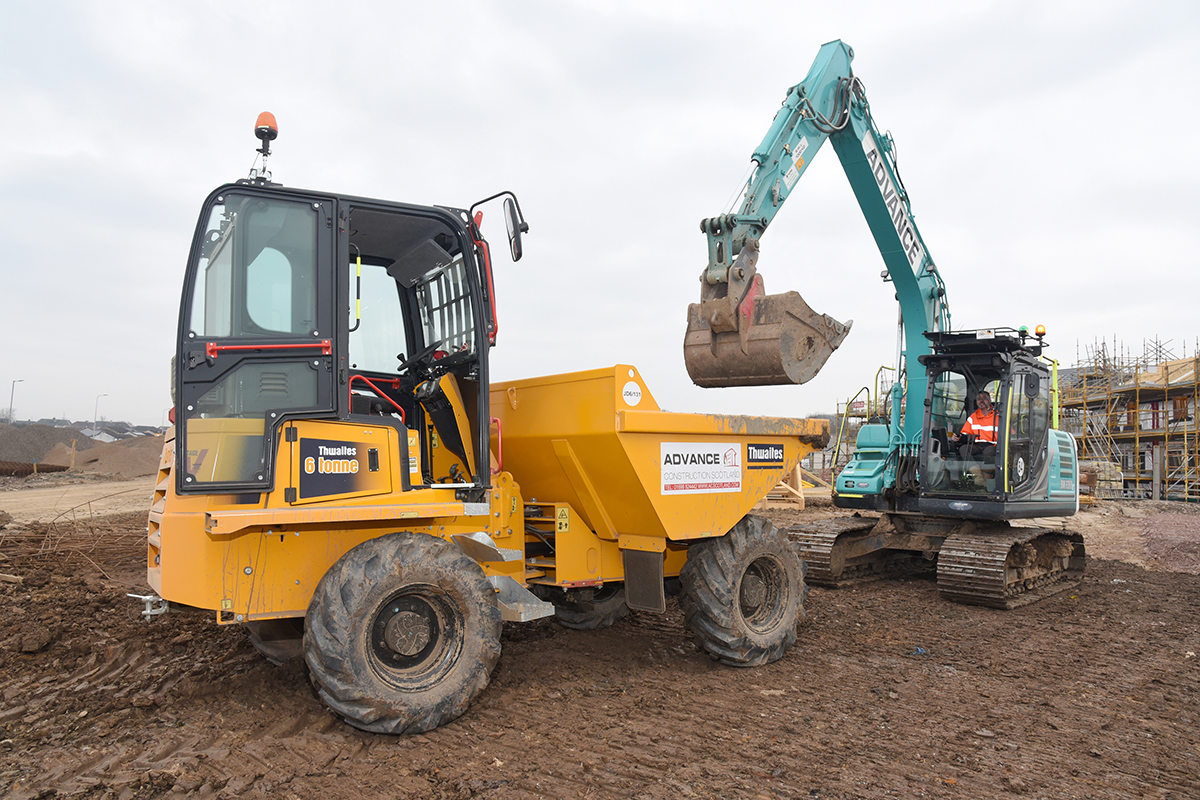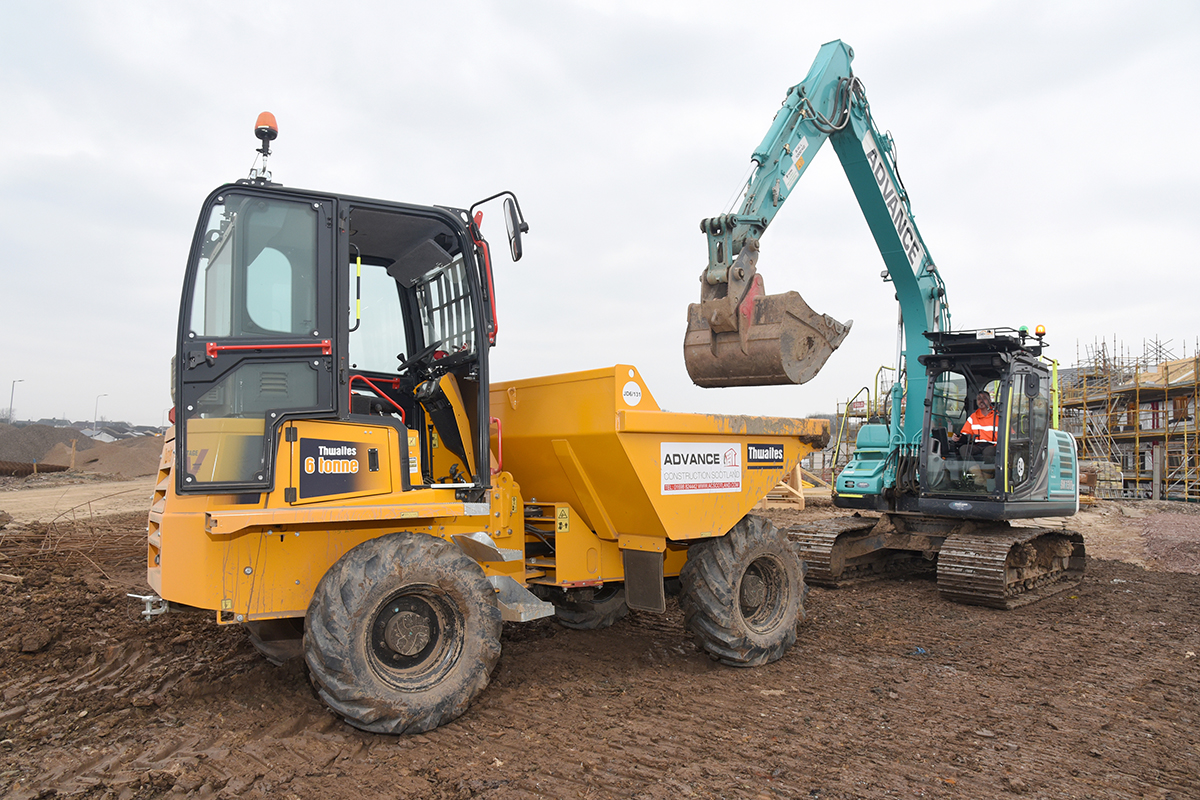 A number of the latest Thwaites dumpers will be display at ScotPlant 2022 via Scottish distributors Molson Young and Lloyds Ltd.
Groundworks specialist Advance Construction Scotland recently placed an order for some 40 cabbed Thwaites dumpers, facilitated by Molson Young Plant Sales, the Thwaites approved distributor for the Scottish central belt and Highlands. The deal comprised a mix of both six and nine-tonne front tip, stage V machines.
The cab is impact tested to level 2 ROPS ISO 3471 and FOPS ISO 3449.
Advance plant manager Gareth Mollan said, "We run a fleet of over 300 site dumpers, all of which are manufactured by Thwaites. The reliability of the machines deliver a real competitive advantage, delivering exceptional levels of safety and productivity to our customers.
"With the market buoyant, we are currently operating on over 250 sites across Scotland. We always listen to our customers; in the housing sector for instance, more clients are asking for cabbed dumpers to reduce risk, to be compliant and to be more competitive. These 40 new Thwaites machines will go straight to work, playing their part in building Scotland's infrastructure and delivering the country's housebuilding programme."
Alistair Murdoch, head of sales – heavy line equipment for Molson Young Plant Sales, who negotiated the deal, added, "This is a great deal to support Advance Construction with. Their loyalty to the Thwaites brand gives the company advocate status which is rewarded with continuity and consistency at the point of order, on site and during the contract period. I would like to thank the business for this order and their continued support."
Will Redman, Thwaites distributor manager (north), commented, "Thwaites cabbed dumpers are built to be the best. This machine has undergone rigorous testing, in the most challenging of conditions, ensuring the design and build quality give plant operators the maximum protection."
Meanwhile, a historic Thwaites machinery find recently helped to spread a little happiness at a farm in the Cotswolds. Andrew Sabin, Thwaites general manager for sales, took a call from a farm owner called Pat who discovered in one of his sheds what he believed to be a Thwaites agricultural machine. From the description, it sounded like one of the earliest machines the company had ever manufactured – the Thwaites muck spreader.
Thwaites, founded in 1937 by Basil Thwaites, built those early agricultural machines in Leamington Spa, Warwickshire. Driven by the war effort, agricultural manufacturing was in need of modernisation and an increase in output. In the early 1940s, Thwaites produced forage harvesters and muck spreaders, a decade before the launch of the very first site dumper in 1951.
Andy said, "It is not every day you get a call like this; I have worked at Thwaites for 21 years and apart from old photographs, I have never seen a muck spreader. So when I travelled over to meet Pat at his farm, it was with great interest and intrigue."
Thwaites agreed in principle that if the machine was of interest, they would acquire it by making a donation to the local Sue Ryder charity at the request of Pat, in memory of his late wife Muriel. On arrival at the farm, located on the outskirts of Cheltenham, Pat greeted Andy and escorted him to the machine's resting place.
Andy added, "It was clear that this was indeed a Thwaites muck spreader. Whilst there was no plate or serial number, the design and flecks of red paint were enough to confirm that we had found one of the first machines every manufactured by Thwaites, here in the heart of the Cotswolds."
Pat first remembered seeing the machine in the mid 1950s, soon after he inherited the farm from his late father.
Thwaites stuck to its word and has now embarked on a mission to return the machine to its former glory. The company contacted construction and agricultural colleges in the area to enquire if the renovation project might be of interest to the next intake of apprentices. Interest was high and Thwaites has now teamed up on the project with industry-led construction school AccXel, based in Cinderford, Gloucester, just 30 minutes' drive from the find.