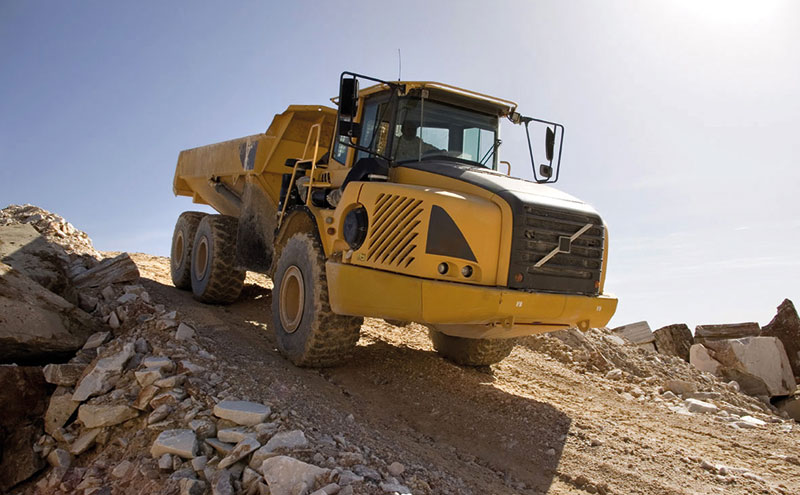 Mining and quarrying are among the toughest of industrial environments, with dust contamination posing a real threat to plant and machinery. David Oliver, channel and platform development manager, bearings and units at SKF, focuses on quarrying and describes how bearings can be protected to enhance machine life and reliability
QUARRYING and aggregate processing are high-volume production activities; they are usually continuous, 24/7 operations, open to the elements, and inevitably a lot of fine dust particles are generated in the vicinity of materials handling and processing machinery, such as crushers, screens and conveyors. Moreover, these machines can be subject to severe shock loading and vibration – challenging conditions that can damage critical machine components such as bearings.
Contaminants entering the bearing enclosure are among the most common causes of failure but careful selection of bearings and seals can overcome this problem.
Widely used in quarrying machinery, sealed SKF Explorer spherical roller bearings are ready-to-mount units that are factory-filled with the correct amount of a high performance lubricant, protected by integrated double-lipped nitrile rubber seals on either side of the bearing.
A useful property of spherical roller bearings is their tolerance of vibration. Vibratory applications, such as vibrating screens, induces the acceleration of rollers and cages in the machine bearings, which places additional demands on the bearing design.
Spherical roller bearings with controlled inner and outer ring tolerances, higher radial clearance and a surface hardened pressed steel cage are able to withstand considerably faster accelerations than corresponding standard bearings.
However, the permissible acceleration will also depend on the lubricant used and, more importantly, the mode of acceleration. Acceleration may cause cyclic loads on the cages – which is typical of vibratory screen applications – or induce roller 'hammer' on the cage pockets (the latter typically occurs when rail wheels run over rail joints). Sometimes both modes of vibration occur simultaneously.
Spherical roller bearings for use in applications subject to high levels of vibration are also available with coated cylindrical bores. PTFE is a commonly used coating, preventing fretting corrosion between the shaft (which does not need to be coated or heat treated) and the bearing bore.
A typical sealed bearing arrangement for quarrying machinery is an open bearing located in a grease-filled, sealed housing that effectively provides two barriers to contaminants.
The disadvantage of this arrangement is that the bearing cavity needs to be purged of contaminants periodically which can mean using large quantities of grease.
An alternative approach that avoids purging altogether is to introduce a third barrier – such as the SKF three-barrier solution. Here the open bearing is replaced by a sealed SKF Explorer spherical roller bearing to separate the barrier grease from the bearing grease, an arrangement that extends bearing life and reduces the need for maintenance.
Some quarrying activities release ultra-fine dusts or the highly intrusive fine-grained, abrasive iron ore called taconite.
In this case, the performance of the SKF three-barrier solution may be further enhanced by replacing the housing's external seals with SKF Taconite seals.
Suitable for the protection of bearings located in split plummer (also known as pillow) block housings, this is essentially a labyrinth seal with three to four labyrinth stages arranged axially.
The additional labyrinth stages, including an internal low-friction rotating V-ring that faces the bearing to deflect water, provide an extremely effective and reliable barrier against moisture and fine particle ingress, while also preventing contaminants from penetrating the bearing when the seal is purged for re-lubrication.
Split roller bearings in both pillow block and flange housings are frequently found in quarrying applications. Split-to-the-shaft bearings are easily removed from so-called 'trapped' applications – difficult-to-access locations in machinery that would otherwise require the dismantling of large components – saving both time and money for the quarry operator.
Split roller bearings and split tapered roller bearings (such as those supplied by SKF), are housed and sealed in special swivel cartridges, which are suitable for mounting in pedestal or flange outer housings.
The cartridges have a spherical outer surface, which fits into a conforming surface in the mounting unit, rather like a ball and socket joint. Any shaft misalignment tends to move the cartridge, seal and bearing together, maintaining the seal on an axis parallel to the shaft.
This novel configuration allows extremely close tolerances to be maintained between the housing and the shaft, delivering a sealing performance that is recognised as one of the best in the anti-friction bearing industry.