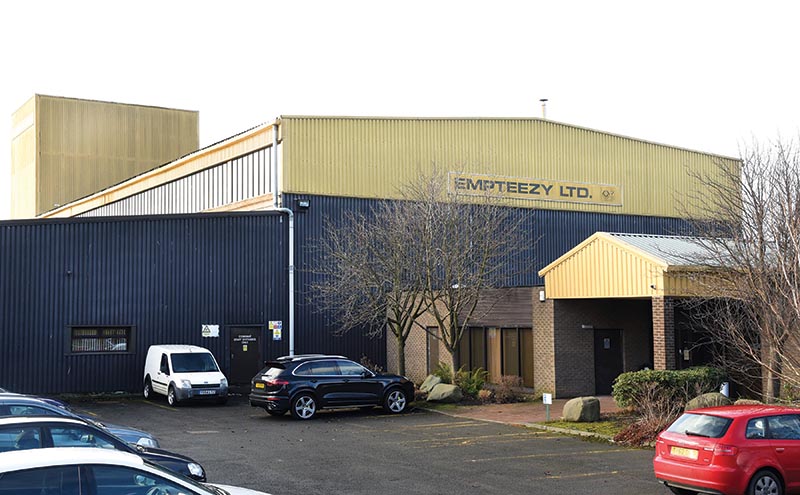 Livingston-based spillage containment firm Empteezy recently celebrated its 30th anniversary. Project Plant's Fraser Rummens met with founder Bruce Wishart to discuss the history of the business, how it has grown and the attachment that started it all.
BRUCE Wishart founded Empteezy in 1986 after he spotted a gap in the market, which led to the design of a forklift attachment that could easily empty waste into skips.
The company designs and manufactures products ranging from forklift attachments such as clamps for oil drums, crane jibs and skips to bunded storage units, emergency showers, absorbents and spill kits.
The idea for a forklift attachment came to Bruce while he was working as a factory manager for a wastepaper merchant at a time when they were moving away from collecting waste in stillages and starting to use demountable skips.
"It was originally solving a problem for customers," Bruce explained.
"(Customers had problems) getting the waste into these big skips because the sidewalls are about eight feet high. I designed a container that would empty into it using a forklift.
"I basically took the idea and spun it out into a company because I realised that it wasn't only the customers of the company I worked for that had that problem; it was a general problem that was starting to develop, hence the name Empteezy – something that emptied easy.
"It solved a problem that a lot of people had. They were basically having to handball waste into skips, which is time consuming and some of the practices were quite dangerous because they would use a forklift truck to lift it up over the skip, somebody would climb up and throw the waste in and sometimes fall in. This was a lot simpler so it was very well received, quickly."
After initially subcontracting the manufacturing of the original design, Bruce set up his own fabrication site and soon decided to expand the product range.
"As it was being sold as a health and safety product, I looked at other health and safety products," Bruce said. "I looked abroad; I was a very early exporter and traveller so I looked at what was going on in America and in Europe and if there was a product that could be used in the UK market I would adapt it. If there wasn't, we just came up with our own ideas and it went from there.
"What you're making your money on today, in three to five years time your margins will have started to disappear because of competitors, etc, so you have to have, in my opinion, new products coming along, new lines coming along. You start them now and in five years time they'll be making most of your profit."
Bruce emphasised the importance of spillage containment. He said, "It's all about liquid management; it's all about the storage, control and handling of liquids. A lot of them might seem quite innocent but even a simple thing like a discharge of a few litres of milk into a river causes havoc because it takes all of the oxygen out of the water. There are regulations in the UK, which makes it a legal requirement to store a barrel of oil in a secondary containment system so if it does leak it doesn't get into the water course – it is all driven by the protection of water."
Originally based in East Calder, Empteezy moved to its current steel fabrication plant in Livingston in 1992. The company then acquired a second Livingston site in the late nineties and formed Romold Ltd for the rotational moulding of spill trays, drums, spill pallets, cabinets, containers and trolleys.
Empteezy also expanded into Europe in the late 1990s when it acquired French company Delahaye Industries and opened a 130,000 sq. ft. steel fabrication warehouse in Nantes, France. It also acquired French company Schoeller Industries, located in Strasbourg, which specialises in the melt-blown production of absorbents, in 2003.
The business has made a multi-million pound investment in its Schoeller Industries site in recent years with the installation of a new production line.
Bruce highlighted purchasing the manufacturing facility in France as the company's biggest milestone. He explained, "We had been exporting from very early on but I found the usual pitfalls. For this kind of product you work with other companies, they act as your distributor so you impart the knowledge on the type of products and the markets they should be targeting and it can work very well for a long period, or it might only work for a short period because when their sales get to a certain level, they find a cheaper source of a similar type or product. We had to control the markets we were working in."
Empteezy now has four manufacturing plants in total, two located in Livingston and two in France, with sales warehouses in Germany, Italy, Belgium, Spain, the United Arab Emirates and offices in the Netherlands. The company sells products globally to countries including Australia, South Korea, Singapore and the USA.
"That gives us strength in that the factories that produce have secure outlets into the upper markets for their goods," Bruce said, before going on to add that the breadth of Empteezy's international sales might surprise people. "It's amazing just how far we ship things that are made in Scotland; most people wouldn't realise that."
A lot of Empteezy's business comes from the manufacturing sector but the company can supply a solution "anywhere that there's industry going on," Bruce said.
The company has been involved in projects as varied as supplying temporary accommodation cabins for the Forestry Commission that had to be helicoptered in pieces up Ben Nevis to supplying absorbent booms for the clean-up operation following the capsizing of the Costa Concordia in 2012.
Bruce said, "In the UK, automotive is a big sector; engineering of any description, right down to wastewater treatment; we supply things like safety showers or tank showers (to water companies). There is no one dominant sector, it goes from the Ministry of Defence, through to agriculture and we even sell into things like hospitals.
"The railway sector is another large sector for us. In Spain they've been building a new high-speed line down on the coast; our Spanish side has supplied the storage containers for all their lubricants and suchlike."
Speaking on the plant sector specifically, Bruce commented, "Obviously, any plant is going to involve oil, whether it be hydraulic oil, gear box fluid, if it's actually a machine shop they'll have cutting fluids. These have all got to be stored properly and safely. When they're being used any spillages have got to be able to be cleaned up quickly so we manufacture and provide spill kits and spill stations."
As for the challenges the business has faced over its history, Bruce said, "We've grown fairly consistently throughout the 30 years. We had the same problems that everybody else did in 2008/2009 with the recession because it pulled back investment in the industry."
He continued, "As a small-scale manufacturer, the biggest challenge undoubtedly is competition from a low labour market. That has been a challenge so we've just had to concentrate on the lower volume, higher technical skills so we do a lot of fire rated products, which you sell less of but they've got higher margins.
"Low labour cost manufacturing has been one of the biggest challenges to any small manufacturer and we've handled it predominantly because a lot of the products we make are difficult to transport because of the size.
"The volume products we do are under pressure from low cost manufacturers but we have built our own network of sales distribution; they can't take that off us."
Now Empteezy faces another challenge as the industry holds its breath amidst the negotiations regarding the UK's exit from the EU.
"It will have an impact, it has to have; but again, it's just another thing," Bruce said, "As a businessman, the politicians put obstacles in your way and you have to find your way round them; it's as simple as that.
"The currency has had an effect on us. If you take rotational moulding, which is using a polymer, polyolefin, which is oil based, and all denominated in dollars, so no big surprise, the price of that has gone up. How do we get round that? Well, we were already looking at efficiencies in reducing the amount of material we use so you have to try and manage that."
Empteezy employs just under 250 staff across the Group, over half of which are based in France. In Scotland the company has 90 employees across its two Livingston sites. Many of the team have been long serving, something that Bruce values.
"There is a lot of knowledge, not only on the factory floor, but also in the sales staff; they've got a lot of experience in solving problems," he said.
Going forward, Empteezy is looking to continue pushing into global export markets, having already firmly established itself in Western Europe.
Bruce said, "We have our own people in the main markets here so we're looking outwith the European market into the Eastern market, into the Asian market (and) India; there's a market there for our products as well."
Bruce went on to say that although other companies in these markets may manufacture similar individual products, Empteezy's strength is its product range.
"You buy absorbents from one company, you buy plastic spill pallets from another one, you buy the steel products from another one, you buy the safety showers from another one," he said.
"We manufacture all of these things within the Group and we are pretty unique in that. I don't know of anybody else that actually manufactures the range of products that we do.
"We manufacture well-engineered products, which we stand behind," Bruce added. "You get what we say, it's as simple as that."