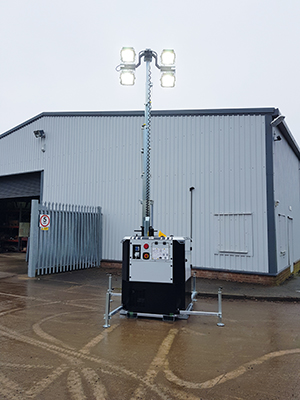 LIGHT and power supplier Morris Site Machinery is looking to brighten up this year's ScotPlant after launching six new products in just six months.
Thr firm will showcase its compact SL80 Pallet light which has been developed to provide the market with a static eight-metre mast lighting tower. The Pallet is a highly transportable and compact option, enabling 22 units to be loaded onto a euro trailer. It is one of a line-up of new models, which have been brought to market as part of the company's new product development strategy following the introduction of a three-tier range of products offering 'Ultimate', 'Standard' and 'Value' propositions across its main product sectors.
The "small in size but big on impact, highly compact, portable and powerful" TL60 Trolley light with 4 x 300W LEDs will also be demonstrated. This model has been developed to be handled by a single operator with 30 units fitting on a euro trailer but also available on a skid or as a 'Value' road tow option.
When it comes to other product sectors, the business has applied its three tier principle, building the product and price choice for customers.
Within its ArcGen welding range, it offers the Cobra 500i multi-process inverter in its 'Standard' tier and has now introduced the ArcGen Adder 35 wire feeder and new six pack frame.
The business will also be showing off its 'Ultimate' Eventa and 'Standard ' Renta ranges of Denyo generators.
Sales director Richard Denholm said, "Our experienced design team have once again delivered some world-class solutions. As a pioneering business we never compromise on quality and our mission is to bring the best choice of high performing, next generation site machinery to market with a range of specifications and price points."