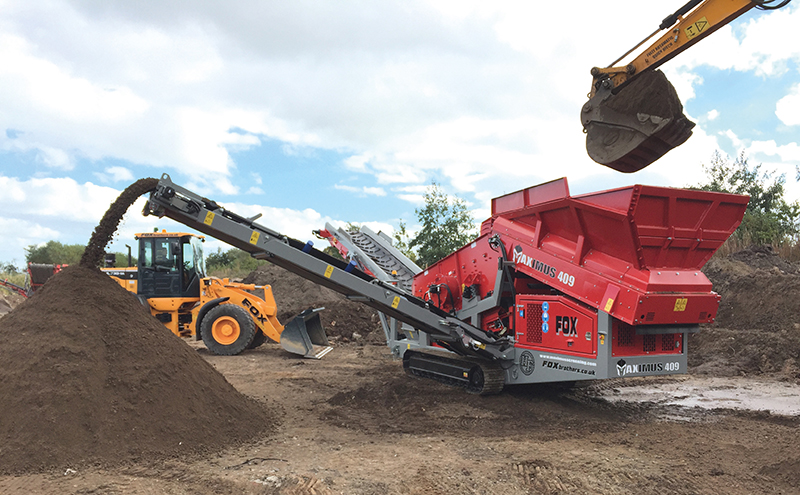 TAYLOR & Braithwaite is looking to open people's eyes to the benefits of compact screening and crushing during its ScotPlant debut with a range of machinery never before seen at the event.
The Cumbria-based dealer will be showing off its recently acquired Rubble Master and Maximus brands – namely the Rubble Master RM 90GO! tracked mobile impact crusher and the Maximus 409 scalping screener.
It was the acquisition of these franchises that prompted the decision to exhibit for the first time, Ian Burton, sales director at Taylor & Braithwaite told Project Plant. Taylor & Braithwaite has the franchise for the whole of Scotland for both brands and is hoping to use the ScotPlant exhibition to show off what these units are capable of.
The 23.6-tonne RM 90GO! crusher and 17-tonne Maximus 409 scalping screener have both been developed for the smaller end operator. The 409 features a heavy duty 2 bearing 2.74m x 1.22m screen box, integrated hydraulically operated folding side conveyors, heavy duty feedhopper and a JCB Dieselmax 55kw Tier 4i Stage 3a, 74 HP (55kW) Engine. The RM 90GO! has an inlet opening of 860 x 650mm, offers an output of up to 200 t/h, depending on material, and is powered by a John Deere 6 cylinder diesel engine (Stage 3 compliant at constant engine speed) with 194 kW at 1,800 rpm.
Ian said that both machines were well suited to the recycling market and to smaller sites with less space. "You can pop them on a wagon and move them a lot easier. They're cracking bits of kit," he enthused.
"The biggest thing seems to be the compact size; you don't need movement orders, it's a standard low loader move. (With) the majority of crushers, you're talking 35 to 40-tonne; big lorries, movement orders, not really worth popping into a job for a day. Whereas (with) this, standard low loader, drop the rack, pop it on and away you go. The costs aren't prohibitive for the tonnage."
Ian said the firm had seen "quite a bit of interest" in Scotland, with a couple of sales already made.
"It's definitely opening a lot of eyes and a lot of people are starting to take note of this type of machine. We're provoking a lot of thoughts on how people are processing stone and recycling."
Ian added that the ScotPlant show allowed the firm to exhibit as a dealer and represent its brands, which it may not be able to do at other trade shows.
"It's hard because most of the shows are national," he explained. We don't cover nationally, so the manufacturers tend to exhibit, whereas in Scotland, because we have the whole of Scotland for these two brands in particular, we can exhibit there.
"(ScotPlant) gives us the opportunity to show off a couple of brands – it's the dealer that's exhibiting here.
"It's (raising) the brand awareness of Taylor & Braithwaite and also the brand awareness of the two products that we are showing – and it shows that we are moving into different markets, not just the excavator sales."