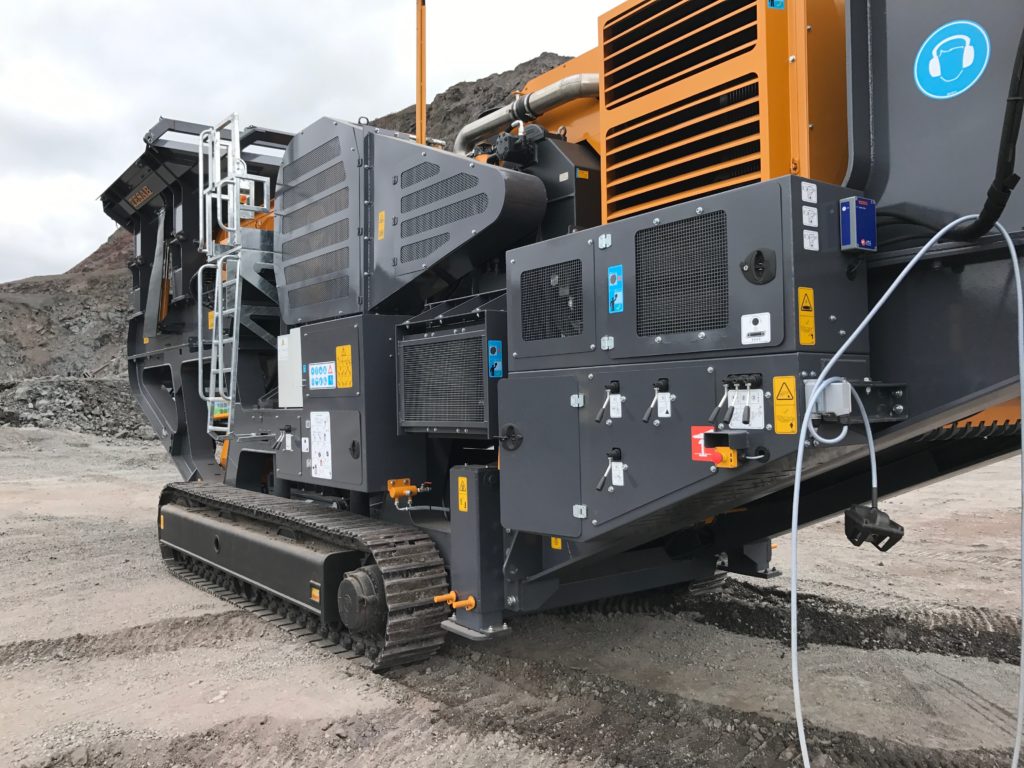 SCG Supplies has secured a deal to become Scottish distributors for Northern Ireland-based crushing specialist Tesab.
The firm, which recently relocated from a Hamilton business park to modern premises in Airdrie, has already sold one of Tesab's flagship jaw crushers to W H Malcolm Ltd for use at Loanhead Quarry.
Paul Thorne, sales director at SCG, told Project Plant that the Scottish market is one that Tesab is eager to break into, with their machines ideally suited to hard rock.
He said, "For many in the quarrying industry, the Tesab name will be synonymous with the widely sold and used RK623 impact crusher, although these days a full range of crushing and screening options are available, culminating in the class-leading 800i heavy duty primary jaw.
"The machine, which has been built for the last decade under the 10580 name, has now been lean manufactured and rebranded but the proven jaw crusher chassis has been kept so operators can expect reliability and industry-leading build quality that packs a real punch from a 62.5-tonne crusher."
The 800i is the machine SCG has sold to W H Malcolm Ltd. It has been designed for arduous quarrying applications and features a Cat C13 Tier III constant speed engine, no AdBlue requirement and the "simplest drive mechanism you can use on a big crusher – a 21 KPTO transfluid clutch".
Paul said the simplicity of operator interface, along with the performance witnessed during a number of site visits, persuaded W H Malcolm Ltd that the machine was the right fit for them. "The brief was straight to the point," Paul explained. "They needed a machine that wasn't under specified or too complicated; a quarrying machine designed to crush a lot of stone for a long time. They needed us to show that we could support the product."
Paul thought that was a pretty accurate description both of the product and the SCG team ethos. "Firstly, I thought, 'We are a leading quarrying spare parts supplier so that's a fair start on the road to supporting the machine'. Then I thought, 'If we are going to take this product on and sell it to a much valued customer, I need to be convinced every bit as much as the team who are going to operate it'.
"I recall one trip in particular to Ireland to see the crusher in action; the material we saw being crushed was so hard that the sound waves sent out when larger pieces were being broken could be felt at some distance.
"Tesab build one crusher at a time, to the customer's specification, and when it's ready to go out the door – and not before – it is despatched. They've shown a lot of faith in us as their distributor in Scotland, so in return we must keep up their exacting standards."
Tesab's products may not currently be well known within the Scottish market but once the W H Malcolm Ltd machine has completed 250 hours, SCG plans to start inviting potential customers to go and have a look for themselves at its capabilities.
"It's coming up for its first service," Paul added. "Once the machine is through its initial service cycle, we'll start inviting people to come and have a look.
"We are in the fortunate position that the whole team at W H Malcolm Ltd has agreed to help us market the Tesab brand, so much so that they even sent their own, show-stopping, heavy plant rig to uplift the machine at the factory, which gave us a great photo opportunity. We really cannot thank them enough for their help and cooperation throughout the whole procurement and supply process.
"As part of that procurement process, a comprehensive site, shop floor and classroom training programme was laid on for those key personnel who would be running the crusher. This consisted of seeing machines working as well as being built so that product familiarity was in-built prior to delivery. As part of the training, specific modules were provided on electrics and hydraulics with particular emphasis being placed on cross-reference to parts and operator manuals. This was followed by Tesab-accredited engineers visiting site for commissioning and refresher training.
"One of the most important aspects of providing new equipment is to bring the customer into your team by giving them ownership of the facts, the decision and then the equipment – not the other way around!
"This will not necessarily be a machine that will compete on price with mass produced crushers. However, it represents excellent value for money when set against other premium brands. Having said that, I'd rather have a good quality machine, targeted at a specific task, and not sell solely on price. I don't think it's a high-volume product; if we sold another one or two in the next few months we'd be very happy with that."
Paul said early feedback on the machine has been positive. "The way the modular crib works is two-stage; there's a feeder and a pre-screen," he explained. "Those are timed on the level of material in the jaw. There's no surge; the cone which the 800i is feeding is kept consistently choke-fed. It's definitely more efficient both in terms of overall production and shape of material."
SCG is also a distributor for Bruce Engineering and Portafill products. With machinery sales becoming a larger part of the business, the company has decided to invest in a field service engineer, which represents an investment of around £100,000 in the first year alone.
"We're selling machines to highly-valued customers so we need to repay the faith they have shown in us by investing in what we offer," Paul commented. "We offer service contracts on any new equipment that we sell and we have to be ready in case there is a problem with a machine, new or old, on a customer's site. There's also a role in the yard refurbishing any trade-ins or used equipment that we buy.
"We hope that whenever we tell our existing customer base that we have a service facility, we'll be able to very quickly move into supply, repair and maintain for people we already work with on a day to day basis.
"Initially, our new engineer will be going to go to all our manufacturers for full training and machine familiarisation."
One of the factors which made SCG confident about taking on another dealership and dedicated field service engineer is the success they've enjoyed with the Portafill range, which they took on in June last year.
"We've been successful with Portafill this year," Paul said. "We now have a good machine population in the north of England and Scotland. Portafill is essentially a compact range of equipment which is more suited to tight sites and medium sized users than the 800i – though the Portafill machines are not compact in terms of production by any means. One of the more recent 5000CT compact scalper machines that we sold to a firm in Teesside is producing up to 200 tonnes an hour.
"Portafill, we would very much regard as a great fit for us. It's a product and business I've known about for 20 years. I sold my first Portafill the very first year we started SCG but it was done on an ad hoc basis.
"Since shaking hands on the deal last June, we've been adopted by them, I suppose you could say, because we're the closest dealer to them.
"We've had visitors from pretty much all the continents coming to have a look at the machines because it's easier for them to fly into Glasgow and take a tour of some of our machines working and then head to see the new Portafill factory in Ireland. There's a great synergy between the two companies and we really like the way they do business."
SCG is already thinking ahead to next year's ScotPlant exhibition, where the firm plans to have some of their premium machines on the stand. "We're hoping to have a real impact at ScotPlant," Paul concluded. "We will be well supported as ever by our great manufacturers and we will have a much larger stand and hospitality unit too."