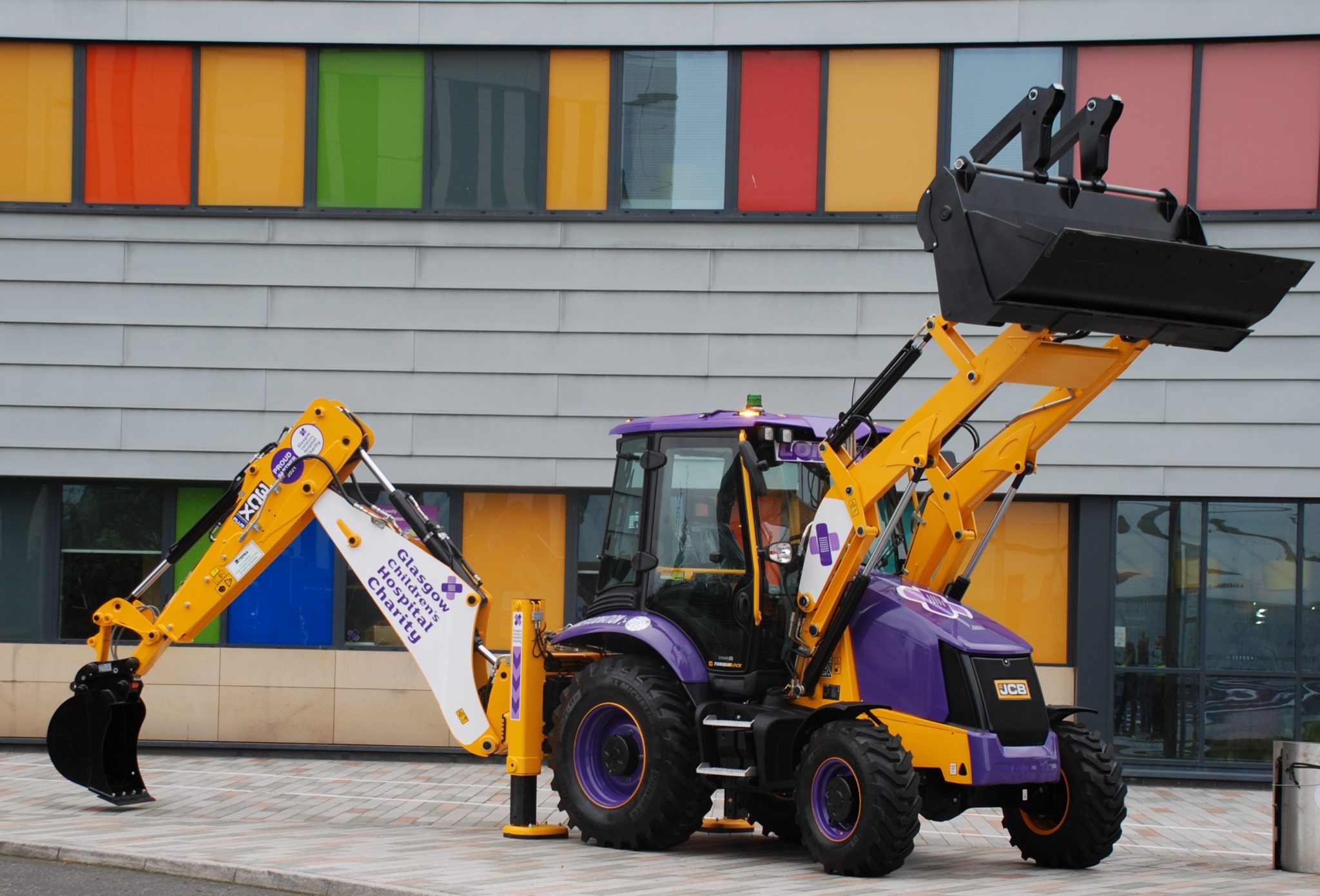 A special-liveried backhoe loader is set to raise money for Glasgow Children's Hospital Charity when it goes to work on construction sites across Scotland's central belt.
The JCB 3CX has been painted and decked out in the charity's colours, and features QR codes and even a postbox to help facilitate crucial donations.
The machine belongs to Falkirk-based construction equipment hirer Lomond Plant. The business will donate money to the hospital charity for every hour the machine is put to work.
Joint MD Ross Easton came up with the idea to show his appreciation to the hospital after his teenage daughter Carmen spent six months there last year receiving vital treatment for cancer.
He explained, "In August last year we were down in the Cotswolds on holiday when my daughter, who was 14 at the time, fell ill. We took her to a hospital in Swindon to get checked and she was diagnosed with cancer. She was then taken to Oxford before being transferred to the Royal Hospital for Children in Glasgow, where she had six months of treatment including intensive chemotherapy.
"Being in there for six months opened my eyes to what they're doing. I could not fault anybody; it's just second-to-none.
"I'll never be able to repay what they've done for my daughter, but I thought it would be a good opportunity to put something back in.
"We'll donate money to the charity for every hour the machine works. I'm hoping one or two of our customers might pay a bit extra to hire the machine, and we'll donate that as well.
"There's not a great deal of room on the 3CX but the whole idea of using that rather than a 13 or 20-tonne tracked machine is I can control where it is. The bigger machines could end up down south and it might lose some of its impact. The operator I have on the 3CX – John Tonner – is from Kilsyth and he generally works in the Glasgow area so it will get as much coverage as it can in that particular area. It will be out driving on the roads, working with local authorities, and appearing on building sites.
"John's already been getting the thumbs up when he's been out in it, and it has definitely generated interest."
After posting images of the machine on social media, Lomond Plant raised almost £2,000 in just two days, including a substantial donation from Scot JCB. The machine will now be put to work across the country and could make some special appearances too, including at next year's ScotPlant exhibition.
William McGowan, head of partnerships & events, Glasgow Children's Hospital Charity, said, "Every day, 500 children require life-changing treatment at the children's hospital in Glasgow. We are incredibly grateful to staff and customers at Lomond Plant for their generous support, which will allow us to continue our charity-funded projects, enhancements and services to support our young patients, their families and our NHS heroes. It is fantastic to see the latest addition to the Lomond Plant fleet proudly supporting the Charity, and we wish Ross and the team every success in their fundraising endeavours."
To donate, please visit https://www.justgiving.com/fundraising/LomondPlant