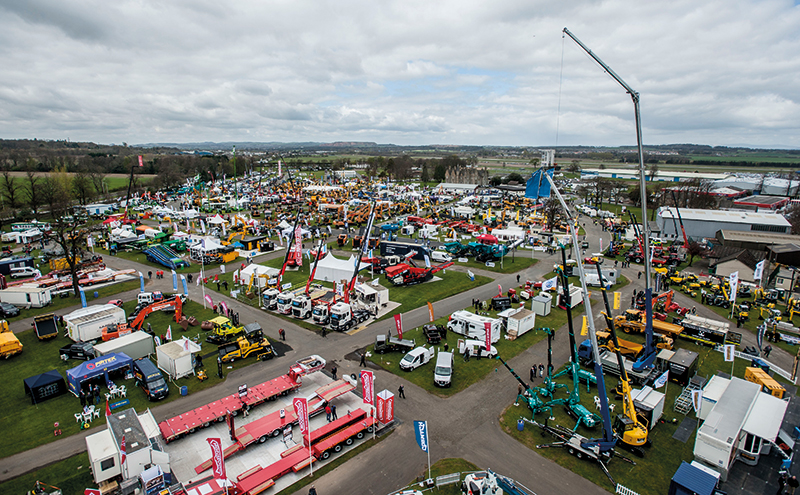 SCOTPLANT 2018 is starting to take shape, with exhibition space filling up fast ahead of the biennial event for construction equipment.
The 2016 show, which featured more than 150 exhibitors, was the most successful in the event's history – and bookings are up when compared with the same stage two years ago.
The Royal Highland Centre, Ingliston, near Edinburgh Airport will once again host ScotPlant, with dates confirmed for Friday 20 and Saturday 21 April next year.
Some of the biggest names in plant will be in attendance including long-time exhibitors Liebherr, Sandvik, Volvo, Scot JCB and Finning Cat. They will be joined by ScotPlant debutants including Finnish-based hydraulics specialist Dynaset and Bay-lynx manufacturing, who create concrete mixers for the UK market.
ScotPlant 2018 will be the 20th anniversary of the exhibition, which has become a major focal point in the Scottish plant sector calendar, enjoying a well-earned reputation as a show where deals get done and crucial relationships are formed.
Mark Griston, ScotPlant sales manager said, "We're well ahead of where we were two years ago, meaning ScotPlant 2018 is on course to be the biggest yet. Some exhibitors are looking to expand their stands while negotiations are on-going with more potential new ones."
The ScotPlant website has been given a fresh look. Visitors to the site can see footage from the 2016 show and find out how to register for free entry to next year's event. Check out scotplant.com