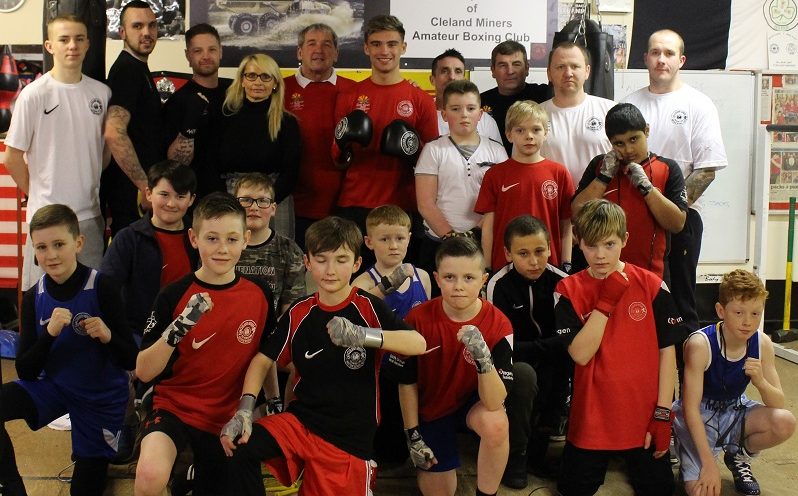 TEREX Trucks has divulged details of a new sponsorship deal with Motherwell-based Cleland Miners Boxing Club.
The support from the hauler manufacturer will help the club update equipment and allow members to compete in competitions across the country.
Terex Trucks said it stepped in after learning about the work the club does within the local community, providing access to exercise and healthy activities.
Paul Douglas, vice-president of Terex Trucks explained, "Terex Trucks is very happy to support Cleland Boxing Club, and we hope the sponsorship we provide helps the young people at the club participate fully in their chosen pursuits. It is important for companies like Terex Trucks to support organisations such as Cleland Boxing Club in the local communities, we are always looking for talent to join our company, and that talent is developed not just in schools and colleges, but also in organisations and sports clubs such as Cleland Boxing Club."
One of the club's members, Stephen Newns (20), is taking part in the Commonwealth Games in Australia this April.
Cleland Miners Boxing Club's head coach Ronnie Blackburn said, "Gaining sponsorship from a global company like Terex Trucks is fantastic for the club and we will use the support to contribute even more back into the local community. As Stephen prepares to compete at the Commonwealth Games, having the Terex Trucks brand affiliated with the club is really exciting and we will carry its name with pride when we visit Australia in April."
Terex Trucks' branding is now on display within the club and on its mini bus, with future plans to create sportswear carrying the company's logo. Global marketing manager Jacqueline Reid said, "It is great to be able to support such a respected club. The managers and coaches dedicate so much of their personal time to provide the local community with a facility where they can meet new people and learn new skills whilst getting fitter and participating in a great sport."