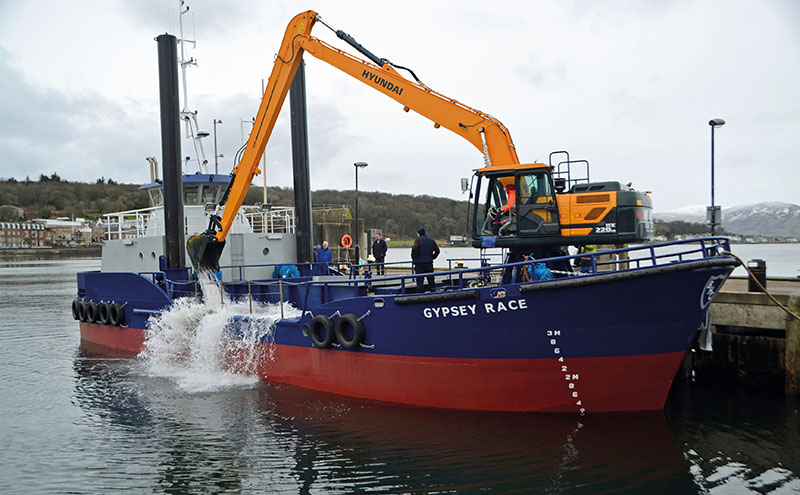 AN Isle of Bute-based boat builder has recently completed work on a canal dredger custom fitted with a 22-tonne Hyundai excavator, which is now plumbing the depths of Bridlington Harbour in Yorkshire.
Ardmaleish Boatbuilding Co. was tasked with building the vessel for Bridlington Harbour Commissioners, based on the specification designed by Glasgow-based Marine Design International.
Euan Ferguson of Ardmaleish Boatbuilding Co, told Project Plant that he contacted Stirlingshire-based Young Plant Sales, initially for the provision of a second hand excavator, but ultimately decided on a brand new Hyundai HX220LR.
The long reach model features an 8.2 metre boom with a maximum digging reach of 50 ft., allowing the boom to go over the side of the vessel.
In order to place the excavator onto the boat, the machine's tracks were removed and it was lifted onto a specially designed pedestal. Euan explained, "We took a template of the holes in the tracks and transferred it to a big flange we had to bolt onto the underside of the excavator and drilled it, fitted it, checked it fitted, welded it onto the pedestal and lifted the machine on."
Euan went on to explain that because the tracked hydraulics were redundant, the track levers were plumbed into two winches that control the dredger's spud legs, which are used to secure the position of the vessel, and these can be operated from the excavator. The vessel also features doors which, once the excavator has filled the hold, are opened to dispose of the spoil. Euan likened this to a "floating dumper truck".
Euan said that the company had previously placed excavators onto barges but it was a case of chaining down the machine's tracks rather than removing them so this was first.
He added, "We've been building boats since 2000; this is our tenth boat. We usually build fishing boats, landing craft for salmon companies and we built a passenger boat last year.
"That was the first (dredger) we've built; there were a few challenges in it but it was a good job."
Leigh Dalgleish, area sales manager for Young Plant Sales, said the project was also the first time the firm had supplied a machine for a dredger and that Euan kept in close contact with Young Plant throughout the project. "It was part of the deal that we would go up whenever they needed us, to help with mountings or fixing points or lifting it on, but we didn't actually need to go up because he was quite happy with the phone calls that he had with us and discussions with our service team.
"They managed to do everything themselves basically, which was great…he was delighted that we helped him through that process and that everything went really smoothly."
Leigh continued, "I think it has been excellent for Young Plant and Hyundai as a whole. It's going to hopefully open a lot of new doors and avenues with the exposure for it. Niche markets are what everybody's looking for…it's good when you diversify a bit and move away from the norm and go into something like this. It makes it more exciting."
The boat was named Gypsey Race, after Bridlington Harbour's previous dredger, which was built in 1940. The reconditioned vessel worked the harbour between 1978 until 2010, when it was scrapped. The name originates from a stream that runs off of the Yorkshire Wolds into the harbour.
Chris Wright, chairman of Bridlington Harbour Commissioners, explained that prior to acquiring the new Gypsey Race, the harbour hired Scarborough Borough Council's dredger, but at 150 ft. long it was proving to be too big for harbour and expensive to repeatedly hire out, so the decision was made to have one built.
"Our problem was keeping the harbour navigationally safe and hiring another dredger in costing us a lot of money," Chris said. "We looked throughout different shipyards and found that Ardmaleish seemed to be the best and this thing has been built to exactly what we wanted – 25 metres, a backhoe on it as opposed to a grab and also spud legs on it to hold her in place. This is just what we need and the other good point about it is while she's 20 ft. shorter than the old Gypsey Race, she holds as much."
Chris said the Bridlington Harbour Commissioners were "absolutely delighted" with the vessel; "It's just a load off our minds simply because we're not having to hire in a dredger that's not only costing a lot of money but it couldn't get into the smaller areas, where this one can. She's only 80 ft. and she's just what we've needed; she's just perfect for Bridlington (or) any small harbour."
Chris went on to praise Simon Cormack of Marine Design International's design, which he described as "exceptional" before adding, "One or two of my commissioners that are actually fishermen and owned their own fishing boats, I took up to Ardmaleish to see her when she was being built – they said she was superbly built. Ardmaleish have made a really nice job of her."