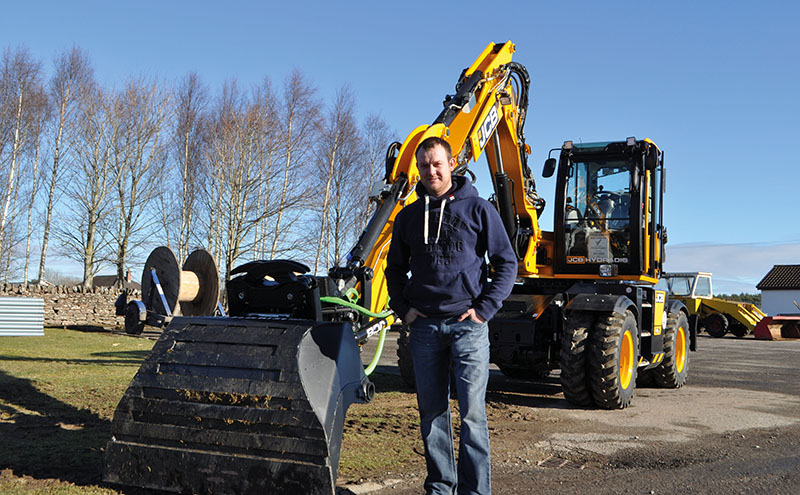 A lifelong love of diggers and a desire to start his own business led Alan Gow to purchase his first machine – a used JCB 3CX – at the age of 19.
Now, as Highlands-based Gow Groundworks marks its tenth year, the firm boasts a fleet of just under 50 items of plant and employs 35 staff.
Gow Groundworks specialises in civil engineering works with projects including wind farms and hydro schemes, concrete flooring and windmill bases and has also recently been involved in SSE substation works.
The company has worked on projects for Lidl, carrying out refurbishment tasks for the supermarket chain in Thurso and all civils and groundworks for the construction of a new store in Oban.
Other works the firm carries out include streetscaping and demolition and site clearance.
"I've grown up around machines and always had a good interest in diggers and always wanted to have my own business so I just started and worked hard," Alan told Project Plant.
"I served my time as a marine engineer and just worked day and night and saved enough money to put a deposit down on a used 3CX…and I've just built the business up.
"We've got just under 50 items of plant now – one-tonne up to 30-tonne tracked machines, 10-tonne ducks up to 20-tonne ducks, the A30 Volvo dumpers, 3CXs, loadalls, side and forward tipping dumpers and rollers."
Over the years, the company has grown from a spare bedroom in the Gow family home in Thurso to a new office and plant hire depot in Caithness. Alan commented, "We're a family company; my dad's involved, my mum is in the office and so is my sister. It lets us grow a bit bigger, we're more efficient inside the office now; there were four of us sharing one computer, now we've each got our own and our own desk space."
Gow Groundworks recently took delivery of a JCB Hydradig 110W equipped with a Steelwrist X12. This is the first JCB Hydradig 110W to have JCB factory approved Steelwrist integration in the UK with an X Control system and joystick steering – and it already has around 250 hours of work under its belt. The Hydradig is currently being used on substation work for Balfour Beatty.
Alan said, "When you go to buy a Steelwrist you get a choice of control systems, either a 4-hose system, which uses the machine's own proportional controls, or you get XControl, which is totally integrated into the machine, giving the option of adding other functions such as joystick steering or blade control to name a few. This then controls the Steelwrist through a 2-hose system."
Alan described the machine's concept as being "spot on" before adding that it is improving productivity. He also praised the Hydradig's visibility, usability and its "all-round safety factor".
Alan went on to explain that the 2-hose XControl system gives the operator "more flexibility" when controlling the Steelwrist. "You can speed it up, slow it down, fine-tune it and change settings all within your cab," he added. "It allows you to have joystick wheel steering as well, so you when you're on the site you can actually steer the machine with your finger, rather than using the steering wheel, which is safer – you can move, dig, turn, drive about the site and lift shutters and not take your hand off the controls."
He continued, "It's the first one that's come off the production line. The development time to get to this was quite high because your engine and pumps are below the cab while all your hydraulic valve components are above, so you have electrical connections coming up the way. Most machines have hydraulics going down the way."
Alan said that Gow Groundworks now installs Steelwrist tiltrotators on all its machines, after meeting Pat Bulcock of Steelwrist UK at ScotPlant how several years ago.
"We've 12 or 13 tiltrotators now and the strength and durability of the Steelwrists are far better than the rest, I would say."
Alan continued, "When we're doing our renovations of car parks with the Steelwrist, we can sit in one spot and do the whole job. If we do need to move from one side of the car park to a pedestrian area you can see right round your machine…and with the four-wheel steering and crab steer we can get in the tight areas where other ducks wouldn't get into."
Apart from the Hydradig, the firm has had Steelwrist tiltrotators fitted on both a new Volvo EC140E and a Hitachi ZX130-6 this year.
Looking ahead, Alan is keen to "just keep going, just keep working as hard as we can to keep expanding the business as best we can…we've gone from subcontracting work to main contractor roles so we're just slowly building it up."