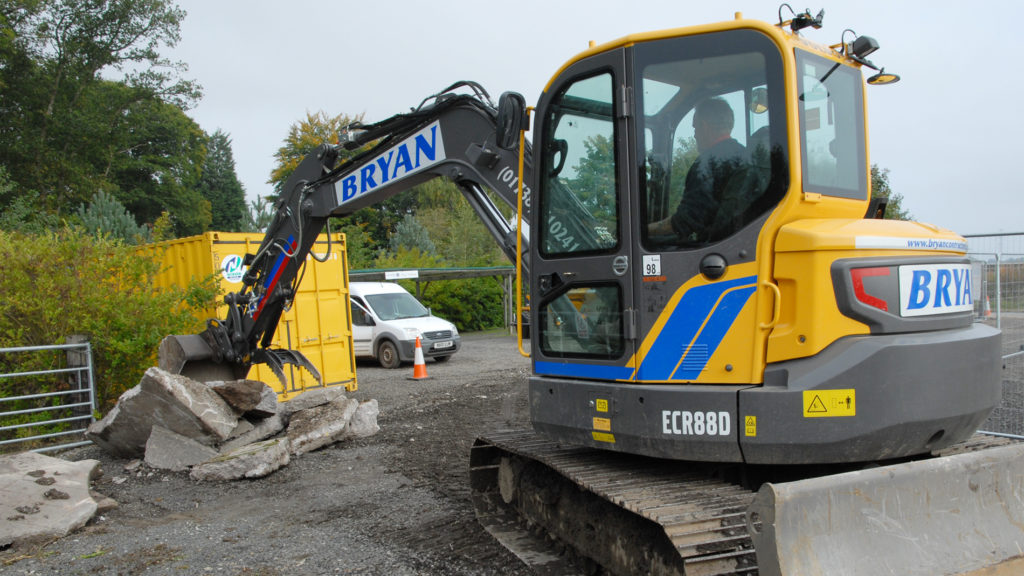 BRYAN Contractors has taken delivery of two new Volvo excavators, having had positive experiences with the manufacturer's machines over the past decade.
The firm, based in Caputh, Perthshire, has snapped up an ECR88D reduced-swing excavator and a 14-tonne EC140E for use in its contracting and groundworks business.
Partner Mike Bryan said, "The Volvo product is well specified and we've had a good overall experience of owning and operating them for the last ten years. Both the reliability and the after sales service, when we've needed it, has been excellent along with strong residual values when we trade out, usually every four years."
The machines were both on display at this years Black Isle Show. The ECR88D, which is powered by a Volvo 2.6 litre low emission engine, was supplied by CSM Sales, SMT GB's utility dealer for the north of Scotland. The excavator has been fitted with optional steel tracks and features a slight modification to the dozer blade to extend it to cover the width of the tracks. The machine also makes use of a Geith 'thumb' which has been mounted to the underside of the dipper arm and works off of the hammer/shear hydraulic circuit. Mike added, "The combination of the machine and the Geith attachment has proved to be very versatile – picking and sorting stone and handling diverse material such as timber, concrete and rubble."
The ECR88D offers a horizontal reach of 7.3 metres, a dig depth of 4.5 metres and a lift capacity of 1020kg at full reach across the carriage. It has rubber-mounted cabs, which are said to reduce whole-body vibration and external noise.
The EC140E model is powered by Volvo stage IV compliant 4 cylinder engine. SMT GB said the machine's integrated work mode control provides "high efficiency, rapid dig cycles coupled to significantly low fuel consumption", while boom and arm geometry provide "highly competitive digging forces and lifting capacities, which makes for faster work cycles". Hose rupture valves are fitted as standard to the boom and dipper cylinders.