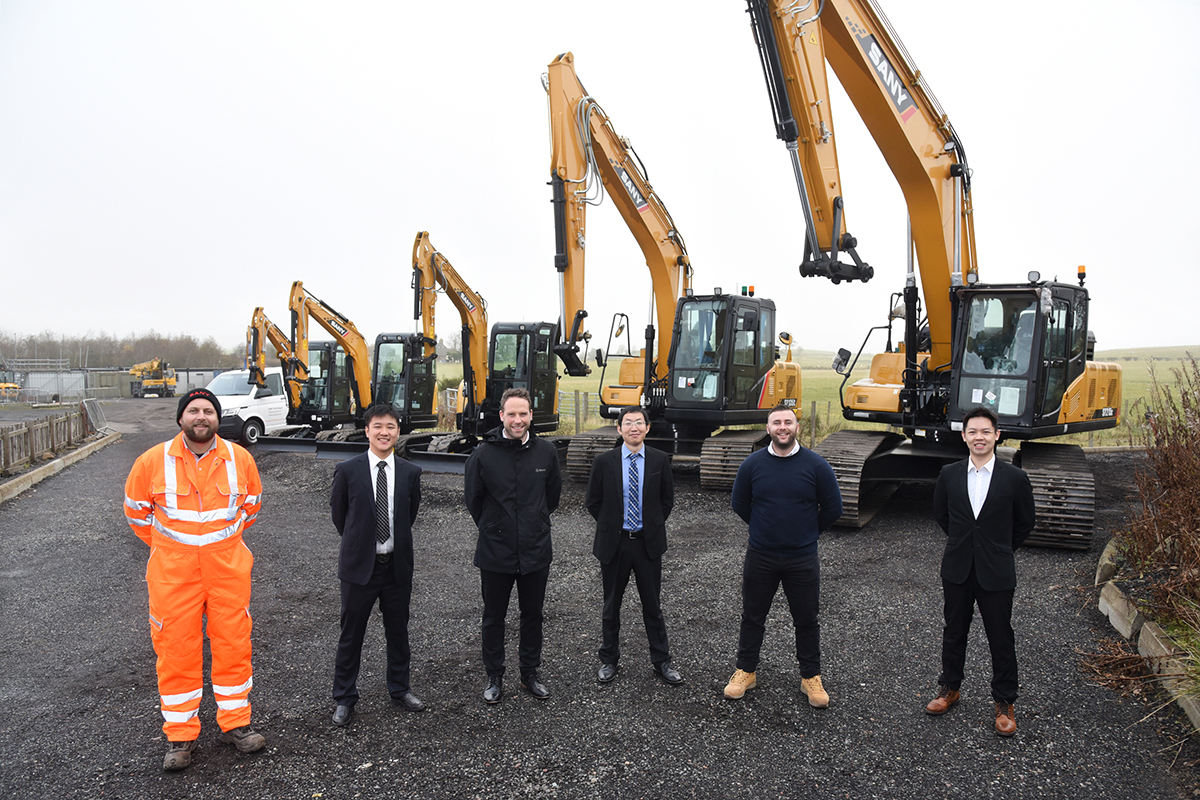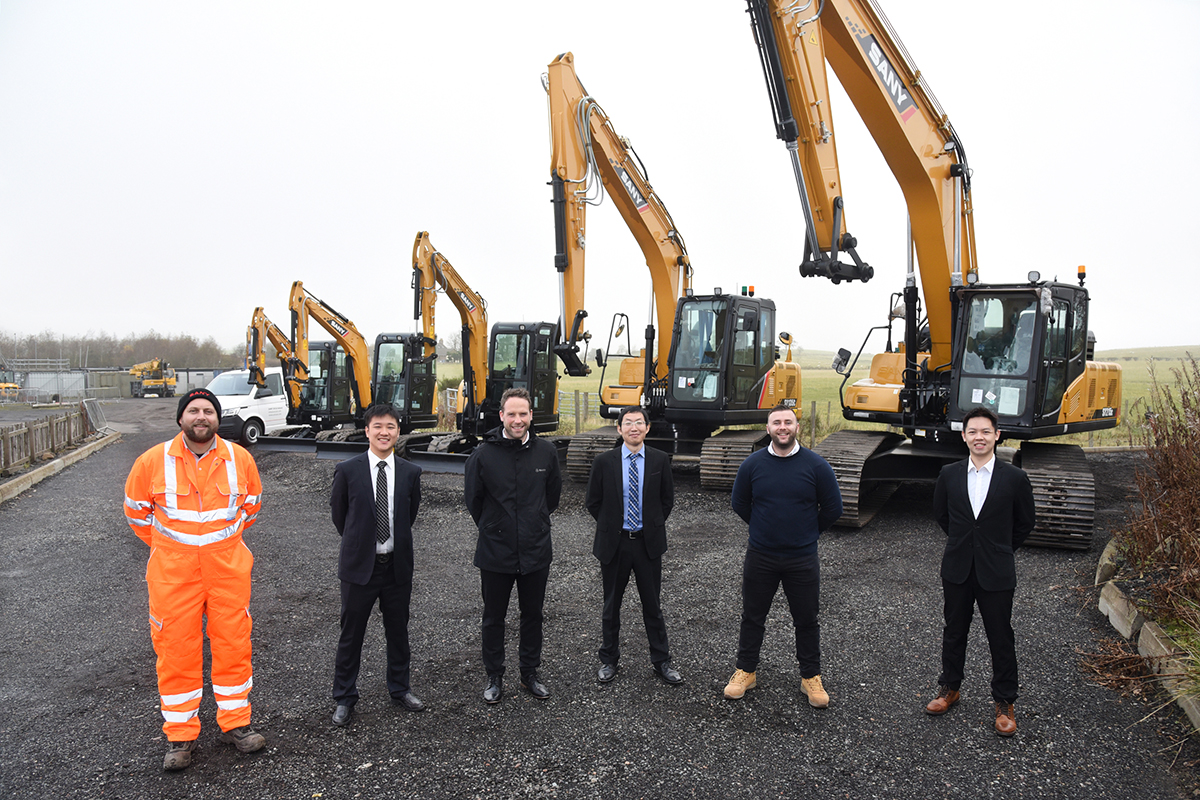 SANY is investing heavily in the Scottish construction equipment market and has outlined ambitious plans to become  the top supplier of excavators in the country.
The manufacturer is putting the final touches to plans to open a new UK headquarters on the outskirts of Glasgow and is in the process of assembling a team to help drive growth.
The Scottish base will be headed up by Lyle Sibbald, Scotland general manager for SANY UK.
Lyle told Project Plant the business is currently operating out of Sibbald Training in Blackridge, West Lothian, but he expects to receive the keys to the new premises by the end of this year.
While SANY will continue to operate a network of dealers in England, Wales and Ireland, Scottish customers will be dealing directly with the manufacturer.
Lyle explained, "The headquarters of SANY UK and Ireland will be in Scotland. This is us entering our next chapter and we are going to be selling and supporting the product direct as the manufacturer in Scotland. 
"SANY looked at the UK and Ireland at the end of last year and saw that it was the biggest market in Europe for excavators. They previously only had one person employed by SANY directly in the UK. They had a dealer – TDL – who laid good foundations throughout the UK, including in Scotland, but felt they needed to take the next step and that having one national dealer was not strong enough to meet demand because SANY want to be number one. They want to be the biggest excavator supplier in the UK. 
"They are by far the number one in China, in India they're one of the top players, and in America they have their own assembly plant and are getting bigger and bigger. SANY Europe was established in 2012. They sold over 1,000 excavators in 2019."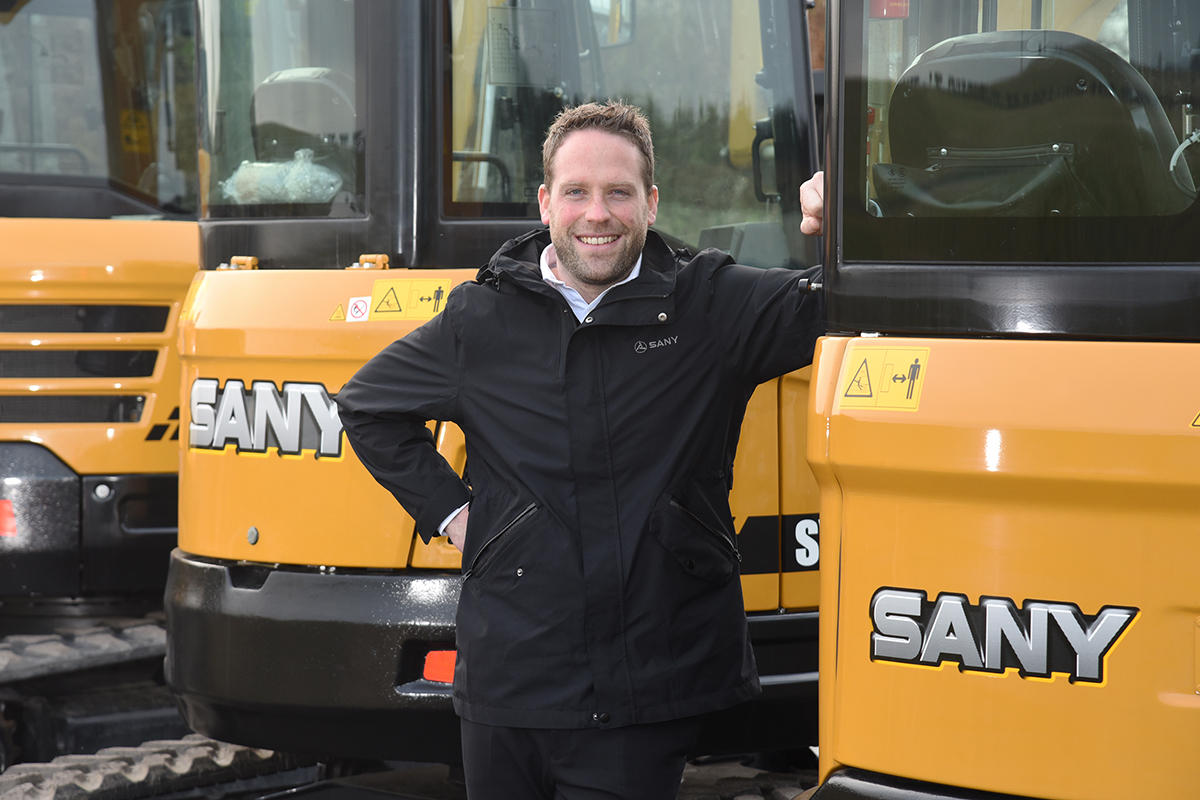 Lyle added that SANY considered the UK and Irish market to be ripe for development, hence the reason for establishing SANY Heavy Machinery UK Ltd as a company. With all SANY dealers in the UK set to be supported by the Scottish facility, Lyle revealed that customers in Scotland will benefit from a full parts stocking.
As well as Lyle, Stewart Smith has joined as SANY Scotland sales manager and Murray Allan has been appointed field service engineer. The business is currently looking to recruit a dedicated salesperson for the north of Scotland and also has a parts manager and workshop technician ready to start.
Lyle said the resources are there to invest further when necessary.
"We've got a full team dedicated to selling and supporting excavators in Scotland," he said. "At the moment there are over 70 SANY excavators in Scotland. I was fortunate enough to sell the very first one back in 2015. That was to Shaw Plant Hire up in Ardgay, in the Highlands. That was an SY75. He's still got that excavator and absolutely loves it. 
"AB2000 have 19 of them, Malcolm Construction have 11 of them, and Allma Construction have 23. There are lots of other ones dotted around the place. That's the reason why SANY chose Scotland for their headquarters for SANY UK and Ireland – there's such a big population of SANY excavators in the country. The product has been so well accepted. The customers running them just feel the product is so reliable. That was a big reason for me coming to SANY.
"I was working for TDL when we first started selling the SANY product back in 2015. I've been working in the crane industry for the past three years. SANY contacted me at the end of last year to see about joining and helping them set up this direct sales route in Scotland. It was through speaking to the likes of AB2000 and Malcolm, just asking how the product was performing, that was a big reason for me to come and work direct for SANY. If the product was terrible, I wouldn't have come near it. Just the fact it's been so well accepted and is such a reliable product – that was a key driver for me. 
"Also, the ambitions of SANY. They want to be number one and will throw resource at it. They have six Chinese employees living in Scotland now, who are going to be part of the team supporting the product. In Scotland we'll have a technical specialist reporting direct to the factory. We've also got two product development managers in the country to update the existing products that we have. They want to get customer feedback to learn how to improve the product and also learn about what other SANY products we can bring into the UK. SANY does everything from excavators and dump trucks to cranes and concrete machinery. They're the fifth largest construction equipment manufacturer in the world now. They're number one for excavators – globally they are the bigger supplier by volume of excavators in the world."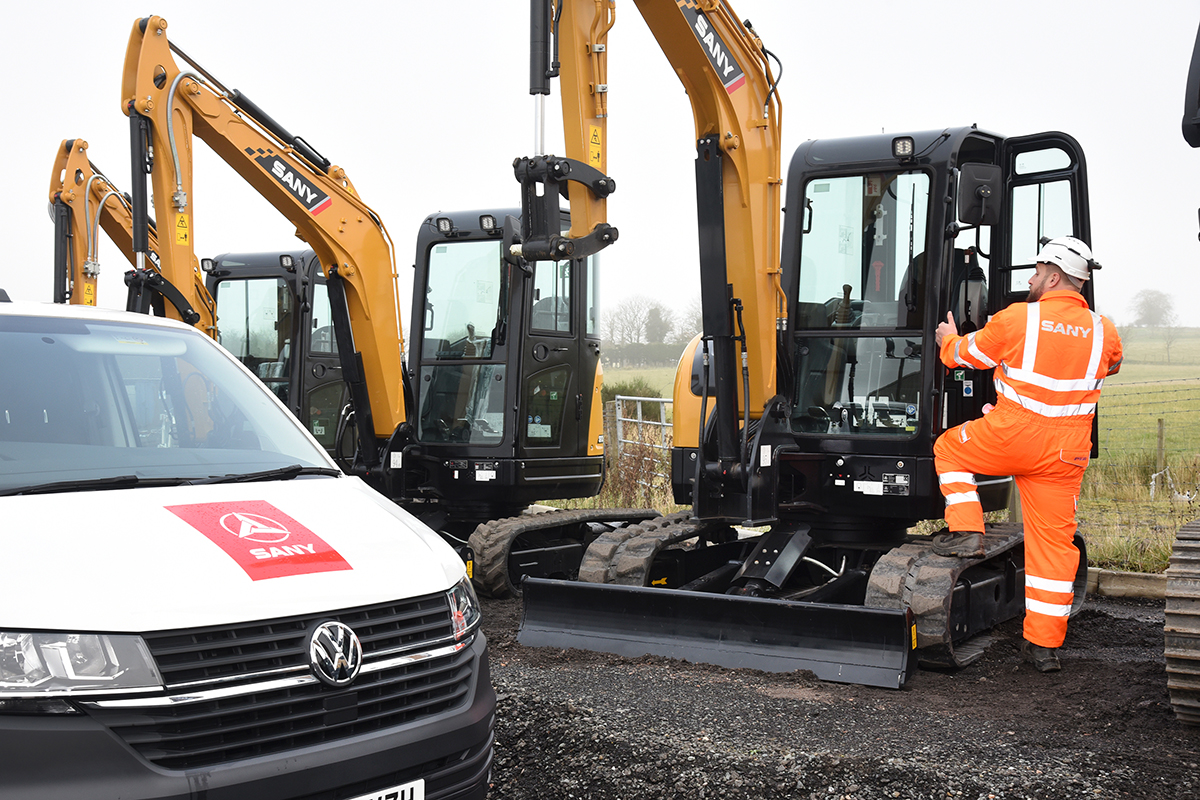 To begin with, the focus will be on excavators, but plans are afoot to add loading shovels to the SANY UK portfolio next year, with the potential for further product additions down the line.
The new HQ in Scotland's central belt will be leased, though Lyle said that if demand is there, SANY could one day build a facility in Scotland and potentially even an assembly site somewhere in the UK. 
He believes the challenging site conditions in Scotland are ideally suited to the SANY machines, citing the brand's success in China, which he called 'probably the most difficult market in the world'.
"SANY is on course this year to sell 80,000 excavators globally," he said. "The product's been well proven. I know it's not as hot in Scotland, but in China they're working in hot climates, cold climates, and some of the toughest environments all over the world. What we've found with the SANY excavators in Scotland is that they're tough and reliable. Up in the Highlands, they've been performing well on rock. In general plant hire fleet, they've been performing very well. We just feel they're very well suited to the plant hire industry in Scotland. The product has been working very well in the waste sector, not only in Scotland but down south as well. We've had a lot of very good feedback."
Lyle admitted that trying to grow SANY's presence in Scotland this year has been made more difficult by the Covid-19 pandemic. Working from home has been a challenge when recruiting for key positions and trying to find premises. A significant focus, he explained, has been reassuring customers that SANY is here for the long haul.
"A lot of people felt that when TDL left Scotland, SANY had left Scotland," Lyle explained. "That's definitely not the case. In fact, it's the total opposite. SANY is investing heavily in Scotland. Last year there was nobody employed directly by SANY in Scotland. By the end of this year, we'll have five or six people employed directly. That just shows the level of investment. Also, the fact we're going to have our headquarters based in Scotland shows the level of investment here.
"At the beginning of the Covid period, SANY closed down production in China, but that was only for the month of March. As a bounce back recovery, in the month of April they had their busiest spell, selling 12,000 excavators in one month. They really ramped things back up and did it so quickly that they broke records. A lot of that was due to the domestic infrastructure investment in China for the likes of hospitals, schools and roads. There are negative connotations with a Chinese company during this Covid period. A lot of our competitors are manufacturing products in China. I think everyone has felt the difficulties with Covid."
Turning his attention back to the new Scottish base, Lyle is excited by the prospect of getting things up and running.
"It's ready to go," he said. "We want to hit the ground running so we can look after our customers as best and as quickly as possible. It's fit for purpose and ready to rock.
"It shows people the commitment SANY is making to the Scottish market. We're going to have parts on the shelves, machines in the yard and a team out on the road."