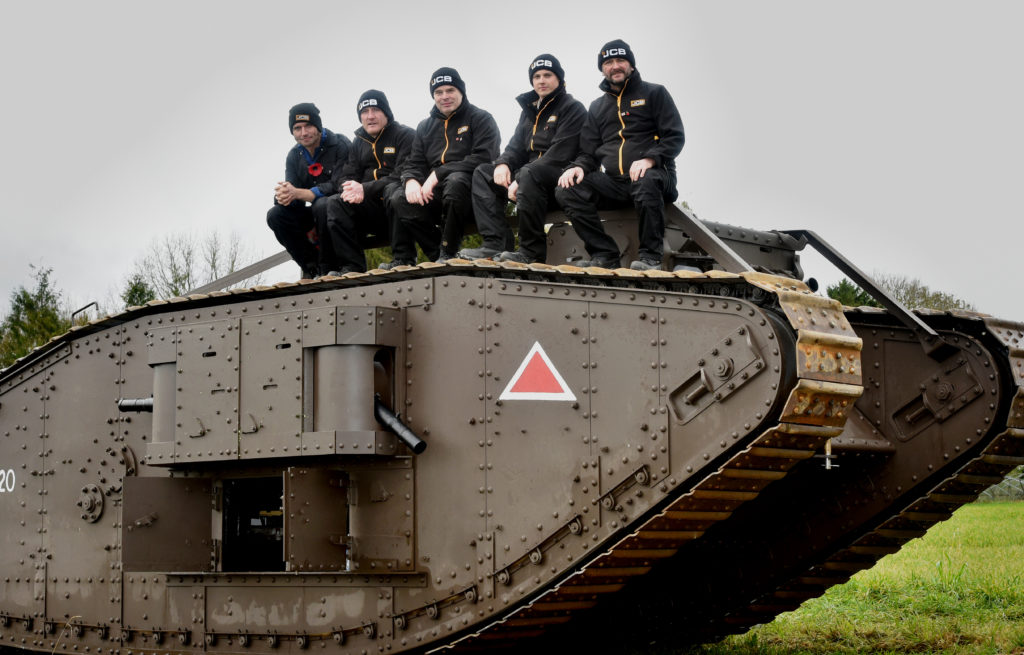 A team from JCB recently helped in a tribute to the crucial role played by tanks in the First World War.
The story of the tanks' role will be featured in a Channel Four documentary starring TV personality Guy Martin. He wanted to produce a replica of a 30-tonne Mark IV tank to mark the centenary of a battle in which they were first deployed.
JCB's engineers and welders rose to the challenge with the profile parts cut, rolled and bent into shape at JCB Heavy Products in Uttoxeter before being welded together at the firm's World HQ.
The efforts ensured the tank was operational and on display in Cambrai, France on Armistice Day, November 11th. At this location 100 years earlier, the original Mark IV tank helped the Allies make a breakthrough at the Battle of Cambrai.
Working from 3D plans drawn up by a hobbyist modeller, JCB employees used computer design technology and "cutting-edge" manufacturing techniques to recreate the chassis of the machine.
The replica tank itself will return to the UK and will remain at the Norfolk Museum.
Guy Martin was given just five months to build an authentic reproduction of the 30-tonne tank from scratch. He said, "When I first looked at this challenge, I thought 'This is a big ask. We're not going to see this happen.' It is a massive undertaking and JCB was the main reason this was able to happen. They built the main part of the tank, and then the lads at the Norfolk Tank Museum put all the engine together. But JCB's technology and knowhow was so important.
"As a challenge to build it, I'd say this is the biggest thing we've undertaken. There's loads of stuff we've done – building push bikes to go at 100mph, converting transit vans to do 150mph, but this, I think, is the biggest one. It's not that we're restoring them, or modifying them – we're building an exact replica of a Mark IV Fosters Tank, from scratch."
The JCB team comprised chief engineer Martyn Molsom, design engineer Tom Beamish, and welders Chris Shenton and Chris Brennan. Martyn Molsom said, "The reproduction of a Mark IV tank from a century ago is a great British manufacturing story and that's one of the reasons we wanted to get involved in the project. Replicating that innovation in a few weeks was a massive task, but modern techniques and equipment made it a lot easier for us than it would have been back then.
"It was a fascinating project to be involved in, both from an engineering point of view and from the historical aspect, and I was delighted we could make it happen. I don't think any other company in the UK would have been able to pull it off in such a short time-frame, so I'm proud that it worked out so well."
'Guy Martin's WW1 Tank' will be broadcast at 8pm on Sunday November 19