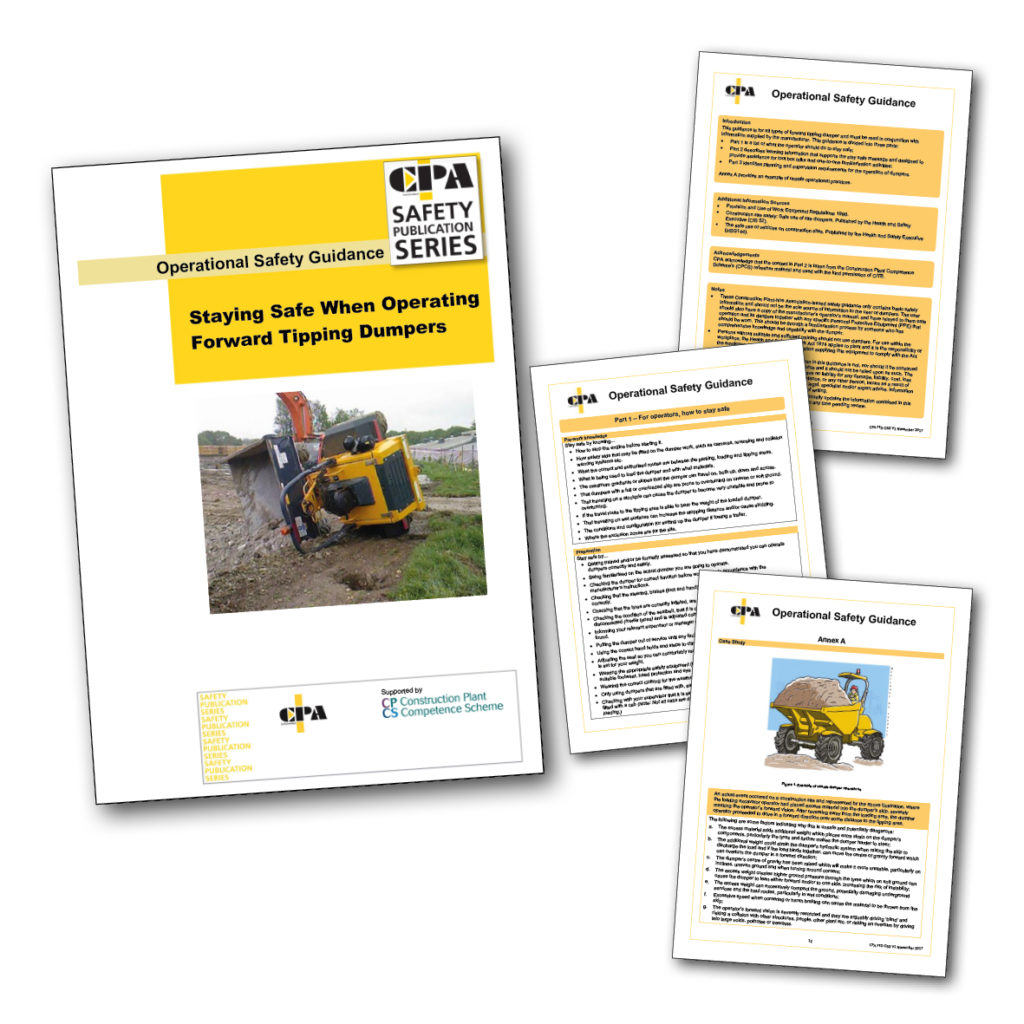 The Construction Plant-Hire Association (CPA) has released new operational safety guidance for forward tipping dumper operators.
'Staying Safe When Operating Forward Tipping Dumpers' is principally aimed at operators for refresher training purposes and its release follows a number of incidents involving tipper dumpers.
Key factors in the incidents included overturning of dumpers and individuals being stuck by dumpers.
A number of construction industry forum meetings have taken place in recent months with the specific aim of avoiding future incidents involving forward tipper dumpers. The first forum was hosted by the CPA and the Health & Safety Executive (HSE) in October last year and again in January 2017.
The most recent forum took place in September and was jointly hosted by the CPA and the Civil Engineering Contractors Association (CECA). At this forum it was agreed that a total of seven principles would be used as the basis for an 'action plan' relating to effective vision, machine stability, training and information, competence, travelling on spoil heaps, exclusion zones and equipment selection.
The new guidance is divided into three sections – a 'Stay Safe By' list for operators; a section supporting underpinning knowledge that provides the 'hows and whys' of each action, designed to provide assistance for Toolbox Talks, and a section aimed at managers and supervisors in terms of planning and supervision requirements.
Colin Wood, CPA chief executive commented, "The issue around dumper safety has become a major topic for our members as well as the industry in general. Because of this, we are co-leading the forum along with CECA and as part of our commitment, we pressed ahead to devise this operator-based safety guidance.
"This will go some way towards helping industry address the issues, but it is only the first step that we're taking in setting out guidance for safer dumper operations."
Kevin Minton, director of the CPA and co-chair of the forum added, "We are seeking a range of solutions to ensure the operator and others stay safe. As part of the forum's action plan, the Stay Safe guidance will be the first of a number of documents that will be published through the CPA.
"Others will include a Good Practice Guide on Forward Tipping Dumpers, which will be devised by the Strategic Forum Plant Safety Group, and an update to the Plant Safety Group's work on Ground Conditions. This update will provide guidance and recommendations for the operation of dumpers on spoil heaps."