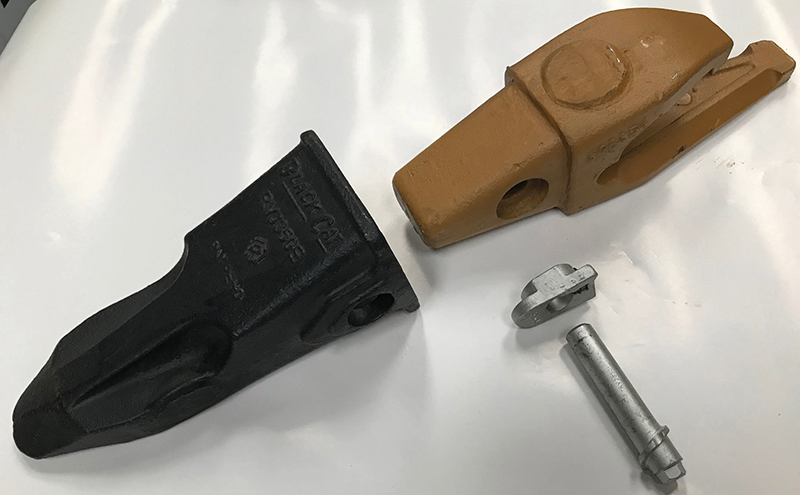 LINLITHGOW-based wear parts supplier Rockforce Construction Equipment is to debut the new Black Cat RVJ hammerless tooth system at ScotPlant 2018.
Rockforce is the exclusive UK distributor for the Canadian manufacturer Black Cat Wear Parts and will be showcasing products including bucket teeth, dozer and loader blades, wear bars and ripper teeth.
The firm will also be displaying its own brand of Rockscot hydraulic breaker steels, which are manufactured and heat-treated in the UK.
The new RVJ hammerless tooth system has been developed for machine size ranges from Cat 205 to Cat 245 in response to Scottish contractors' demand for the system on a smaller machine, having previously only been available for units over 25-tonne, Mafdy Atalla, managing director at Rockforce told Project Plant.
The system can convert any J series bucket teeth to a hammerless system without changing the existing adaptors, the company claims.
Mafdy said that being the exclusive distributor for Black Cat has given Rockforce the opportunity to "come up with new products to solve specific problems for customers and that's a unique position to be in".
"We have a very good knowledge of the product and good knowledge of the use of the product as well so anybody with a problem will have a chance to solve the problem by coming and discussing it.
"Product knowledge is a key to differentiate us," he said.
Mafdy described shows like ScotPlant as the company's "lifeline" for understanding the needs of its customers.
"We are a small company and we rely on a trade show more than any personal visits. There are personal visits and there is follow-up but the trade show is a great opportunity in a relaxing atmosphere for the customer to tell us what their plans are for the future, what they really need and (give) feedback on the products that they have already used, from us and from other people as well."
Mafdy also called the show "the ideal opportunity" to meet new customers.
Rockforce will be offering a 10% discount on orders received during the show, as well as a business card prize draw with a first prize of £300 worth of the company's GET product range.
The second place prize offers the same with a value of £200 while third place, £100.