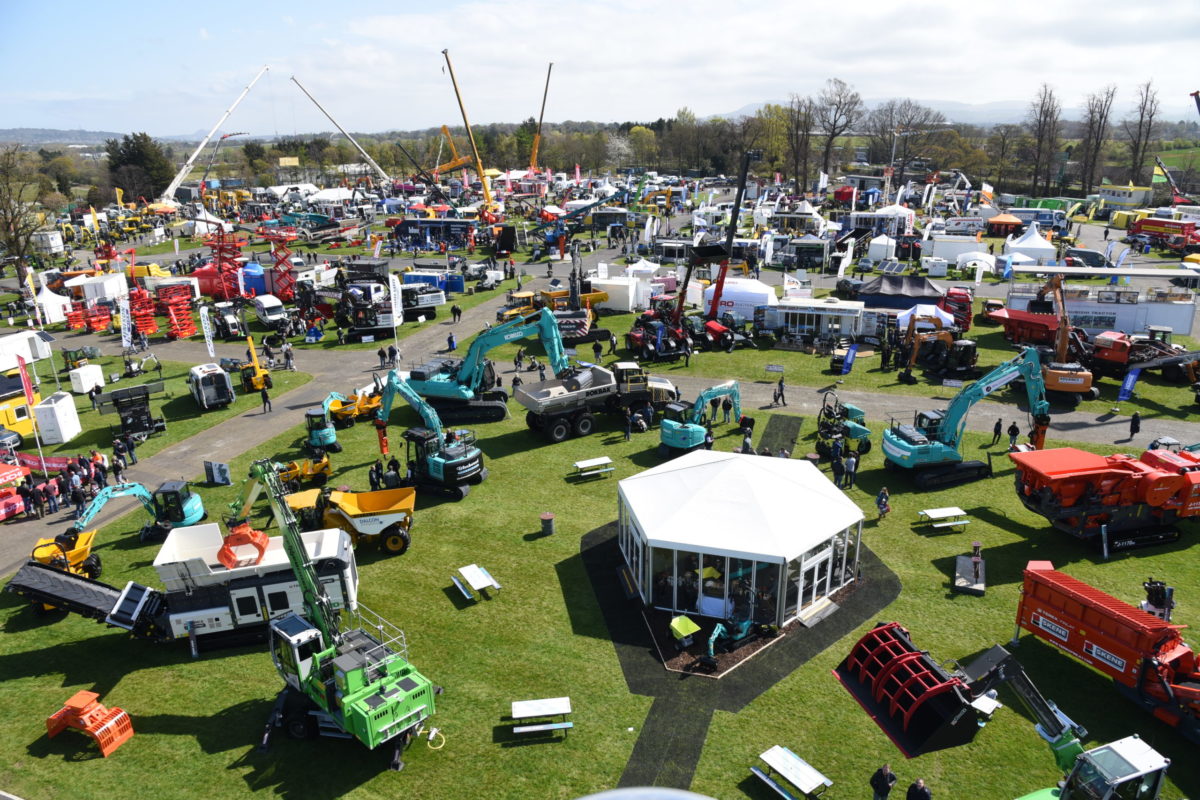 SCOTPLANT 2022 exhibitors have hailed this year's event a resounding success after more than 5,300 unique visitors enjoyed two days of sunshine, incredible machines, and a welcome return of in-person events.
Just over 200 exhibitors showcased the latest construction equipment and innovations from the world's leading manufacturers at the Royal Highland Centre on April 22 and 23.
ScotPlant firmly cemented its status as the most important event in the Scottish plant industry calendar, with many deals concluded on the stands and visitors and exhibitors basking in the opportunity to network and do business in a more traditional fashion after all the constraints of the past two years.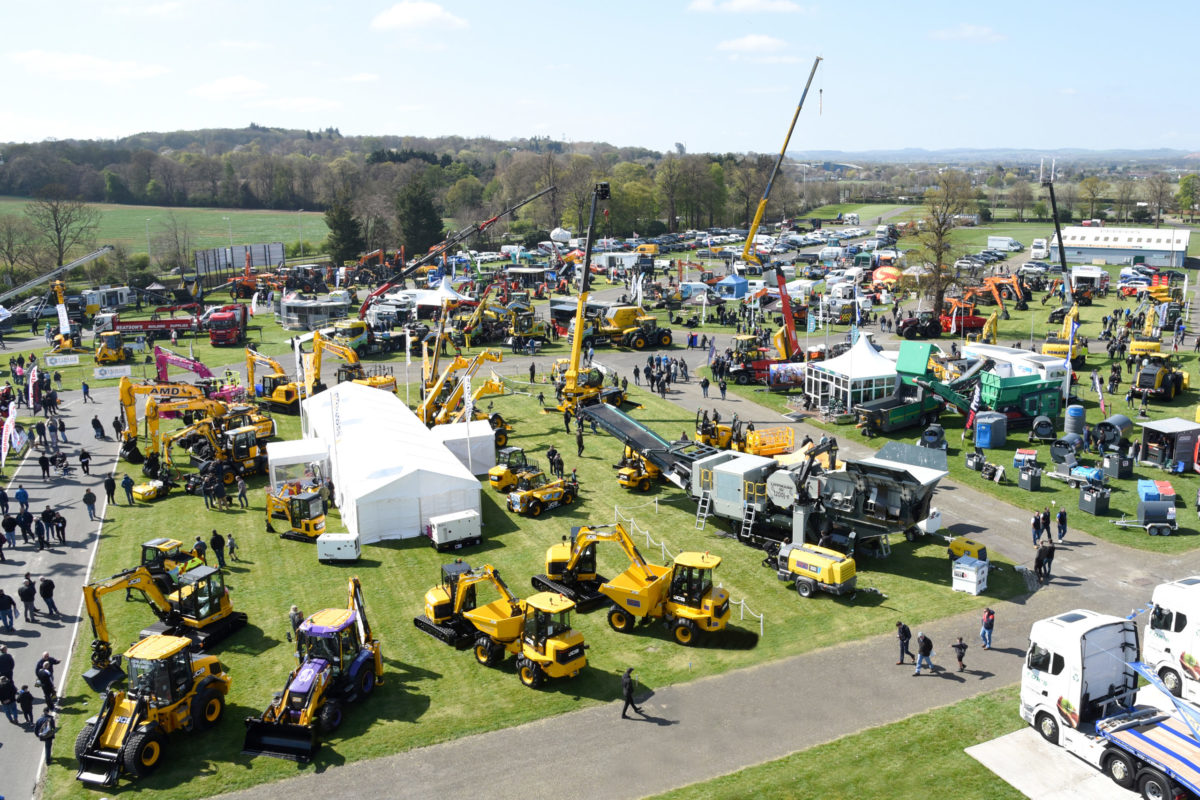 ScotPlant debutant SANY enjoyed huge success and used the event to debut two brand new machines – the 40-tonne SY390 tracked digger and the 7.5-tonne SY75 mini-excavator.
SANY's UK & Ireland marketing manager, Charley Bright, described ScotPlant as a 'fantastic event' and 'vital' to helping the business elevate the SANY brand to the next level in Scotland and the rest of the UK.
"Some people are still unfamiliar with SANY therefore it's really important for us to attend this type of event and have the platform to display our range of machines, so people can see the quality for themselves, try out the cab, etc," she added. "SANY are here to stay and ScotPlant was the perfect showcase to convey that message.
"Scotland is a really important market to us and it was terrific to see so many of the major players within the construction and plant hire industry at the show. With the size and the location of our stand, plus the wide range of excavators we had on display, we saw a great deal of interest in both the brand and our machines over the two days."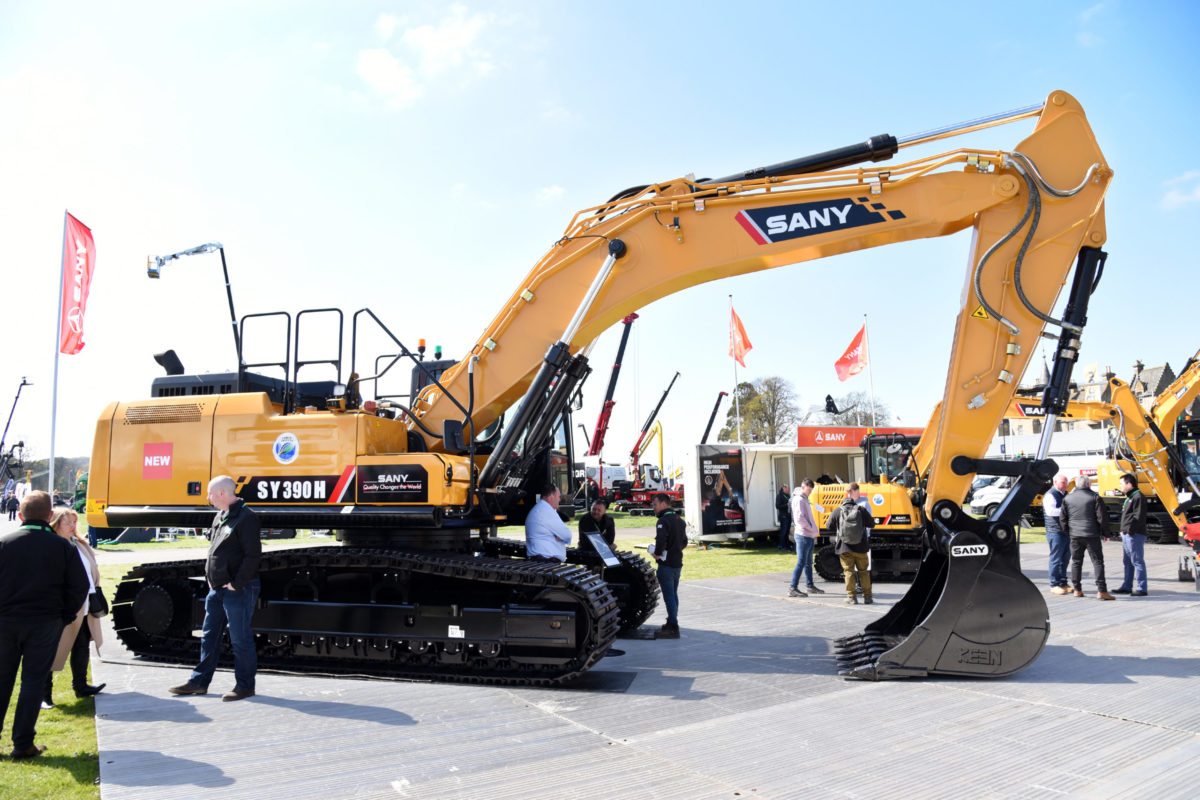 Charley revealed SANY concluded deals at the show and generated 'a lot of good quality leads', as well as new contacts for machines all over Scotland. She stated, "We'll definitely be back, but bigger and better!"
Scot JCB's line-up included an electric mini-excavator from JCB's E-Tech range and the first Scottish showing of the 26-metre 555-260R rotating telehandler. The business used ScotPlant to raise funds and awareness of breast cancer after placing customer Tom Grant's brand-new pink excavator at the centre of its stand. The JCB 245XR has been raising cash for Breast Cancer Now.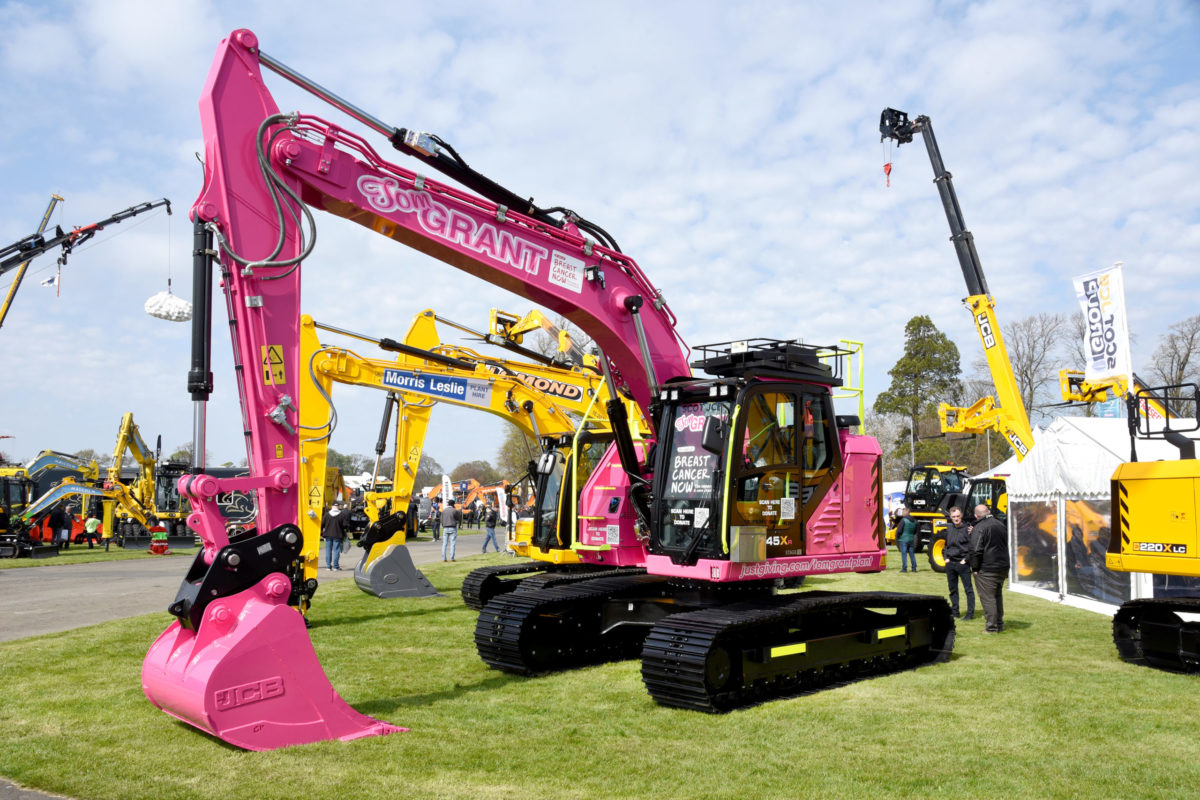 Scot JCB marketing manager Lucy Mullin said she thought there was a 'great buzz' about the place and, in her experience, it was the busiest ScotPlant yet. "We had a record number of enquiries and sales on both Scot JCB and SPS," she added. "There wasn't a time I went out and there weren't at least four or five people out taking pictures of the Pink Digger in support of Breast Cancer Now! We had really positive feedback on that.
"Lots of people loved the operator challenge which used our electric mini-digger (19C-1E). It was also the first show for our 555-260 rotating telehandler and we had the full electric range on show. Customers were glad to get back and see us I think!"
Worsley Plant MD Sean Heron described this year's ScotPlant as 'tremendous', stating that the event ranks as one of the company's most important shows.
"We've now been exhibiting at ScotPlant for 20 years and have never seen it as big or buoyant as it was in 2022," he said. "It's a great testament to the organisers. They are doing lots of the key things right – using the same venue year after year, marketing the event well, making exhibitors feel at home. For us, it's right up there with Hillhead and Bauma – it's one of the most important shows on our calendar.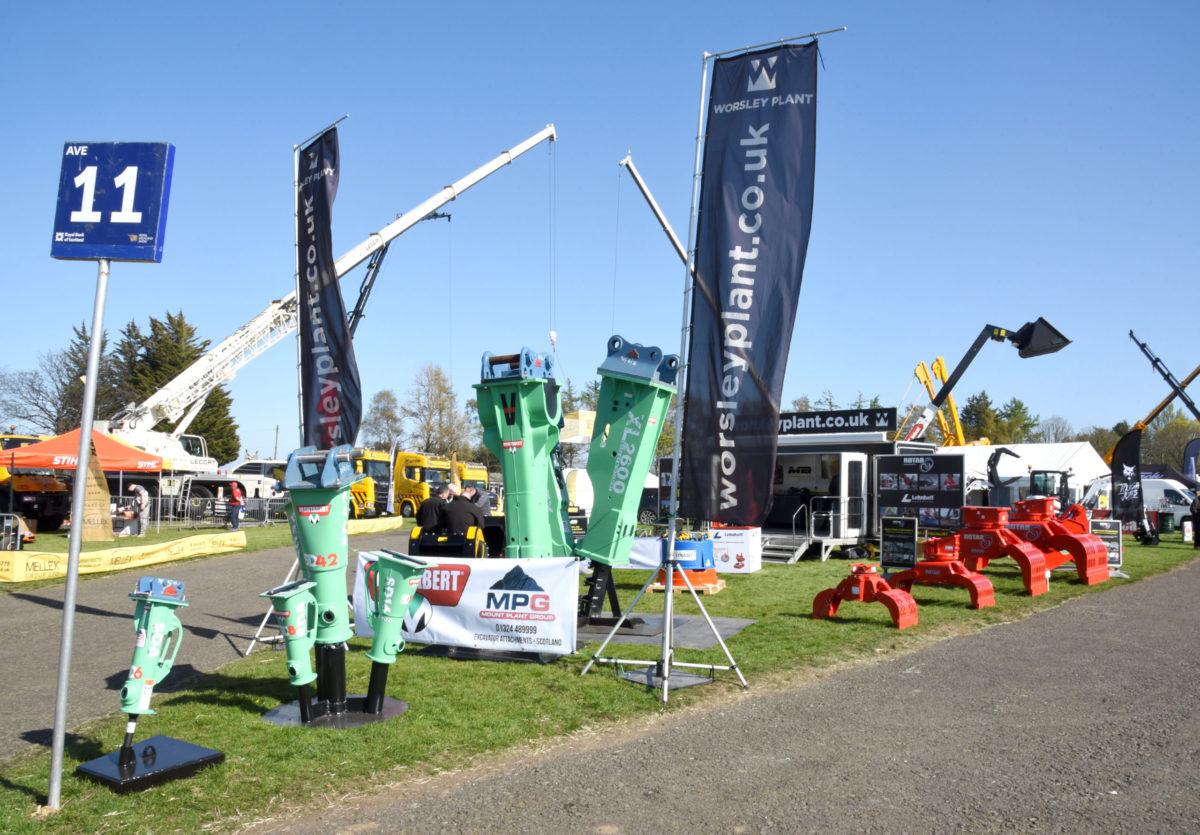 "We made several sales – or as we say 'rang the bell' – and have generated lots of fresh leads to follow up on. It was definitely worth us being there. We had very positive feedback on our stand. Visitors in Scotland seemed grateful that we'd made the effort to be there and put a great stand together. Without a shadow of a doubt we will be back in 2024."
Engcon exhibited at ScotPlant 2022 for the first time as a manufacturer, having previously been represented by their local dealers. Area sales manager Nathan McRae said the business will 'definitely be back' after a successful couple of days.
"The atmosphere was great and there was a real buzz around the showground," he said. "We had a live demonstrator on our stand and had a lot of our attachments on show. The customers loved seeing the Engcon in action and our stand was packed on both of the days.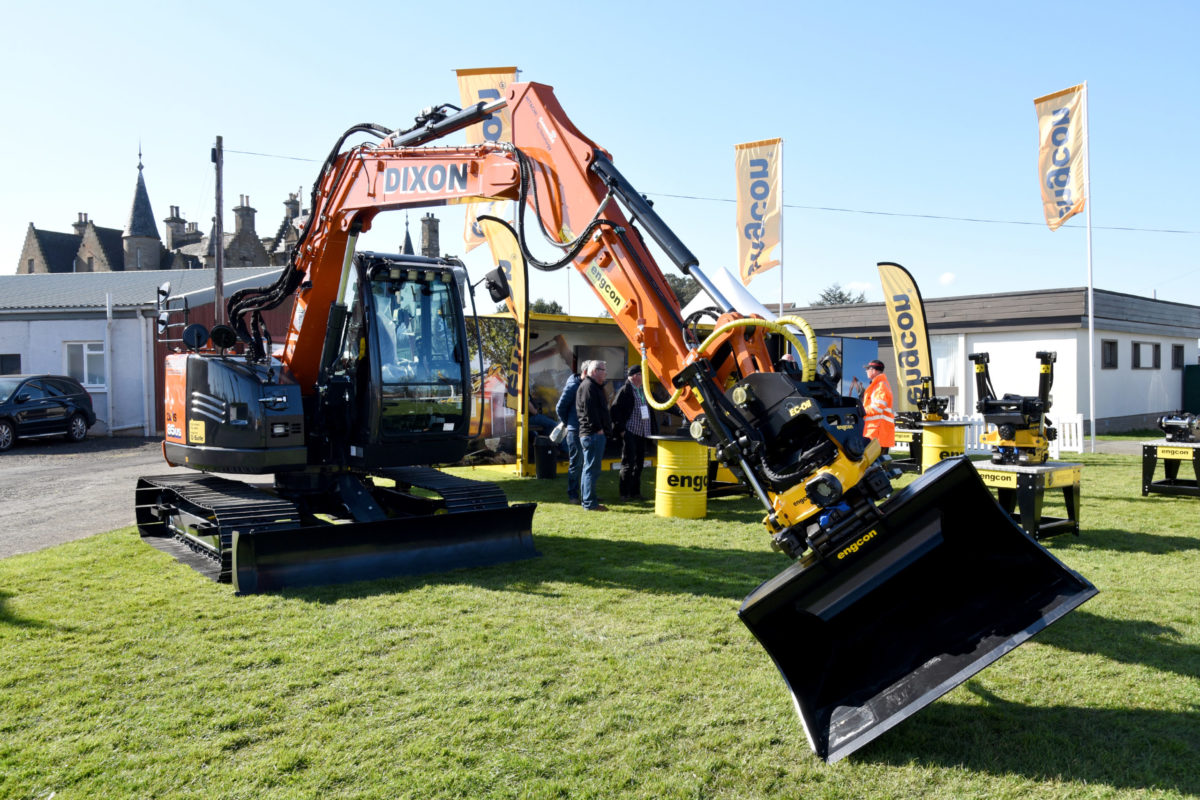 "We generated a load of leads and closed quite a few deals at the event. It was a very productive show for us, seeing so many customers at one time. We even got a decent tan in the process!"
Marubeni-Komatsu confirmed that the business finalised a deal with Gordon McLeod Plant Hire for seven new excavators at ScotPlant 2022, while Shane Paver (sales director – north at Access Platform Sales) revealed the company concluded orders worth almost £1 million over the weekend. This includes deals with both new and existing customers.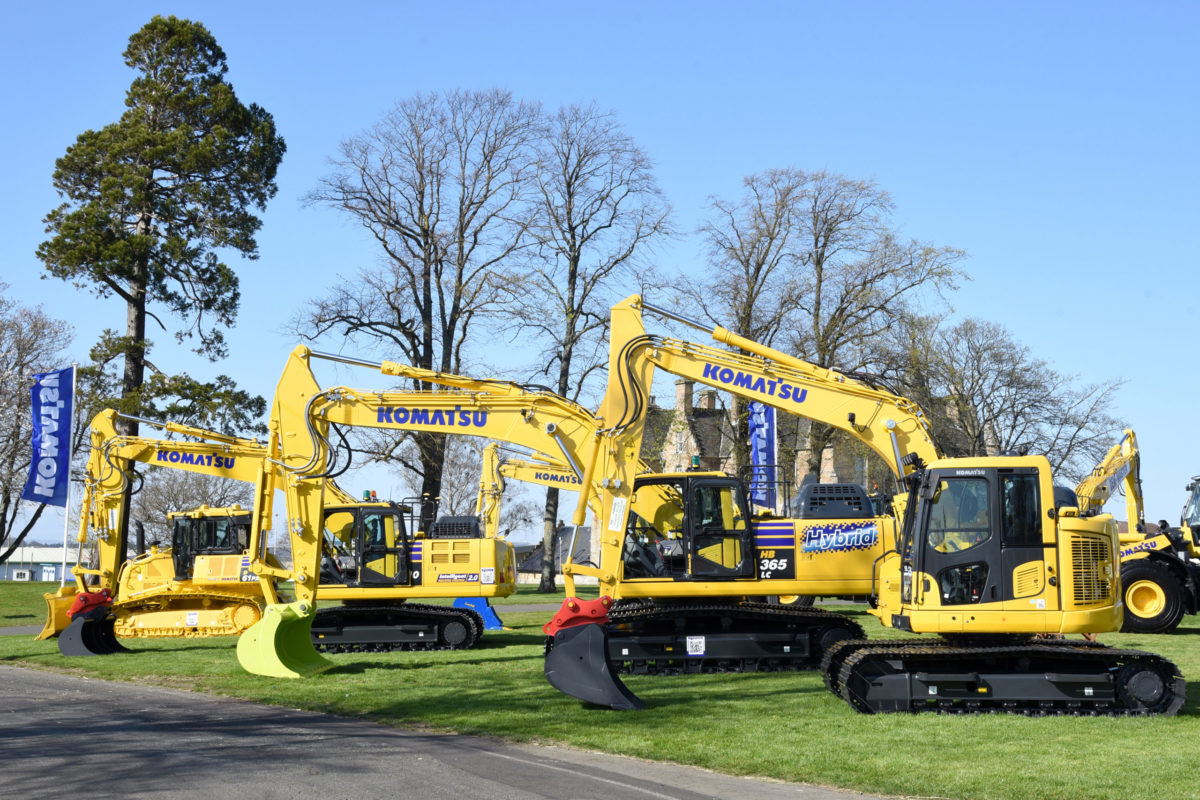 MHM Group said they would '100%' be looking to return to ScotPlant after enjoying huge success this year and taking a 'record' number of enquiries as well as concluding a number of deals at the show. Group sales director Bradley Ireland said, "We were blown away by the attendance; it was really positive to see the Scottish market being so buoyant and enthusiastic both from visitors and exhibitors." Mike Grant, business development manager for Scotland, added, "We were overwhelmed with the level of interest visitors had in our products. We had thought we might have been over staffed on the stand but there was never a point in the days when we weren't engaged with someone, and all our visitors had a genuine interest in our products, so we had great value from everyone we interacted with at the event."
Speaking during ScotPlant 2022, Takeuchi UK marketing manager Holly Cooke described being back in front of customers in an exhibition setting as 'amazing'. "It's really important (to have events like ScotPlant)," she explained. "This is a really face-to-face industry; people need to physically come and touch, feel and sit in these big pieces of equipment. There's only so much you can see from a brochure or website. People want to get in front of it and talk to you."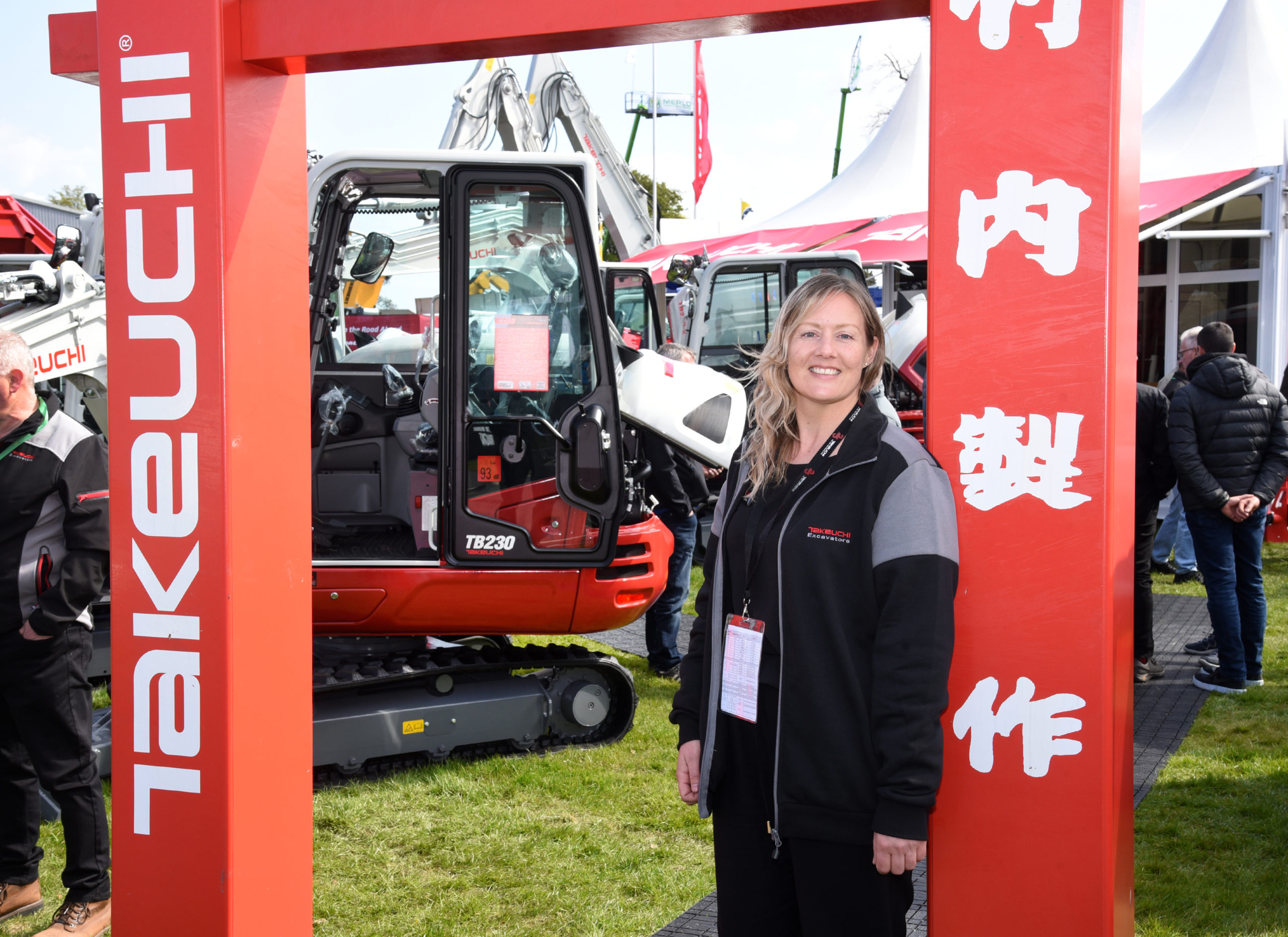 Holly added that Takeuchi really focused on Scotland many years ago and now enjoys a well-established dealer network north of the border. "The figures for Takeuchi in Scotland have just grown and grown," she explained. "This is one of our major shows. We love coming up here."
James Ross, commercial director of attachment specialist Miller, said the exhibition provided a real morale boost for the business. "The industry is really trying to showcase itself to move forward in terms of the efficiencies of the machines, the renewable content," he explained. "You need to bring people together to really showcase that. Exhibitions are a unique opportunity to do that; it's not the sort of thing you can do across the desk in the office. You've really got a chance here to see machines side by side, attachments side by side."
Mark Proudfoot, director of Molson Scotland, described being back at ScotPlant as 'amazing'. The firm was showcasing products from across its portfolio including Kobelco, Thwaites, Sennebogen and Terex Finlay.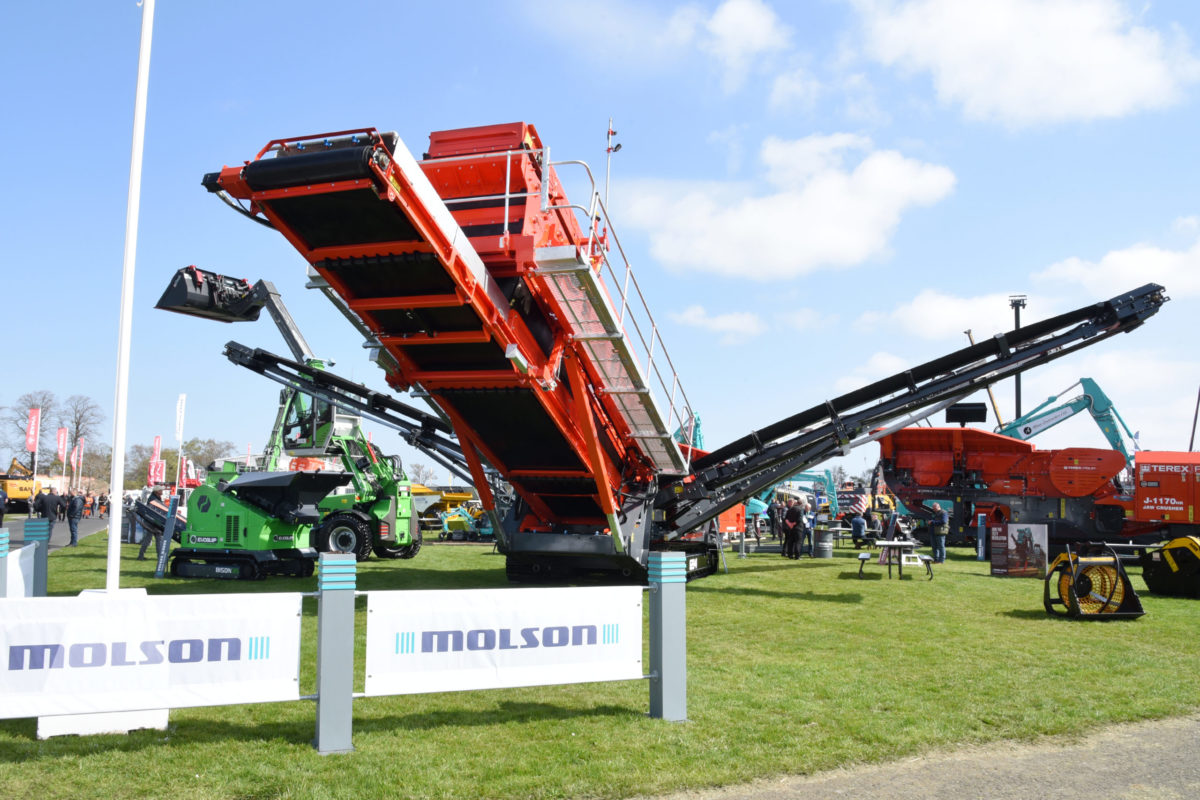 Speaking on Day One of the show, he said, "It's been so long and the energy going around the place is phenomenal. I think this shows the industry is really buoyant and it gives everyone the chance to interact, mingle, find out what's going on – the good things and the bad things.
"Feedback from customers has been great. There's been a couple of cuddles, handshakes, and it's good to get past Covid."
Midlands-based National Pipe Croppers hailed the success of the firm's first time exhibiting at ScotPlant. The company took the opportunity to showcase its pile cropping solutions to the Scottish market. "The decision to attend ScotPlant was based on the increasingly warm reception our pile cropping solutions have received in Scotland and the UK as a whole," explained UK sales director Scott Fitchett.
"Given that ScotPlant is such a well-targeted show, with its visitor base being high quality 'trade', we decided to exhibit a cross section of our offering.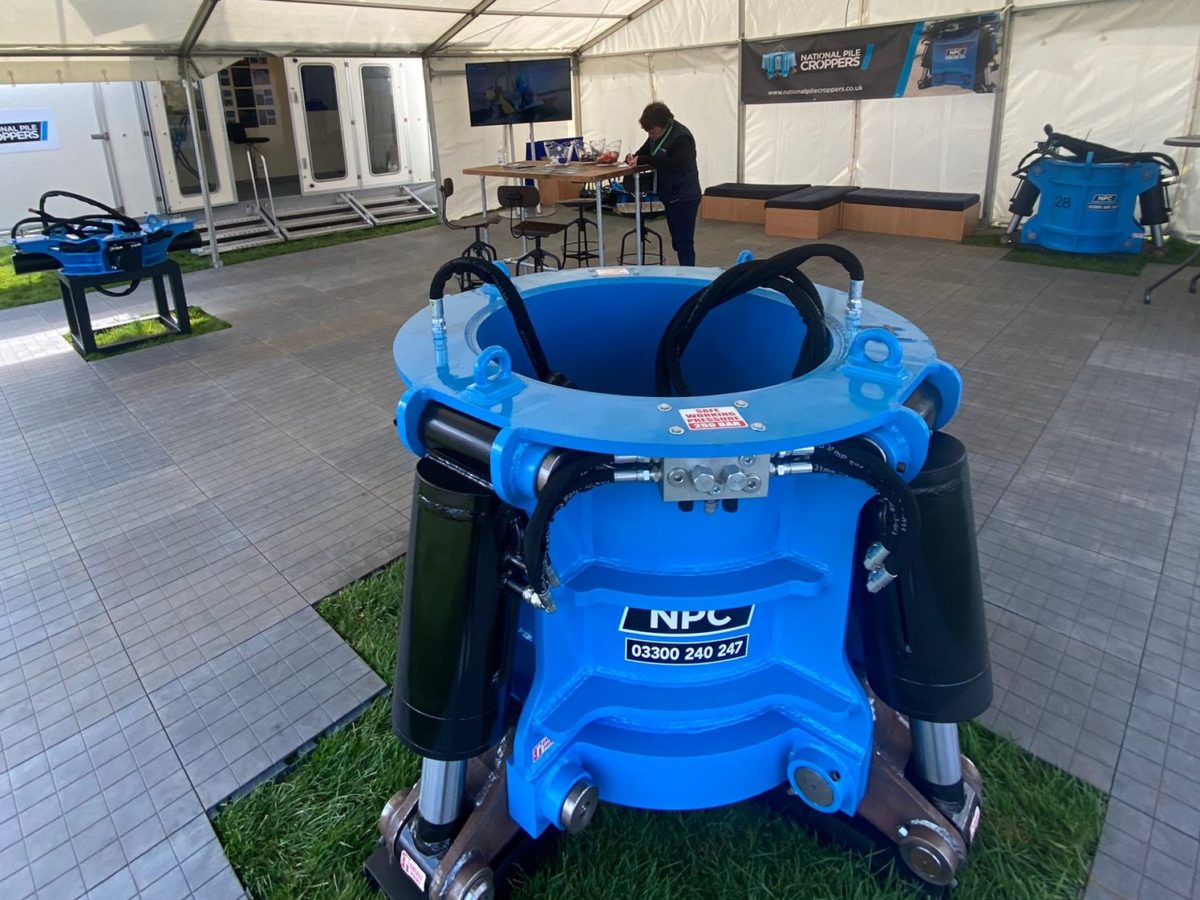 "Hydraulic pile croppers are becoming the 'must-have' equipment on sites and projects throughout the world and that includes Scotland. The equipment we exhibited was greeted positively by the many visitors who came to our stand and the business the show generated proved what a good investment exhibiting proved to be."
There were deals aplenty for another debutant – Innovex Technologies. The firm was promoting its trenchless technology and celebrating the appointment of AB2K as a Scottish distributor of its pipe pusher and snap tech products. "ScotPlant has been amazing; it's a fabulous show," beamed sales director Rosalind MacGregor.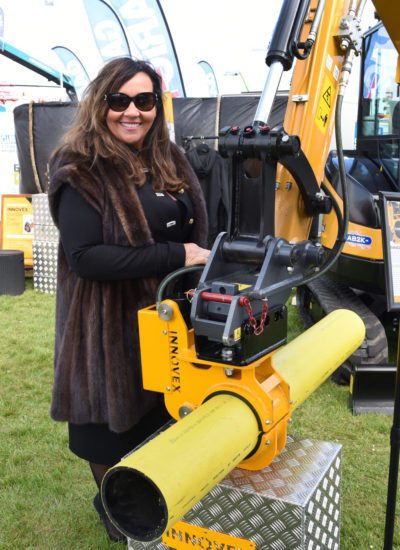 As always, ScotPlant marked a number of machine debuts, including the global debut of the new Hyundai HX145A LCR High Walker, which took pride of place on the HRN stand. There was also a UK exhibition debut for Liebherr's award-winning TA230 ADT, the Doosan DX100W-7 wheeled excavator, and the SBM Jawmax 400, which was found on the Hodge Plant stand, amongst many others.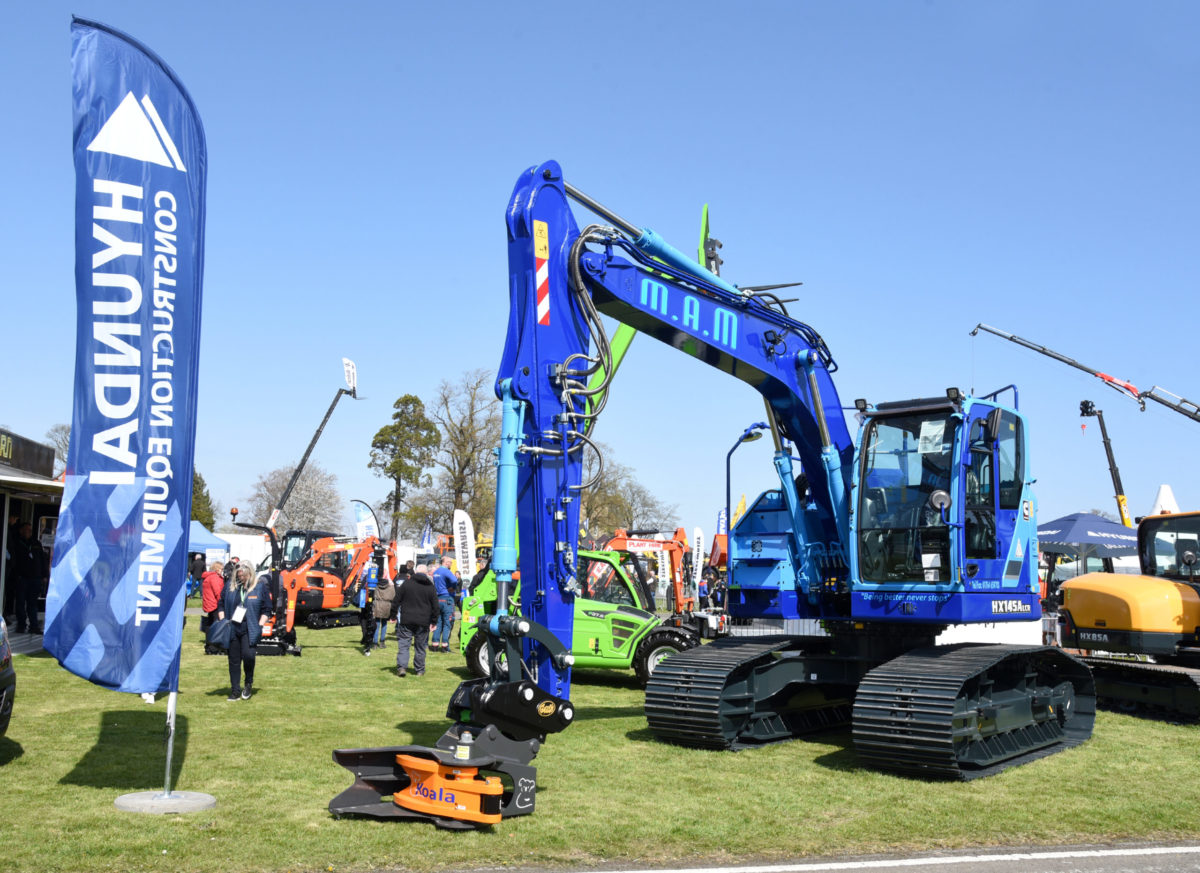 For the first time ever at ScotPlant, a new avenue was created leading from outside the indoor Lowland Hall to the main showground. Hitachi, returning to ScotPlant for the first time since 2004, was located there and showcased the latest Zaxis-7 excavators. Joining the manufacturer in the new avenue were the likes of Rototilt and McCloskey.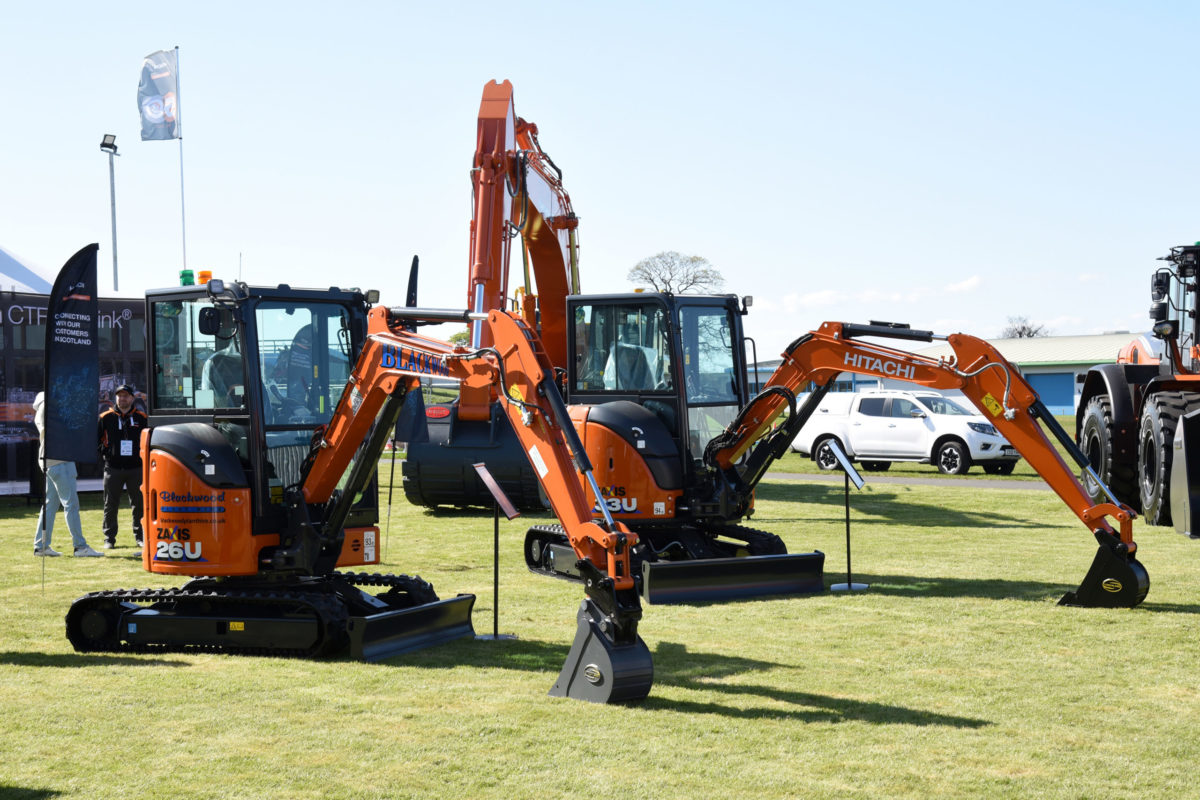 Blue Machinery (Scotland) used ScotPlant to celebrate its appointment as the MDS distributor for Scotland and the north east of England. As part of an introduction to the brand, an MDS M413 three-way split trommel was on display at Blue's ScotPlant stand.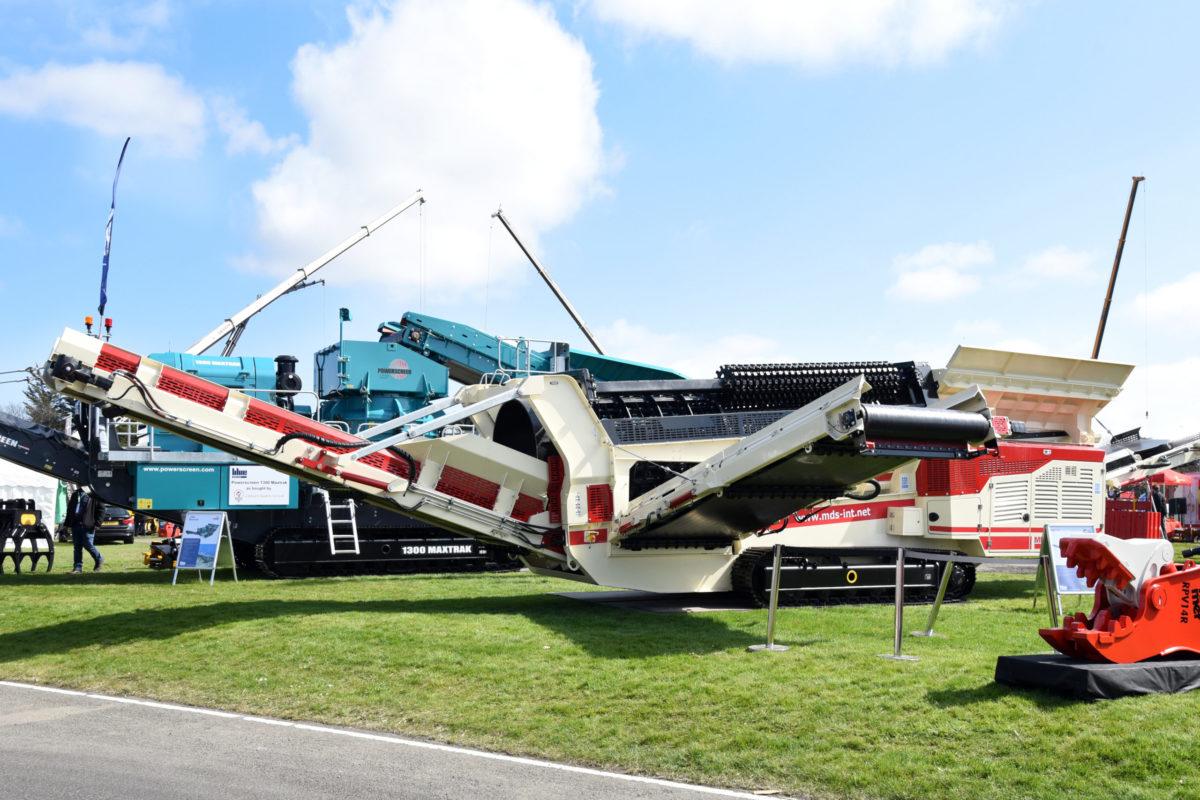 Elsewhere, two stars from rugby's Glasgow Warriors – Matt Fagerson and George Horne – touched down on the Malcolm Group's stand, helping to mark the firm's centenary year wrapping.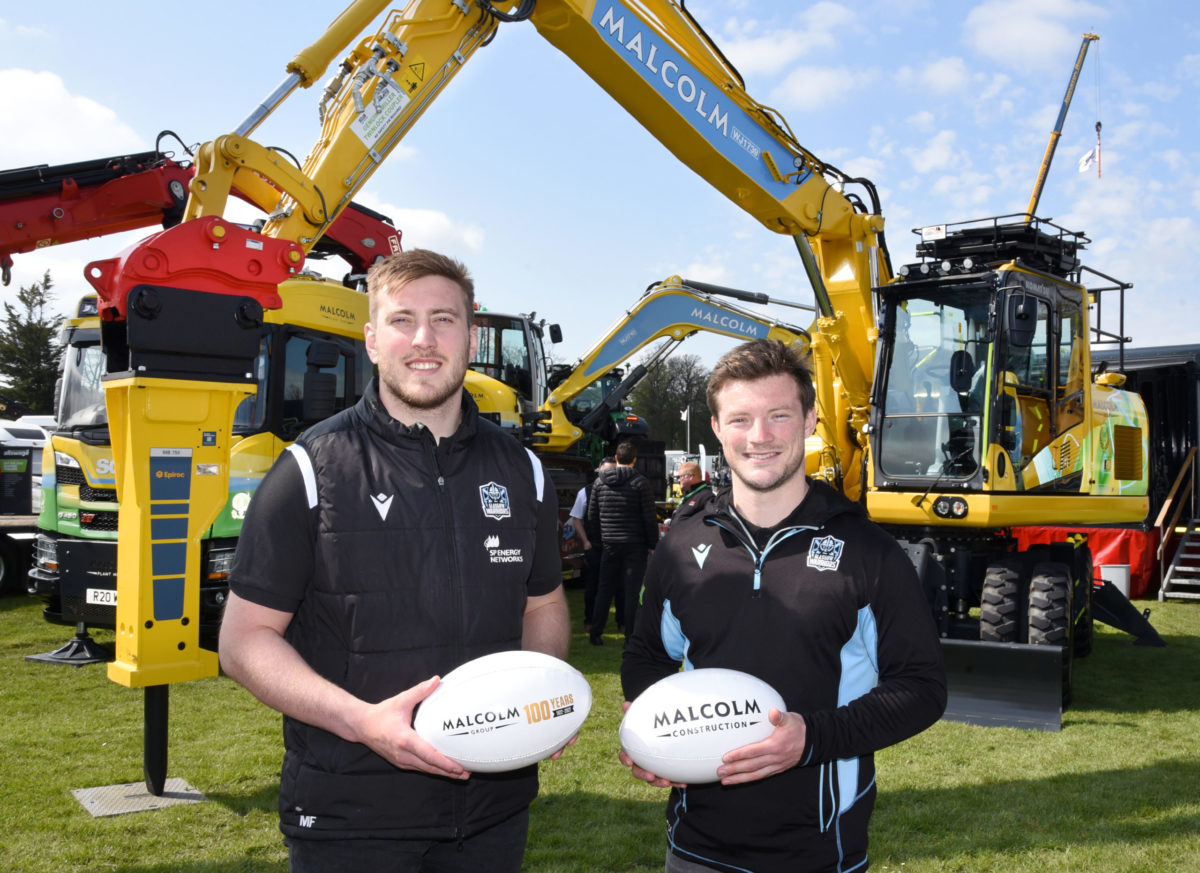 And there was an appearance by Amy Underwood, better known as social media sensation The Digger Girl. Amy has amassed well over 200,000 followers on TikTok and Instagram with her videos documenting her life as a plant and HGV operator. Huge crowds gathered to see her operating skills on the Rototilt stand and snap up merchandise on the Mellex stand relating to her and that of fellow influencer, Flat Out Flat Broke aka Sandy MacCallum.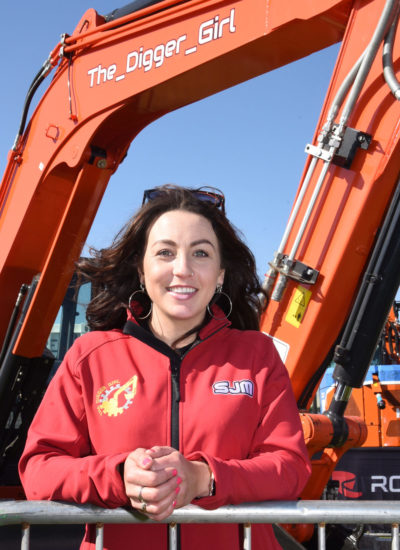 Dates for ScotPlant 2024 will be confirmed in due course, so stay tuned! Meanwhile, here's some more images from a memorable weekend.