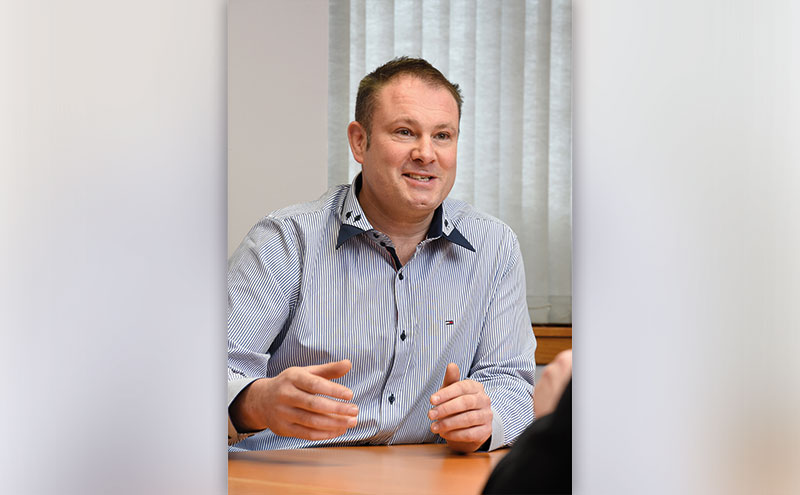 HENRY Brain's career has seen him work for numerous attachment firms up and down the country, culminating in his current role as managing director and co-owner of Yarwoods Excavator Attachments.
Henry recently told Project Plant's Fraser Rummens about how he ended up going into business with industry stalwart Peter Yarwood, the attachment he's keeping an eye on in the future and how he owes his start in plant to mad cow disease…
Q) HOW DID YOU BREAK INTO THE PLANT INDUSTRY?
A) My background is agricultural – I did agricultural engineering at Harper Adams in Shropshire and from that I went to work for a company called Lely UK as a product demonstrator. Lely was very much into the arable, dairy and beef industries – I've mowed grass as far north as Thurso and drilled wheat down outside Truro, so with them I covered pretty much the whole country.
My break into plant came as a direct result of the mad cow disease outbreak of the late nineties. As Lely's core market was the dairy and beef industries, it was forced to re-structure and I was presented with an opportunity to transfer to its then sister company Toro Grasscare. They had just launched the 'Dingo', a stand-on compact skid steer loader that was basically a hydraulic power pack on wheels with over 30 various attachments to suit from hammers to augers to trenchers. What they wanted me to do was do an appraisal of the product and see where it might fit in, take it around to all the plant hire companies and see whether there was any interest in the product. Hence my interest specifically in attachments and why I look at an excavator not as a digger, but a hydraulic power pack on tracks!
I'd always lived in a rural area so from the age of four or five I was always picking potatoes or stacking hay bales around a field. It was just something that I'd enjoyed. I've always enjoyed looking at things from a technical perspective so I was always into the engineering. Really the agriculture and the engineering came together for me in the course that I did.
Q) HOW DID YOU GET INVOLVED WITH YARWOODS?
A) I was approached by a gentleman called Alister Rayner who had come over from Australia and was working for a company called Digga Europe, which actually went on to become Auger Torque, and because of my experience with the augers and attachments on the Dingo, he wanted my technical expertise in that product range to promote the new product, especially focusing on the north of the UK. As home was originally Cheshire/Lancashire, it was quite an easy thing for me to do.
On the back of promoting that product we exhibited at ScotPlant in 2000. We did the first show there and we had quite a bit of interest in the product but the one person that came onto the show stand that showed the most interest and most understanding of the whole concept of attachments was a gentleman by the name of Peter Yarwood. That's how I got introduced to him and he took on the franchise for a number of years to push that.
Then in 2005 I left to work for KINSHOFER and I managed to persuade Peter over a number of years to look at the KINSHOFER and the Demarec product, which he did so my relationship with Peter has gone back fifteen years or so. In fact, at one point he did ask me to work for him!
I joined Yarwoods in the autumn of 2015. The view was of me coming in and taking over because Peter was looking to retire and I came on for a couple of months just to try and get an understanding of the business and see whether I wanted to contribute or financially commit to the business.
Peter's still very much involved in the business; he's doing two-and-a-half days a week, he's helping smooth out some of the little transitions we've had in the business. He's very actively involved; he's still got a very good relationship with a lot of the customers in the industry and in many respects he's mentoring me and helping me develop and grow the business as well.
Q) WHAT IS THE HISTORY OF YARWOODS?
A) Yarwoods was started by Peter way back in 1982. Over the years it has moved and changed with the times, many will know its reputation for building buckets, not just for diggers but also for specialist applications such as mining and deep water dredging. Yarwoods has held a number of premier hammer dealerships, the longest and most successful one being the current TOKU hammer brand. They also held the ESCO franchise and hired excavators on long-term contracts at Glensanda as well as hired and sold attachments. In recent years there has been a focus back towards the hire and sale of attachments and that remains our core business today.
Q) WHAT BRANDS ARE YOU SUPPLYING TODAY?
A) Our longest franchise is the Japanese designed and built TOKU hammers. Yarwoods has sold who knows how many over the years, but a sign of their quality is we keep getting asked to trade-in the TOKUs customers bought from us five or six years ago, but when we check the serial number and the invoice, it was more like 15 or 16 years ago! When customers run a hammer that long and don't realise how old it is and want another because all they've had to do is put chisels in it, grease it and 'the odd bit of gas', you know it's a quality product.
With my background of 10 years with KINSHOFER and Demarec group, we have continued that relationship. I'm in a very lucky position that I know a lot of the guys within that organisation very well. KINSHOFER is a company that has continued developing and progressing and it's a case of believing what they're trying to so and what they're trying to achieve and where they're taking that product in the future, so that's an exciting one to watch.
Last but not least, we've got the range of Hartl crusher buckets and screeners, which we took on about eighteen months to two years ago. Again, another highly engineered range of equipment with outputs to match. The issue with all the products we represent is trying to convince customers that the extra initial investment will pay off many times over its lifetime. Once they've made the initial investment they forget how long they've owned it for. It is about the back up and still being able to get wear parts for it.
Q) ANY CAREER HIGHLIGHTS?
A) I've got two career highlights really. One of them must be going to work for KINSHOFER in 2005. The KINSHOFER and Demarec ranges of products weren't particularly well known, if at all, in the excavator sector of the construction industry. They were well known for their crane attachments but not really known for their excavator attachments. Myself, along with my other colleagues who were helping me build that whole range of excavator attachments from virtually a standing start to where it is now – the UK is now the second or third most important market to the Germans – so that's got to be a pretty big highlight.
The second highlight has to be sitting here today in the position that I am as a managing director and as a co-owner of a business. It's one of the things I'd always wanted to aspire to. Funnily, I've learnt that's very much like where I started off from – agriculture – it's not a job, it's a way of life. You never really switch off, constantly thinking things over!
Q) WHAT IS THE BEST ADVICE YOU'VE EVER RECEIVED?
A) "Always give yourself time to think before you answer!" and "Take criticism constructively, not personally. See it as an opportunity to improve yourself."
Q) WHAT ARE THE BIGGEST CHANGES YOU'VE SEEN DURING YOUR TIME IN THE INDUSTRY?
A) I would say the biggest change is probably that when I started excavators were really classed as diggers for digging holes. Now, I would say excavators are being looked at as a hydraulic power pack on tracks. You only have to look at the hydraulic services and the extra bits and pieces that are fitted to them and most of them now are becoming standard as opposed to optional extras. When I started you were probably lucky to get a one-way hammer circuit on a machine. Thankfully now we see excavators with two-way flow pretty much as standard, with a move towards a two-way rotate circuit fitted and even a drain-line. Secondly, I would say the distance that contractors are travelling. We have customers from Yorkshire working in the central belt and visa versa, it just seems a bit mad!
Looking to the future, I think the one to keep an eye on is the tiltrotator market. I think that's going to be a very interesting one to watch and see how that develops. My gut feeling is that they will become very much like the quick hitches where operators will expect a tiltrotator on the end of a machine as standard and it will be the plant hire companies that will be expected to put them on their equipment. They undoubtedly make the job quicker, simpler and in some applications, safer.
Q) WHAT ARE THE BIGGEST CHALLENGES FACING THE PLANT SECTOR AT THE MOMENT?
A) I think there are a number of challenges. We've got the situation with Carillion – from the effect it could have on the cash flows and business planning of their sub-contractors and ultimately the job security of their staff as well as Carillion staff, to how on earth major contracts can be awarded in the first place at both primary and secondary contractor level to companies in that kind of financial position.
I also think the over-capacity in the supply and hire of equipment compared to the limited amount of big projects on the go is going to cause a big squeeze on rates and profit margins.
Q) ANY FUNNY ANECDOTES FROM YOUR CAREER?
A) I do remember many years ago a slightly heated discussion with the owner of a demolition company who was in the market for a new pulveriser for his new 30-tonne excavator. The customer apologised for being slightly late because he was having new tyres fitted onto his brand new 4×4. In my simplicity I couldn't work out why he needed new tyres on a vehicle only one or two days old. It transpired he wanted the best quality tyres available on the vehicle, he had done the research and what he had purchased was going to further improve the performance of his vehicle. I had no issue with that, but we then went on to have an argument on why he wasn't prepared to pay something like £4,000 more for a quality piece of German engineering to improve the performance on his new excavator, just like he was prepared to do for his vehicle, except the pulveriser was contributing to paying for the vehicle! Whilst I lost the deal in that instance, we did do business later on and every time we met again he would always ask for a set of tyres in the deal and laugh at me!
Q) WHAT CAN WE EXPECT FROM YARWOODS AT THIS YEAR'S SCOTPLANT?
A) We will again be exhibiting a selection of our TOKU hammers, KINSHOFER and Demarec attachments and the Hartl crusher buckets. I am aware that Yarwoods still has a bit of a reputation of only doing hammers, so we are keen to exhibit all the other attachments that we have available for hire or sale. In addition we are also working with KINSHOFER to exhibit their NOX tiltrotator and a number of attachments that can be used on their and other brands of tiltrotator.
Q) HOW DO YOU RELAX WHEN YOU'RE NOT WORKING?
A) I'm not sure it's classed as relaxing but up until very recently I spent my Sunday mornings at my local rugby club coaching, and some afternoons in the bar! I'm a level 2 coach and for me it is an opportunity to put something back into the sport I love and got so much out of as a player. I used to do a lot of DIY but as I've been told in no uncertain terms I never finish a job completely, I got banned from doing it! The rest of my time off seems to be as a taxi driver for my three teenage kids. As I'm away a lot it does give me one-on-one time with them and I know where they are!
Q) WHAT'S NEXT FOR THE BUSINESS?
A) We added a third depot last January in Newcastle, it was something that we had held as an ambition for a number of years, to be able to link the existing depots of Airdrie and Barnsley up, primarily to give better coverage to the south of the borders, the north east as well as Cumbria. It was all about seizing the opportunity. The unusual and rare opportunity of the right staff, the right premises and the right customers came together almost as if we had planned it!
So for now it's a period of consolidation, making sure that behind the scenes the same processes are in place, the same ethos and the same levels of service for the customer. We now have a number of customers who may be based in one area, but have employees working hundreds of miles away and can deal with one company who they know and trust can do the job at a local level for them.