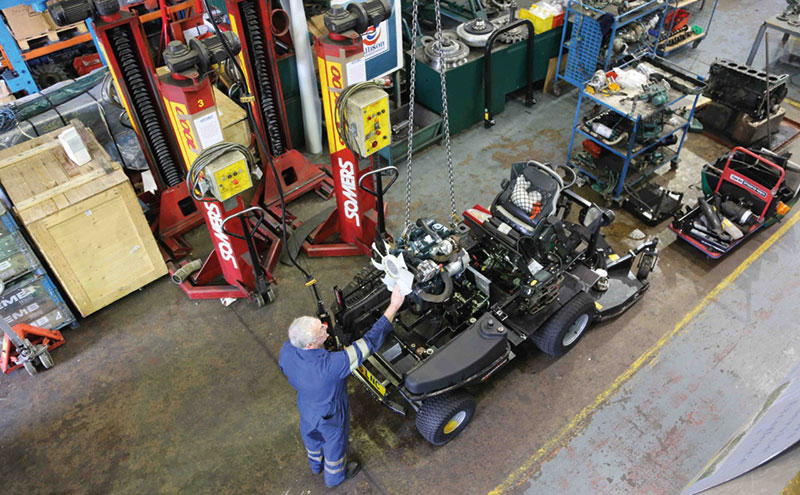 Kubota UK joined forces with engine and transmission specialist Mitchell Powersystems (MPS) in 2016 in a strategic partnership that established MPS as the official national distributor of Kubota's Industrial diesel and dual fuel engines in Scotland. Six months later, based on the success in Scotland, the partnership was extended into new territories to include distribution in the north west, north east of England and northern Wales and the south and south east of England.
Allan Mitchell, general manager of MPS' Glasgow branch, discusses the Scotland operation and the reasons why MPS' and Kubota's relationship continues to go from strength to strength
STARTING THE ENGINE
KUBOTA engines are renowned across the globe for their exceptional performance and reliability, so there's no real surprise that the feedback we have received from the market about becoming the official national distributor in Scotland for Kubota's complete range of Industrial diesel and dual fuel engines has been nothing but extremely positive.
We teamed up in 2016 and it has been a fantastic start to the working relationship between both brands. The partnership has hit the ground running for a number of key reasons. Firstly, the market knows the quality and reputation of Kubota, its solutions are virtually a fit and forget concept. Combine this with the expertise MPS has in the diesel powered engines market and I believe it makes a great recipe for success.
It's a major investment that both parties are committed to. For Kubota, it's about strengthening its service expertise across this region to increase its market share and drive brand awareness. For us, it has clearly opened up new market opportunities that previously we couldn't target.
From an operational point of view, because the Glasgow site is a one-stop-shop for engines sales and servicing, there haven't been any significant changes we have needed to make to our processes. What we have done though is put a dedicated sales manager on the road in Craig Butchart, who is responsible for promoting Kubota engines, maintaining and developing relationships with existing Original Equipment Manufacturers (OEMs) and looking at new business opportunities.
PUSHING THE ACCELERATOR
The launch of the partnership at the groundscare show Saltex created a real buzz about us working together and since then we have promoted the partnership at key trade shows like LAMMA, the largest agricultural show in the UK and at the APSE show in Scotland, an event that attracts all the key decision makers in local authorities and OEMs. We are also carrying out a host of marketing activity to generate new business leads.
The good news is the partnership is going from strength to strength. The feedback we receive about Kubota is first class, with product reliability coming out over and over again from the market.
We've already surpassed our sales expectations of Kubota engines, over two thirds of which have been to a Scottish manufacturer of energy efficient and sophisticated sweepers, ideal for keeping towns and cities clean and tidy. Other key sales include our ongoing relationship with Jem Engines, who were previously the Kubota dealer but now act under our guidance.
Kubota's range of engine solutions is extensive, but we are finding that in terms of demand, there's a real trend for the widely accepted V1505 and Z482 engine platforms. Both are vertical, lightweight, water-cooled, four cycle diesel solutions. The V1505 (35hp at 3000RPM) is an ideal solution for applications where minimal noise and maximum efficiency is crucial, with the 2-cylinder Z482 (13.3HP at 3600RPM) packing a real punch as one of the most hardworking and cleanest running diesel engines available in its category.
Based on the success of this partnership, I'm also delighted that this has paved the way for our expansion with Kubota into new territories. The north west, north east of England and northern Wales are now supported by our Sutton-in-Ashfield depot, with our Romsey site servicing the south and south east of England."
DRIVING MOMENTUM
The decline in the oil and gas market and the impact this has on the larger (up to 22000kW) engines we supply does highlight the importance of our partnership with Kubota; it gives MPS more diversification and the business greater stability.
Our aim now is to grow this partnership further and there are many fantastic opportunities for us to do this. There are a number of market sectors to pursue, like agriculture and materials handling for instance. However, the surge in the construction sector in Scotland, much like the rest of the UK, makes this an ideal primary target.
Major projects like building the new exhibition centre in Aberdeen and the redevelopment of the harbour in the city means there's significant opportunities to target the construction plant market and also OEMs in the power generation sector too.
Another growth area is the high pressure water jetting market, with more and more commercial buildings utilising the services of commercial cleaners to make their offices, schools or public buildings look in pristine condition. We also see an opportunity to target the rail industry, particularly rail handling and rail logistics OEM's to support rail infrastructure.
STAYING IN THE FAST LANE
The biggest challenge we face as a business is getting people to change. OEM's in all market sectors have generally done things the same way for a very long time and we need to break this mold.
Kubota and MPS together offer a premium but cost effective product and service, offering a range of world-class engines that provide high performance, low noise, cleaner emissions and excellent fuel economy. This is backed up with exceptional service levels.
Unfortunately, there are perceptions out there that view an engine as more of a throw away concept and because of this, are driven by price alone, buying cheaper engines that will not be as efficient or reliable as a Kubota. Our job now is to convince and communicate to these people about the added value we can offer, particularly the total cost of ownership that Kubota engines can provide over some other engine brands out on the market in this power category.
The second biggest challenge and one that faces the industry as a whole is the introduction of Stage V in 2019. At it stands, there is serious lack of awareness and that needs to be addressed.
Increased prices and the impact of newer technologies are fear factors and my concern is that in the short term it will push people into buying used equipment. Ultimately, people don't like change, but this is going to happen, so we as an industry need to try and alleviate some of these issues and educate the market on the long term benefits of Stage V.
ALLAN Mitchell has worked for the Turner Group all his working life, having started with the business in the late 70s as an apprentice in diesel engineering. Following his successful apprenticeship, Allan was appointed as a diesel field service engineer, working on a range of onshore and offshore projects across the globe for over a decade.
He was then promoted to workshop supervisor and service manager, with overall responsibility of the service and parts operations of the Turner Diesel business in Glasgow including generator servicing, transmission, engine installation, servicing, commissioning and the fuel injection teams.
In 2009, Turner Diesel merged three locations including Tilsley and Lovatt and became Turner EPS. Allan became the general manager for the Glasgow facility with full operating responsibility.
In April 2012 Allan and the Diesel Glasgow service, parts and sales team transferred to Mitchell Powersystems.
MPS was founded in 1953 and distributes and supports a number of premium engine brands for various applications including marine, industrial and transmissions for on and off-highway applications.