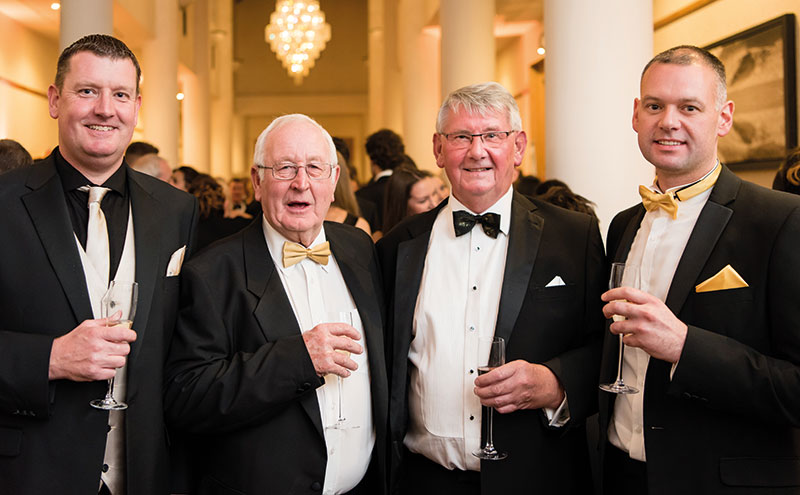 TODAY, Cumbria-based Taylor & Braithwaite services the north of England and Scotland, with a Hyundai excavator dealership for the north of England and crushing and screening dealerships for Scotland.
Founded in October 1967 by Harold Taylor and Trevor Braithwaite, both of whom had previously worked for Johnson's in Kirkby Stephen repairing agricultural machinery, Taylor & Braithwaite initially focused on agricultural machinery. Expansion came in 1971 with the purchase of a 25-acre farm in Flitholme, Cumbria, where the firm began repairing second-hand agricultural machines.
In 1984, Harold Taylor took over the management of the firm's services while Trevor Braithwaite took charge of the sales side. The company saw further expansion in 1992, investing in new premises at Sandford in Cumbria, where it remains today. Taylor & Braithwaite also commenced talks with agricultural machinery giant John Deere, signing a franchise deal the following year.
Ian Burton joined the firm in 2005, taking over Trevor Braithwaite's role when he retired. He is now responsible for the sales side while Harold Taylor's son, Paul, takes care of aftersales. It was after Ian joined the business that the focus began to shift towards construction equipment.
"When I left school I drove excavators so it was always a bit of a passion of mine," Ian enthused. "I used to drive a JCB 3CX; I drove that for about five or six years and I was always more interested in construction than agriculture, although I did sell agricultural machinery for 20 years."
Prior to joining Taylor & Braithwaite, Ian spent time selling equipment at Lloyd in Carlisle where he finished as sales manager.
He continued, "You always hanker back to what you like and prefer and I was looking all the time to try and get into the construction market.
"I had the opportunity to become director down here so that's really what propelled the move and I just thought we needed to, as a business, diversify away from agriculture… We had a John Deere franchise at the time so we were selling a market-leading product but I still preferred excavators."
Taylor & Braithwaite officially began trading in Hyundai equipment in January 2010 with Ian seeing an opportunity to build the company up in construction while the market was quiet due to the recession. The company gave up dealing in John Deere equipment in 2011.
Ian admitted that transitioning from agriculture to construction was "a total change of tact" that required retraining, re-education and getting clued up on health and safety regulations.
Today, the company is "99% construction equipment," said Ian, adding that it was expanding into quarrying and recycling with crushers and screeners. Taylor & Braithwaite took on a franchise for mobile crusher manufacturer Rubble Master last year, adding to its current product range that includes Hyundai, Maximus, Pronar and Pro-Dem. Ian said that the Rubble Master had already "exceeded expectations", highlighting its throughput in a compact size, which he claims provides greater fuel efficiency, reduced cost to run, reduced cost per tonne and a better end product.
Ian said he was keen to expand the crushing and screening division north of the border with its Rubble Master and Maximus brands, adding that the Rubble Master equipment had already been shown off as far as Aberdeen. He explained that the crushing market in Scotland was generally jaw crushers and the impact crusher had "turned a few heads".
"Everybody has had a big jaw crusher and then a cone crusher, they've needed two machines to make the one product and our machine has gone in and made the one product."
Reflecting on the Scottish market, Ian added, "We'll be looking to be more visible. We've got room for expansion in the mini-excavators in Scotland and the crushing and screening and we're looking for other franchises to increase our portfolio."
2018 looks to be another year of expansion for Taylor & Braithwaite with the appointment of a new salesperson to expand the company's Hyundai dealership into the Yorkshires, bringing the overall sales team to 20. A 525 sq. m dedicated workshop facility is also set to open on the Taylor & Braithwaite site, which will improve working conditions and workshop capacity.
Ian said the reach of the company might surprise people, along with the diversity of equipment it offers. "I think people locally have no idea how far we go and the type of business that we do and the volume that we do. I think people locally still see us a sleepy, little agricultural dealer on the side of a road."
He continued, "Turnover is growing, our staffing numbers are growing; we're growing quietly and consistently. We had a record December, the best December we've ever had, so we're starting off into this New Year quietly confident, expecting considerable growth in the company this year."
Taylor & Braithwaite marked its golden anniversary by hosting a charity ball at the Low Wood Bay Resort & Spa, located on Lake Windermere in the Lake District. The evening raised over £34,000 for Cancer Research UK.
Reflecting on the company's offering, Ian added, "What we're trying to do is just look after people – your aftersales, your service and your backup – be fair and honest. It isn't all about the short-term gain; we're in it for a long time. We want to be dealing with these customers in five years, ten years, fifteen years."