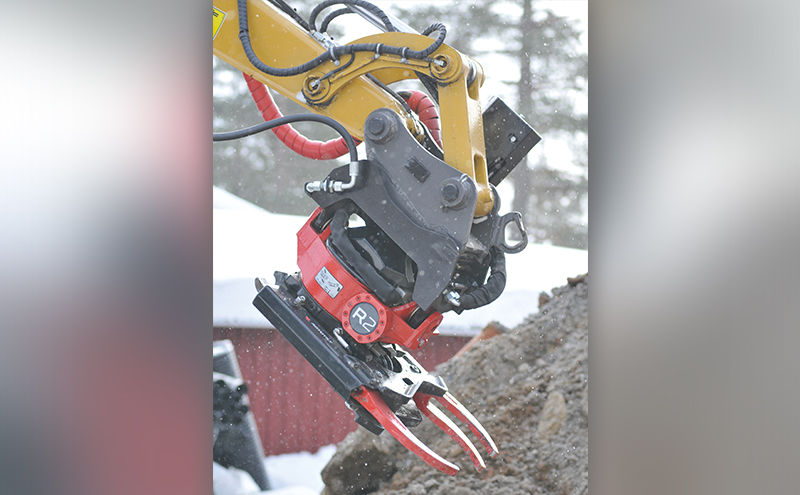 HIGHLAND Hammer Hire (HHH) has snapped up an extended stand at this year's ScotPlant, with the firm planning to put on a live demonstration for the first time.
The business will devote about 50% of its stand to Rototilt products, having recently landed a deal to distribute the manufacturer's tiltrotators in Scotland.
HHH founder Callum Mackintosh confirmed the new Rototilt R2 will be shown for the first time at ScotPlant. The machine is a replacement for the RT20B model and boasts features including Innovative Control System (ICS) and SecureLock. The tiltrotator has been described as having "significantly" higher breakout torque and increased machine span of 3-6.5 tonnes. The design is based on the larger models of the Rototilt R platform with an integrated swivel.
Callum recently travelled to Spain to conclude a deal with Xcentric Ripper International to sell, hire and promote their Xcentric products in Scotland. He's planning to bring an Xcentric ripper for demonstration and a crusher bucket to Ingliston.
Callum said, "They are also developing a new vacuum excavator. It's been through the prototype stages. The first production model should be available in time for ScotPlant and shown on demonstration. It's a great product, both for our hire fleet and for sale. It's got to be the future for digging around utilities."
Callum also promised a selection of FRD Furukawa kit after sealing a deal with them too.
This year's event can't come quickly enough for HHH after a stunning debut at the show two years ago.
Callum added, "I absolutely loved the first one; it was a brilliant show and I was buzzing after it. In fact, I remember when we packed up, I said just pencil us in for the next show. It was awesome. We got very lucky with the weather. We had visitors from all over the country, not just Scotland. We even had a German fellow on the stand. He was just a random visitor, he wasn't from a supplier or manufacturer. He was just a genuine visitor. The catchment is incredible.
"Because the last ScotPlant was brilliant for us, it encouraged me to take more space this year and put on a live demonstration. I'm really excited about this show. I think these shows are hugely important for us. It allows us to demonstrate our product to a wide audience in one hit.
"You're speaking to people from every corner of the country. That's where it's key; you're meeting people and shaking hands with folk. Sometimes we're all like passing ships at night or it's difficult to pin both parties down to the same time.
"I'm really glad to see that ScotPlant this year is looking to be a bigger show than ever."