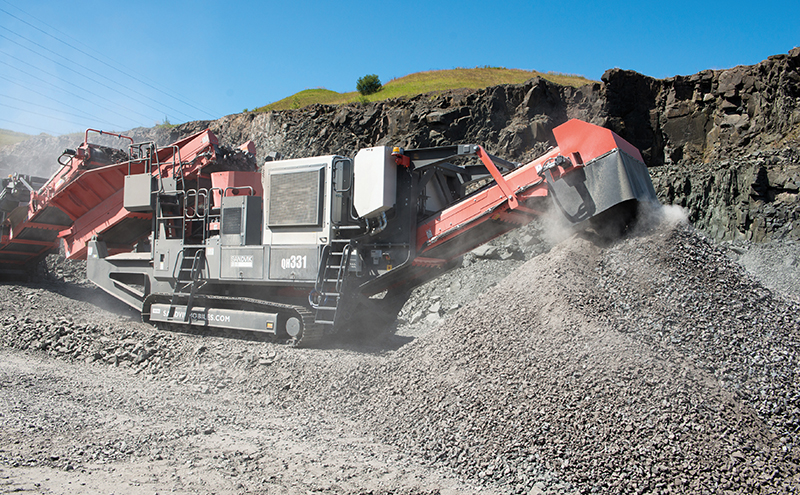 SANDVIK'S mobile crushing and screening division will use ScotPlant to showcase standout models from the range, with the QJ341 jaw crusher and QH331 cone crusher set to take pride of place on their stand.
The flagship QJ341 is described by Sandvik as providing the "ideal solution" for a wide range of applications.
The machine comes equipped with a "powerful, fuel-efficient engine" and a C12 jaw crusher, with a jaw opening of 1200 x 750mm.
Sandvik added that the QJ341 has been designed with features that ensure "continuous, uninterrupted crushing combined with a high degree of operator safety". These include a load control system for the feeder drive and speed wheel fitted to the main conveyor.
Other advantages include:
• Choice of 3A fixed speed or Stage 4 Final engine
• User-friendly PLC control system and colour screen allowing visual data output and control
• Proportional control for machine tracking, which allows more controlled manoeuvrability of the mobile unit
• Hydraulically driven cooling fan with auto reverse to back flush dust from the radiator
• Hydraulic control system with all controls located at ground level for ease of access
• Now available with an optional double-deck pre-screen with our QJ341+ model.
The QH331 is a compact machine designed to meet high product quality demands through the use of the Sandvik CH430 hydrocone crusher combined with the mobility of a tracked unit.
The machine is described as offering one of the most versatile units on the market, with a choice of six different crushing chambers and a variety of bush settings.
A statement from Sandvik said, "A key attribute of the QH331 is the advanced design of the CH430 cone.
"It possesses a longer and steeper crushing chamber than other comparable models. The material therefore remains in the crushing chamber longer, optimising reduction and providing a superior product shape.
"The CH430 comes equipped with a hydroset CSS regulation system, which allows you to adjust the CSS (closed side setting) whilst crushing, via the main control panel.
"The automatic setting regulation system fitted will not only optimise production for you but will also keep track of liner wear to minimise interruptions and downtime."
Advantages of the QH331 include:
• Remote camera for visibility of the crushing chamber from ground level
• Level sensor to regulate the feed to optimise production, reduction and shape
• Direct drive for optimum efficiency and power transfer
• Easy to maintain, no crusher backing for rapid liner changes
• Available with 13′ x 5′ / 4 x 1.5m hanging screen