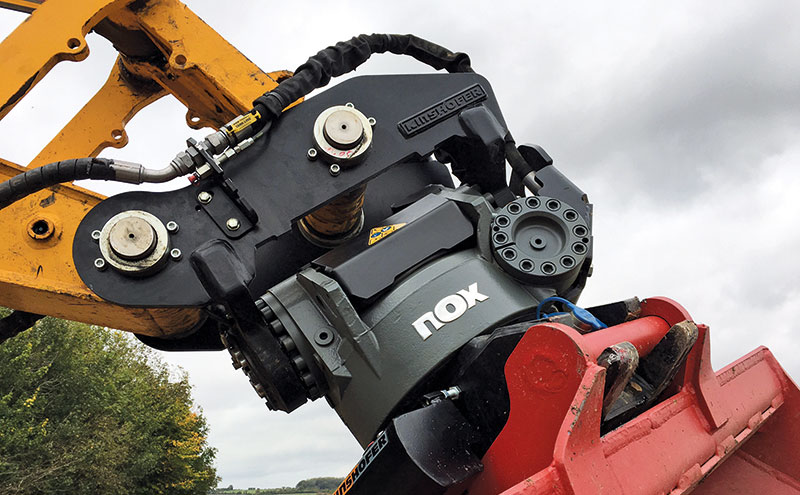 Kinshofer UK recently held two open days to educate potential users on the benefits of the NOX tilitrotators. Andrew Little, Kinshofer UK national sales manager (excavators) spoke to Project Plant about the event
Q) WHY DID YOU PUT ON THE NOX OPEN DAYS?
A) The aim of the NOX open days was two-fold; to give potential customers the chance to see the NOX up close, working with a range of attachments, but also to let them hear the benefits from the horse's mouth, the people that matter, the NOX owner operators; rather than through me or my sales staff.
We believe there's a lot of interest out there for a ram-less product and we felt the best way to demonstrate the unique benefits of the NOX was to let people see and hear for themselves.
It took place at our sister company's site, Auger Torque Europe, near Cheltenham. It provided the perfect facility to safely host large machinery, with plenty of space to showcase a wide range of our products, as well as product ranges from Auger Torque.
Q) WHAT DID THE OPEN DAYS INVOLVE?
A) A wide variety of on-site activity but the focus was really on two owner operators and their expertise in handling the NOX and who were willing to share their considerable knowledge and experience. We were able to secure Steve Bennett from groundworks specialists Utcheter Plant, based at Uttoxeter in Staffordshire, who runs a CAT 432 BHL, and Shaun Price from Earthworx UK, based in North Devon, who runs a JCB JS130. Both guys are involved in general contracting, groundworks and landscaping and have really enjoyed the difference the NOX has made to their businesses.
Steve had a TR10 fitted to his backhoe loader back in June and has still been able to use his existing set of attachments, as the NOX is so adaptable in terms of the range of manufacturers it's able to accept. He carries out a lot of work in confined spaces, so finds the cylinderless design of the NOX such an advantage, as it's particularly well suited to operating in narrow trenches or where access is difficult. He's also a big fan of his specialist Gripper cassette and GAF12 fork set as they've enabled him to take on a much wider range of jobs. Visitors to the open day were able to see all this in action at close quarters, with each attachment being put to the test through a variety of groundworks-based tasks.
Similarly, Shaun from Earthworx UK had a TR14 fitted to his machine and just seems to be going from strength to strength. Fortunately for us, he researched the market heavily before deciding to buy a tiltrotator, so we're obviously delighted he opted for a NOX at the end of the day. His productivity has seen significant improvements and we hear he's very happy with the way the NOX has been set up and tailored to suit his individual needs.
In fact, installation and after care is another important reason why the NOX seems to be so well received. We've called on the services of Summit Equipment, who are premium installation specialists, with a wealth of experience in all things hydraulic. They also attended the open day and were on hand to offer technical advice, guiding people through typical installation and set-up procedures, personalisation and advising them on general maintenance.
Alongside this, we had additional support from Franz Jaud, the global product manager for the NOX from Kinshofer Group in Germany and Marko Ojala, product manager from Kinshofer Finland, who further supported customer questions with specialist technical and application advice.
Q) WHAT WAS THE REACTION TO THE OPEN DAYS?
A) Very encouraging – plenty of work now to follow up the interest that's been generated.
We are delighted with the reaction we've had across the board. It takes a lot of effort to put on events such as this and it's made all the more worthwhile when you see the reaction from potential and existing customers who see the benefits, appreciate the innovations we've made and show a genuine passion for the product.
A picture tells a thousand words – but an open day answers a million queries!
Q) HOW DO YOU THINK THE KINSHOFER NOX HAS BEEN RECEIVED IN THE UK SINCE LAUNCH?
A) Judging by the reaction we've had so far it's been incredibly positive, especially as the concept has been in the making for some time, after a successful development phase over the last year or so. We know the market is a competitive one, with plenty of quality and choice out there, so introducing another tiltrotator to the UK means bringing something new to the table.
The benefit of no cylinders and a clean design that won't get caught or break when you're digging a trench has given us an interested audience to engage with straight away. Add in the performance aspects, the versatility, the durable construction, the NOX Prop joystick control system, etc. and you begin to see why the level of interest is what it is.
Q) WHAT ARE THE BENEFITS OF THIS KIND OF EVENT? WILL YOU DO MORE IN THE FUTURE?
A) It did take a lot of planning to successfully host the event, but the positive feedback has made it well worth the effort. We intend to turn this into an annual event, so people will look forward to seeing regular innovations from us.
We also want to hold an open day for our friends further north, as we've had a number of requests from people who weren't able to travel down this time round, so that's another thing to look out for next year.