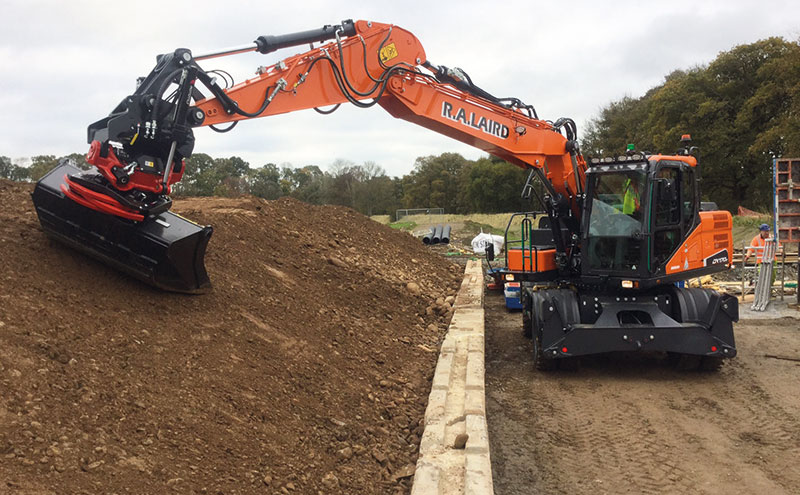 A Perthshire plant hire firm has recently taken delivery of a Doosan DX170W-5 wheeled excavator fitted with a Rototilt R5.
Pitlochry-based R.A Laird Contractors was in the market for a 17-tonne excavator to join its fleet of machines used to carry out a range of civil works across the region. The firm struck a deal for the Doosan and Rototilt combination with Aberdeenshire dealer Balgownie Ltd.
After listening to the contractor's needs, David Moir, construction sales executive at Balgownie, came up with the solution of the DX170W-5, which he told Project Plant was a "stable workhorse".
"Once the operator is in it, he knows about it. It's fast, it's quick, it's stable and it's reliable. Its durability is second to none," he said.
David called the Rototilt R5 the "perfect match" for the machine, adding that he is seeing a bigger demand for tiltrotators from operators. "It's all kicked off in Germany and Switzerland and places like that have them on ducks all the time.
"It's starting to creep more into the UK now because it's making it a bit more versatile for the operators. If they're doing grading or bankings or tricky wee jobs around pillars – any structural work – the Rototilt comes into its own. It's giving the operator more scope and I would say it's definitely finishing off the job a lot better now.
"You maybe needed a guy to do certain bits of shovelling around a tight object – the Rototilt can just chuck in now, the operator doesn't have to move. I definitely see more demand now."
The R5 is designed for excavators between 14 and 19-tonnes and features a full cast oil-filled rotor housing, which Rototilt claims allows for easy servicing whilst also reducing wear and prolonging component life. R.A Laird also opted for the company's central lubrication system, a one point greasing solution that further simplifies maintenance.
The R5 has a tilt angle of 40 degrees each way, a continuous rotation in both directions, a rotational speed of one revolution per seven seconds at 65 l/min, a rotation torque of 8,600 Nm at 25MPa and a tilting torque (single acting/double acting) of 30,900 Nm/45,100 Nm.
The tiltrotator features Rototilt's ICS auto-calibration control system, which automatically calibrates with the excavator to optimise fuel consumption and offer smooth machine integration.
The ICS used the ergonomic L8 joystick and allows for four individual operator profiles. ICS comes standard with a 'return to home' feature, which allows the operator to save a desired 'home' position and return to that pre-set position with the touch of a button.
The addition of wheel steering allows the operator to manoeuvre the worksite whilst also carrying out slew, boom and dipper movements.
Another standard feature of the ICS control system is Rototilt's 'pulse' function that vibrates the tilt rams, allowing for material distribution from the bucket.
The intensity of the pulse function can be set via the operator's display to suit the requirements of the job.
R.A Laird machine operator Alastair Robb praised this particular feature.
He said, "Little things like that made it the one to have. When you're trying to shake stuff out the bucket all you're doing is holding two buttons together, rather than trying to do it manually with the joysticks. It's the software of the Rototilt that's making it happen.
"If you were on drainage and you were trying to sprinkle pea gravel over a pipe or loading concrete into shutter – it's definitely beneficial for that. There are 16 different settings to the pulse mode as well so you can have it as finessed as you really need it to be."
Alastair added, "It's so versatile for digging round obstacles; you and dig at any angle, you can finish batters at any angle.
"It doesn't matter where the base machine is sitting, as long as you can reach it you can deal with it."