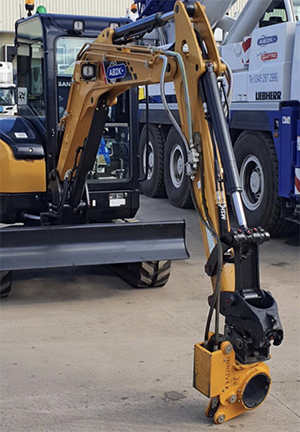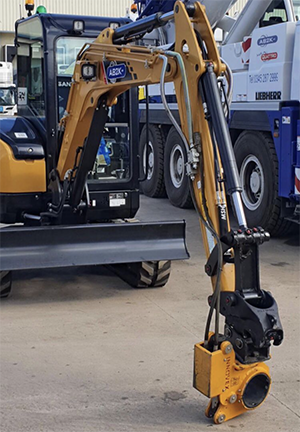 THIS year marks a ScotPlant debut for Innovex Technologies. The business will use the show as a platform to announce that AB2K – part of the Quattro Group – is now the official approved agent of Innovex Pipe Pushers and Snap Tech within Scotland.
This move provides a one-stop shop in trenchless technology for the utilities industry.
Innovex will display a 400mm/16" pipe pusher on an AB2K machine to demonstrate how the attachment offers a 'safer and more compliant' way of inserting new PE pipe by completely removing manual handling. All Innovex pipe pushers are now SGN and Cadent approved to work on both live and dead insertions.
"ScotPlant 2022 is the perfect platform for us to announce that AB2K are our official approved agent in Scotland," said Rosalind MacGregor, owner, Innovex Technologies Limited. "We have synergy! It's a natural solution."
John Murphy, MD of AB2K, added, "We are delighted to be the sole hire agent for Innovex, one of the most revolutionary attachments in the pipeline industry. AB2K will now be able to offer pipe pusher attachments in differing sizes, hired with or without an AB2K machine to facilitate the job. AB2K supplying Innovex is the pipe dream!"