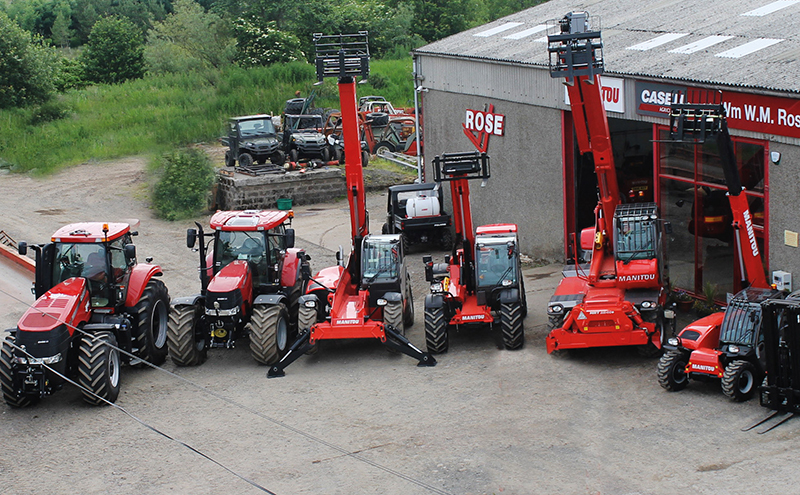 WM Rose & Sons will be displaying an array of telehanders, skid steers, off-road vehicles, tractors and attachments on its stand at ScotPlant this year.
The Peeblesshire-based firm has dealt in Manitou equipment for over 40 years and will be showcasing the manufacturer's latest offerings, with the MRT 2150 (32-metre lift height, five-tonne capacity) telehandler on display. The firm also hopes to have the new MRT 2470 (24-metre height, 7-tonne capacity).
"The 2470 will be new to the market – traditionally the maximum capacity on a rotating machine would be five-tonnes so seven-tonnes capacity is a big jump," said director Ian Rose.
Also making its debut will be the MC18 rough terrain forklift truck, which offers a 1.8-tonne capacity and 3.6-metre mast and the "extremely compact" MT 420 telehandler (4-metre height, 2-tonne capacity), which is suited to compact operations such as car parks and street works.
WM Rose & Sons is also a dealer for CASE IH agricultural equipment and will be displaying a Magnum 380CX tractor, as well as an off-road utility vehicle from Polaris, which Ian explained can carry up to six people across rough terrain in difficult conditions. Also at the show will be a range of attachments including a sweeper-collector and a self-loading concrete mixer.
Ian added, "Service and maintenance is a big aspect of our business and we reckon if we're not doing that well, we wouldn't be in business. Customers tend to come back and back again because of our service and back-up. (ScotPlant is) probably the biggest show that we'll attend, certainly our biggest stand and array of equipment that we'll have there."