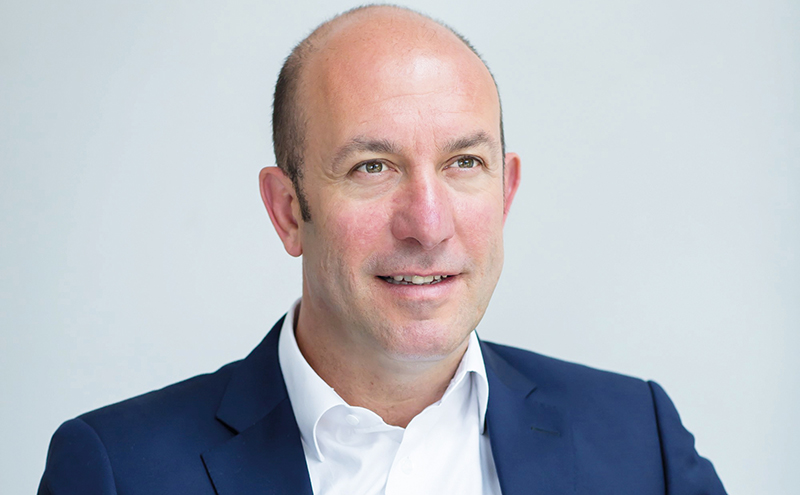 ADRIAN Murphy was appointed CEO at Blue Group last year, tasked initially with bringing increased coordination across the various businesses.
Having held senior role at the likes of Hewden, Speedy and Hilti, Adrian was seen as the right man to help grow the Blue business, which reported a turnover in excess of £100 million in 2016. Early evidence of the firm's recent growth strategy came with the news that Blue had acquired Paisley-based Murray Plant.
Adrian recently told Gary Moug about his plans for driving the business forward, why he's optimistic for the future of the sector, and how the Blue owner directors were spot on when they said he'd have fun working for the business…
Q) HOW DID YOU FIRST BREAK INTO THE PLANT INDUSTRY?
A) I used to be MD of (tool manufacturing specialist) Hilti. I was also chief operating officer for a time at Speedy, then chief executive at Hewden for a couple of years. I've been a supplier to the plant industry and also worked in the plant industry.
Q) HOW DID YOU BECOME INVOLVED WITH BLUE AND WHAT CAN YOU TELL US ABOUT YOUR PLANS FOR DRIVING THE BUSINESS FORWARD?
A) I had a coffee with one of the owners and we had a chat about the aspirations for Blue and what they wanted to do. Essentially Blue is owned by four guys who have grown it to a fairly large organisation and I think they were of an opinion that it's of a size now where they wanted to bring a chief executive on board to bring it more together as a group and look at what the next phase of growth would look like. A coffee chat turned into a coffee chat with the four of them, a number of other discussions and then they asked if I'd like to come on board.
We're (looking at) how we can coordinate more as a group. Although we're a group, we've operated as relatively autonomous businesses up until now. What we're trying to do is coordinate the bits and pieces so we can get some synergies, try to improve our cost base, centralise certain things and also make sure that we've got a consistent approach to the market. We've made a number of new appointments; I've brought a chief financial officer on board who is rolling out a structure and we're now starting to pull the group together a bit more.
We're also looking at acquisitions. We acquired Murray Plant before Christmas. What we're in the process of doing with that business is scaling it up. We're taking on dealership rights for additional products. Murray has the distribution rights for Rammer, which is probably the foremost supplier of hammers in the UK, but we've also now taken on other products.
We're looking for other acquisitions, we're looking for other products and we're having discussions around that as well in terms of how we can take it forward. Through our BlueMAC operation, we're starting to supply internationally and, again, we're looking at geography, not just in the UK but internationally as well.
Q) HOW IMPORTANT IS THE SCOTTISH MARKET TO THE OVERALL BLUE BUSINESS?
A) The Scottish market is very important. Blue Scotland has always been a very important part of the Blue group; it's always been very good in terms of its market penetration and its market share. It's been established for a number of years and has always been a large, important component of the group.
Q) HOW DOES THE BLUE BUSINESS STAND OUT FROM COMPETITORS?
A) The guys around Blue are very customer-centric. They always put the customer first and they always have done. When you look at the intimacy and our approach to market, we're very close to customers and have always had good backup and service. We've got a very established spares business, we've got very good engineering and service response. In terms of how we stack up compared to our competitors, we do put the customer first.
The other thing is that we represent some very good brands. Whenever we take on new products, we tend to go with market-leading brands.
Q) MOST MEMORABLE MOMENTS FROM YOUR CAREER?
A) I've had a fairly varied career. I haven't always been in the plant hire industry. I started my working life as a graduate trainee with Pilkington and had the opportunity to work abroad in Germany in my early 20s. That was very formative. Working in a foreign country as a young man was great; I really enjoyed that.
I also worked in the steel sector and took on my first MD role at 31, running a steel cladding business. Again, that was pretty formative in terms of learning the ropes as a young man on how to run a business and the ups and downs of a manufacturing business.
I'm also very proud to have led Hilti into becoming one of the Sunday Times Top 100 companies to work for. We did a lot of work around what good and great companies look like, how you attract the best people, how you develop people.
Also, I've been involved in a number of turnarounds. In the latter years I've been involved in businesses (going through) restructuring, a few acquisitions. I've had a fairly varied and enjoyable career to date.
Q) BEST ADVICE YOU'VE EVER RECEIVED?
A) Something I certainly believe in terms of my approach to business is that phrase 'First Who, Then What' from the book Good to Great. You find talent and you find people and then you can almost determine what role that person does in your organisation. In every organisation I've worked for, I've tried to assemble a diverse and talented team that can take the business forward. That underpins a lot of my philosophy to business.
Q) HOW DO YOU RELAX WHEN YOU'RE NOT WORKING?
A) Generally, I run around after my three teenage boys. I have three sons aged 18, 16 and 14. They're all fairly active with rugby. If I'm not working, I'm usually helping to coach them, watching them or taxiing them around.
Q) SCOTPLANT 2018 IS COMING UP. HOW IMPORTANT ARE THESE TYPE OF TRADE SHOWS FOR BLUE?
A) I think they're very important. As I said, we're a customer-centric organisation so the more opportunity we have to be out there connecting with customers and opportunities for them to see our latest technologies (the better). We're great supporters of ScotPlant.
Q) ANY FUNNY ANECDOTES FROM YOUR CAREER?
A) I'm not sure about funny anecdotes but when I joined Blue, I'd been approached about another role and, whilst I was having discussions with the guys around Blue, they knew there was another role I was considering. Over dinner with the owners the other night, they asked me why I joined Blue. I remember distinctly when they were talking to me (prior to accepting the role), they said I'd have more fun working for Blue. I told them they were right! The guys are generally quite good fun to work with; there's a good atmosphere. We run a successful organisation but also quite a fun place to work as well.
Q) WHAT ADVICE DO YOU HAVE FOR YOUNGSTERS CONSIDERING A CAREER IN PLANT?
A) I think, like any sector, it's ever-evolving. There's a lot of change going on, not just in the mechanical side, but also software. You look at the increasing use of software and technology; that's going to shape the industry and the one thing I would say to anyone coming into the industry is it definitely will change and probably won't look the same in a number of years; so always have an eye on the future. There's a lot of clever and interesting technology coming into our sector that will shape and change it.
Q) ARE YOU OPTIMISTIC FOR THE FUTURE OF THE SECTOR?
A) Yes. I'm probably an optimist by nature but I think the economy is relatively robust at the moment. Obviously there's some uncertainty around Brexit but my experience of having worked in the sector, and adjacent sectors, is that people in it are quite flexible and adapt to change, so whatever is thrown at us in the forthcoming years, I think the industry will be flexible enough to cope with it.