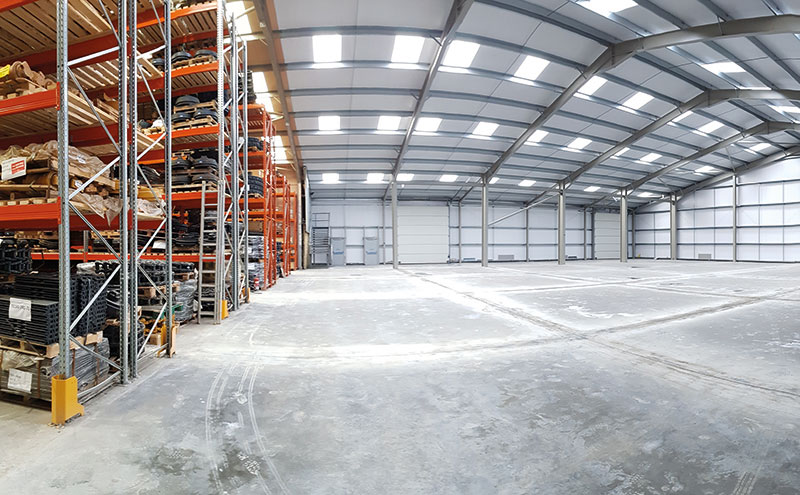 SUPPLIER of excavator undercarriage parts, Astrak UK, is gearing up for "ambitious" growth in the coming years with the expansion of its Kirkcaldy headquarters and a raft of recent appointments.
The firm, which is part of the Europe-wide Astrak Group, is doubling its warehouse size to 2,400 square metres. The £500,000 investment will allow Astrak to house its entire product range, as some stock is currently housed offsite, as well as provide much needed space for future growth.
"We had space for expansion at the back of our site here in Kirkcaldy so we took the decision, rather than continuing using outsourced warehousing with all its attendant costs, issues and challenges, that we would actually expand here on the current site," managing director Richard Paterson told Project Plant.
"We've got fairly ambitious growth plans for the next three years so we're going to need the space as we continue to grow."
Richard explained that the building's frame was erected and the floor had been concreted, with racking and lighting to be installed in the coming weeks. The warehouse is expected to be ready for occupation by the end of November.
There are plans to start work on the relocation of the on-site workshop once the warehouse is completed, adding 100 square metres of floor space and a covered area for the site wash bay and other facilities. The company is also currently going through a £250,000 office refit, which Richard said would give a "modern, agile working twist" to the working environment and give staff a "better and more collaborative experience".
"We're needing to use our space more efficiently and we also want to attract the best staff and keep the best staff, so we want to make sure that when they come to work, they come to a really great place to work."
Astrak has made several high-level appointments in recent months to support its expansion. Giles O'Sullivan-Wade has been appointed as operations manager, Kari Ruuskanen has joined as business systems manager and Emma Mitchell has been appointed as HR manager. The company is also taking on a new customer service manager in January.
Richard said that the firm also installed a new ERP (Enterprise Resource Planning) system at the beginning of the year. "We've spent a lot of time and effort, money and resource in improving and fine-tuning that. It's about making our business fit for purpose for our growth plans going forward. What we don't want to do is grow our business and not have the proper, stable foundations in that will sustain the growth."
He added, "I think the way forward for us really is just to get better and smarter at what we're doing; offering our customers a better and better service and a wider range of products."