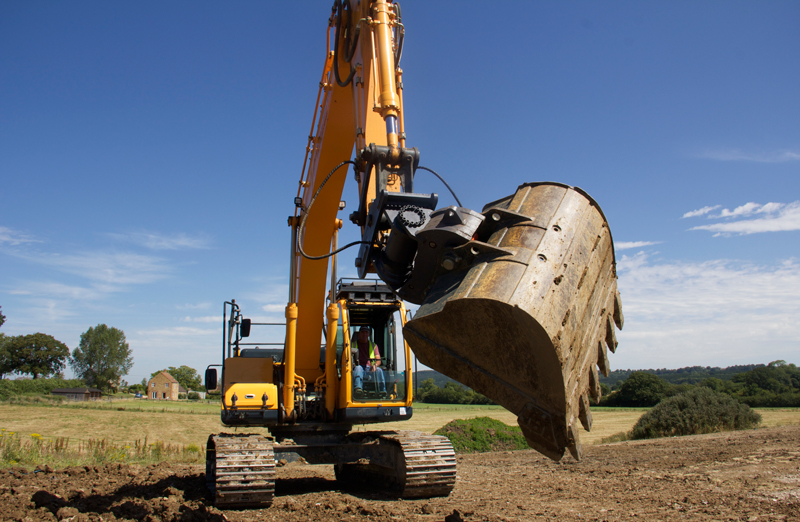 NORTHERN Ireland-based attachment manufacturer Hill Engineering will be at ScotPlant with its new Tefra tilt hitch, the award-winning Tefra coupler and Hill Titan buckets.
The Hill Tefra tilt hitch was born from the innovation of the Tefra originally brought to market in 2011. Hill say this tilt system allows operators "greater flexibility" in the way they use their machines and turns each and every attachment into one that can be used at up to 180 degrees.
Hill has used the Tefra system as the core of the product and introduced the hugely reliable tilt motor from HKS of Germany to achieve the 180-degree tilt function.
Oliver Phelan, Hill Engineering's sales and marketing manager explained, "We see this market growing significantly in the coming months and years as operators demand more from their machines.
"The quality associated with the Hill and Tefra brands, coupled with the unrivalled back up services for our clients, means the Tefra tilt should be an essential tool in any operator's kit bag."
ABOUT THE TEFRA TILT HITCH
The Tefra coupler and the HKS Extra Tilt Power Actuator have been united to provide users with two "market leading" technologies that, according to Hill Engineering, will transform the productivity of the users excavator.
With a tilt angle of 180 degrees on all models, this groundbreaking product will enable users to increase the versatility of their attachments in multiple applications.
ROBUST AND SIMPLE DESIGN 
Hill Engineering say that the simple and robust design of the Tefra tilt sets this product apart from other suppliers. The Tefra comes with just three moving parts and, according to Hill, has been proven to be "the most reliable quick coupler on the market today". Additional to this, the HKS XtraTilt Power Actuator is self-lubricating and essentially maintenance free, so that users are able to concentrate on the important tasks. There can be no damage to tilt cylinders and failure of their connecting parts, such as fastening bolts and bushes, because the Power Actuator has none of these.