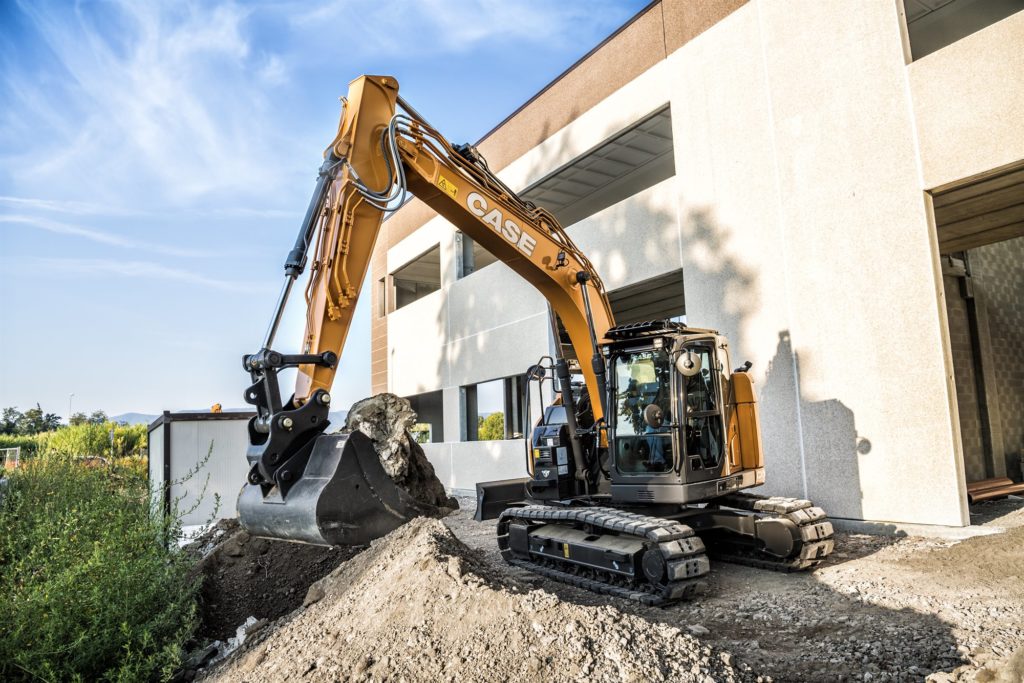 A number of leading manufacturers have been disclosing details of what they'll be showcasing at this year's Intermat exhibition in Paris.
Case said its stand will consist "almost entirely" of models introduced within the past 12 months for a range of sectors including road building, urban, recycling and quarrying.
This includes the CX145DSR crawler excavator, described as the "perfect" machine for tight spaces such as those found in urban construction sites. Also on show will be the 695ST backhoe loader, which has been upgraded to meet Tier 4 Final emissions standards with the brand's SCR-only solution developed by FPT Industrial. The upgrade also introduced a choice of backhoe geometry to match different requirements of urban projects.
The new Case C-Series mini excavators are also Paris-bound. The manufacturer said its CX17C delivers productivity, comfort and safety in tight spaces that is "unparalleled in its category", while the 2.6-ton CX26C stands out thanks to an "excellent working range, best-in-class reach and dig depth and ample boom swing angles".
The Case G-series wheel loader range will see a new addition at Intermat in the shape of the 821G Waste Handler, designed specifically for harsh environments such as the waste and recycling management sectors. Features include HI-eSCR technology that does not require EGR or particulate filter.
CASE's line-up will also include the latest skid steers, compact wheel loaders and larger excavators.
Volvo Construction Equipment's theme for Intermat is 'Building Tomorrow'. The manufacturer revealed that the demands of 'megaprojects' such as 'Grand Paris' mean customers now require entire solutions that can help them become more efficient and profitable, while reducing emissions.
Volvo's stand, which will be shared with sister companies Volvo Trucks, Volvo Penta, and Volvo Financial Services, will feature a "raft" of machines including the EWR170E short-swing radius wheeled excavator, the ECR355E short-swing radius crawler excavator, the SD160B soil compactor and the P6820D and P4820D ABG pavers fitted with the new EPM3 central control system and the new Pave Assist data management system. Visitors can learn how to get more out of these machines using Volvo Co-Pilot and assist functions.
The new Volvo EW240E MH material handler will be on display in the demolition and waste management zone, while the EX2 fully electric compact excavator prototype will be showcased along with other research projects relating to electromobility, connectivity and total site solutions.
New Volvo CE president Melker Jernberg will make his first major public appearance since assuming the role at the start of this year.
Bobcat and Doosan Portable Power will be launching new products at Intermat, including Bobcat's new 2-4 tonne compact excavators. They will be complemented by the debut of the new TL30.70 compact telehandler and a new version of the T870 compact track loader. Several new loader attachments will also be unveiled for the first time, including the self-levelling, variable segment WS-SL20 wheel saw, which has been approved for use on the T870 and several other Bobcat compact loaders.
In the new generation Bobcat 2-4 tonne compact excavators, all new models meet the upcoming European Stage V engine emission regulations and are said by the manufacturer to introduce "new levels of operator comfort, enhanced controllability and smoothness of all working functions".
Providing a maximum lift capacity of 3 tonne and a maximum lift height of nearly 7m, the new TL30.70 compact telehandler can be used for a wide range of applications. The machine provides is an alternative to larger 7m models, especially in tight working conditions.
The new version of the T870 features a torsion suspension undercarriage, introducing a completely new undercarriage design to the Bobcat compact track loader range. The torsion suspension undercarriage features torsion axles that are said to dampen vibration.
Doosan Portable Power will debut the new Yanmar-powered 7/53R portable compressor. The manufacturer explained that, like all Doosan compressors, the modular design ensures a wide range of optional equipment can be easily added.