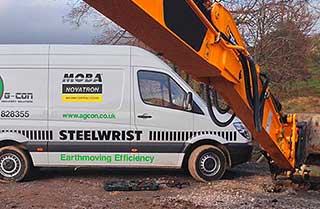 The UK divisions of MOBA and Steelwrist will jointly launch at Scotplant 2014 a revolutionary new excavator system that, for the first time, displays both the tilting angle of the bucket as well as its rotation angle to substantially enhance accuracy and precision.
Earthwork contractors have for some time been asking for the possibility to display the rotation angle of the tiltrotator to ensure an even more accurate end-result. However, up until now there has been no practical way of achieving this but now thanks to jointly developed 'XControl Bridge', the measurements of both the rotation angle and tilting angle is continuously transferred between Steelwrist's 'X Control' tiltrotator sensor technology in the bucket and MOBA's 'Xsite' Machine Control System, eliminating the need for additional sensors and cables.
Speaking prior to Scotplant 2014, Ian Lewis, General Manager of MOBA UK commented, "There has been a strong request by our growing customer base for many years to add the rotation angle to our Xsite Machine Control System. Now, thanks to our collaboration with Steelwrist, we are finally able to fulfill this important customer need and deliver a true revolutionary advancement for the construction industry".
"Our XControl system has always had the ability to measure the tilting and rotation angle of the bucket but we've never before been able to transfer this information to the MCS in a simple and effective way, says Pat Bulcock, Steelwrist UK's Managing Director. "Our partnership with MOBA now means we are able to offer earthwork contractors a new generation of sensor technology and advanced control system that has never been available before".