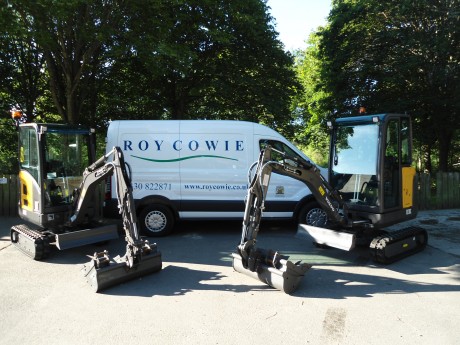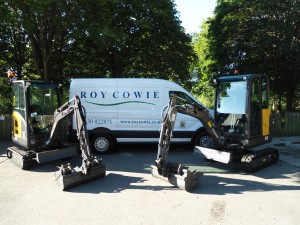 ROY Cowie LBS Ltd of Banchory, Aberdeenshire has bought two Volvo compact excavators after using ScotPlant as a barometer for current market leading equipment.
The machines will be used by the firm's hard landscaping and hire divisions. Specialising in hard and soft landscaping, tree surgery and grounds maintenance covering the north east of Scotland Roy Cowie LBS (Land Based Services) Ltd has opted for two new Volvo EC18C models, replacing similar sized competitive machines.
"We took a look at what was available at this year's ScotPlant exhibition and with my own experience of operating Volvo machines in the past and what we had a look at, our preference was to opt for the Volvo product," said Contracts Manager Cameron Paterson.
The new Volvo EC18C is one of four machines ranging between 1.5 and 2.0 tonnes and is powered by a 12.3 Kw (16.8hp) engine. It features automatic two speed travel and extendable undercarriage as standard. All the hydraulic hoses for the digging equipment are routed through the boom and cylinders are top mounted to minimize on site damage. The machines supplied to Roy Cowie LBS Ltd feature full cabs – a canopy version is also available. The 1.8 tonne compact excavator also benefits from load-sensing hydraulic system for fast cycle times, even when carrying out multiple functions. Maximum dig depth is a generous 2.3 metres.
A single piece engine hood provides unobstructed access to all the engine components whilst the instrument panel provides at-a-glance monitoring of all key functions. The cab's easy to clean flat floor panel lifts for access to hydraulics and main control valve. Both machines have been supplied with Harford hydraulic quick hitches which were launched for the first time on the Volvo stand at this year's ScotPlant show.
Both units will be put to work supporting the company's squads of hard and soft landscapers on a whole range of commercial and domestic contracts across the north east of Scotland as well as in and around the Royal Estate at Balmoral. The machines can also be available for local hire.
Roy Cowie LBS Ltd employs 50 personnel for its landscaping, tree surgery, domestic horticultural machine repairs, servicing and sales divisions. In the winter months the company also undertakes snow clearing contracts for the private and public sectors. The company has also held the Royal Warrant for the past eight years for landscaping services on the Royal Balmoral Estate.