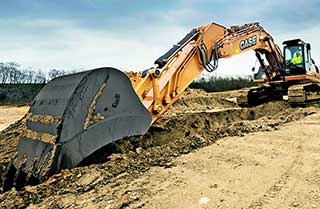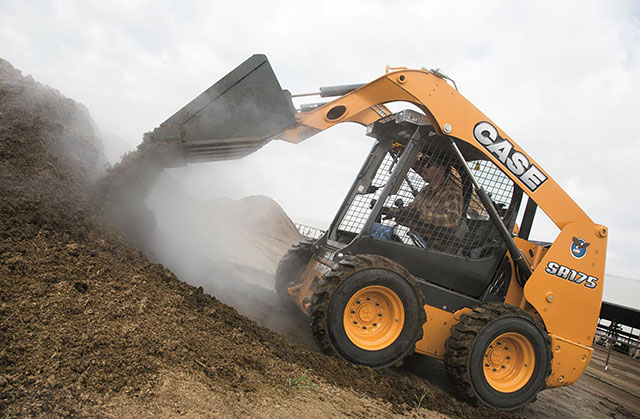 Case Construction Equipment together with Hodge Plant, their newly appointed dealer in Scotland, will be presenting an impressive line-up of machines at this year Scotplant exhibition, which takes place on the 25th and 26th April .

Designed for every sector of the construction, aggregate, quarrying and waste handling and recycling sectors, Case machines are renowned for being engineered to the highest standards. With 90% of all models now benefiting from Tier 4 interim engines, and the introduction of fuel saving SCR technology, the company continues to maintain its global position as manufacturers of intelligently designed machines.

The heavy range line-up will include crawler excavators, wheeled loaders, wheeled excavators together with Case's first Tier 4 final, crawler midi excavators. The compact range display will comprise skid steers loaders, mini excavators plus a backhoe loader.

As well as the machines on show, Case will be hosting the first UK round of their popular Case Rodeo challenge. Operators are invited to take part in a series of tasks designed to test their skill and speed. The winners will then go forward to take part in the European final, which will be held in Paris, later in the year.

Fast, powerful and fuel efficient
There will be a comprehensive display of Case heavy line equipment, which offers customers productive, reliable, high performance, fuel efficient machines.

The line-up will include the 621FXT and 821F wheeled loaders, which are equipped with Tier 4 Interim engines and benefit from fuel saving selective catalytic reduction (SCR) technology. These machines are fast and extremely productive, and with low operating costs they are ideally suited for a wide range of applications. Alongside will be the WX148 wheeled excavator, which has an exclusive three-pump hydraulic system, which delivers increased performance and control.

The Case C series crawler excavator range will be represented at the exhibition, with the CX210C long reach and the CX350C models. These machines also benefit from Tier 4 Interim engines that offer increased efficiency and fuel saving benefits, through the use of the Case Intelligent Hydraulic System (CIHS), incorporating five electronically managed energy saving systems.
Case has led the way when it comes to cutting emissions and the company's first Tier 4 final midi excavators, the CX75C SR and CX80C SR models will be part of the line-up. The versatility this range offers makes them the perfect option for urban construction sites, due to their leading emissions, performance and reduced dimensions. To ensure they meet the stringent exhaust standards they use cooled exhaust gas recirculation (CEGR), and a Diesel Oxidation Catalyst (DOC). This eliminates the need for a costly Diesel Particulate Filter or for fuel-consuming regeneration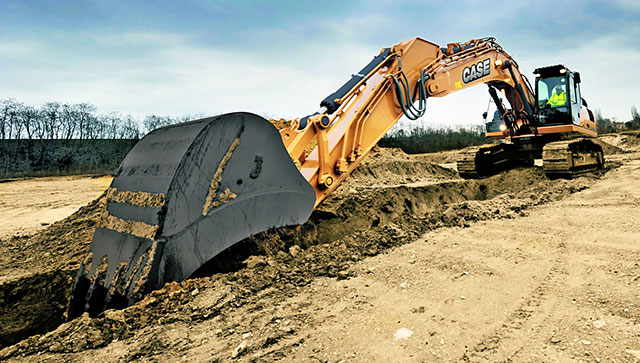 Compact range – small but perfectly formed
The Case compact range of machines deliver the perfect combination of strong performance, safety and complete controllability.

There will be four skid steer models on display, the SR150, SR175 and SR200 radial lift models, together with the SV200, which has a vertical lift arm layout. These machines offer among the highest engine outputs on the market, with the SR200 rated capacity of 905kg with a tipping load of 1,814kg. The power stance chassis rides on 21% longer wheelbase which delivers greater stability and with best-in-class serviceability and superior operator comfort, these compact loaders deliver high productivity with maximum utilisation.

The mini excavator line-up includes the zero swing CX26B, CX30B, CX50B models, which are ideally suited for working in confined spaces. Reliable engines and powerful hydraulics ensures excellent stability, and because they are equipped with Case heavy crawler excavator hydraulic technology, the high hydraulic power allows the use of larger buckets and operations are smoother under heavy loads. Safety comes as standard with Case, and both the cab and canopy comply with FOPS, ROPS and TOPS safety regulations.

Completing the compact line-up display is the 590ST backhoe loader known globally as the 'Construction King,' ST powered by Tier 4 Interim, 3.4 litre turbocharged engine and incorporates cooled exhaust gas recirculation (CEGR).

Case total solutions
Visitors will be able to meet representatives from Hodge Plant, Case's recently appointed dealer in Scotland. There will also be experts from the Case team on-hand to provide information and advice on Case's new SiteWatch telematics systems, the latest finance packages, and servicing and maintenance plans.